In today's society, love seems to be more distant and fictitious; to love and to cherish, till death do us part are words that appear to fade away with time. We are not searching for this fantasy fairytale story anymore. We want real-life, clumsy, sexy, awkward, intense feeling of deep affection. The story of Taylor and Whitney is the type of 21st century story we have been yearning for.
Taylor Ford a small town boy from South Dakota & Whitney Thomas a pageant girl from California. Both moved to Arizona chasing their dreams of running track at ASU and competing in Miss America 2012. While competing for the Miss Phoenix title, Whitney met Gerald —Taylors fraternity brother at ASU — who set the two up on a blind date immediately. Whitney was unsure about going out with someone she had only seen in pictures, a very attractive man none the less, but along with the looks usually comes an arrogant player. All her worries washed away when she received a nervous phone call from Taylor the next morning at 8 am. "Who calls someone at 8am? Clearly he had no game," Whitney laughingly admits. Whitney worked as a waitress, when Taylor came to pick her up for their first date it was impossible to find an open place to sit and talk. Taylor, who was dressed for a five star restaurant, was ashamed to call a fast food restaurant their first date. In the car before they went in he foreshadowed, "what if we end up getting married and I have to tell people for our first date I took you to a fast food place?" For Whitney nothing says husband material quite like a vanilla soft serve from McDonalds. This was the story Taylor was jinxed to tell from that moment on.
When I thought things couldn't get anymore unconventional I asked the two to talk about their best memories of one another…
"I realized Taylor was a wholeheartedly devoted man when he first got his fuel band. He was so dedicated to hitting his steps and reaching his active goals. I would wake up in the middle of the night to find him doing jumping jacks and sit ups in our living room," Whitney confidingly confesses, "Taylor is going to be so mad that I told that story." (laughs)
It doesn't take a real wedding to learn that the honeymoon phase eventually wears off and life gets real.  Wake, work, sleep, repeat.
"Whitney and I decided to take turns planning our anniversary celebration to create an excuse to have a little fun every year.  Our first anniversary Whitney set the standard pretty high.  Her theme was being young once again, and let me tell you that girl did her research.  She called up Dixie Ford (my mom) to do a recon mission on adolescent Taylor's favorite things.  That night she surprised me with a spider man onesie, a lego set, mountain dew, and we fell asleep watching movies in a fort we built in my living room. Not only did she make me feel like a kid again, but she made me feel like things could absolutely never get dull being with this woman" Taylor lovingly admits.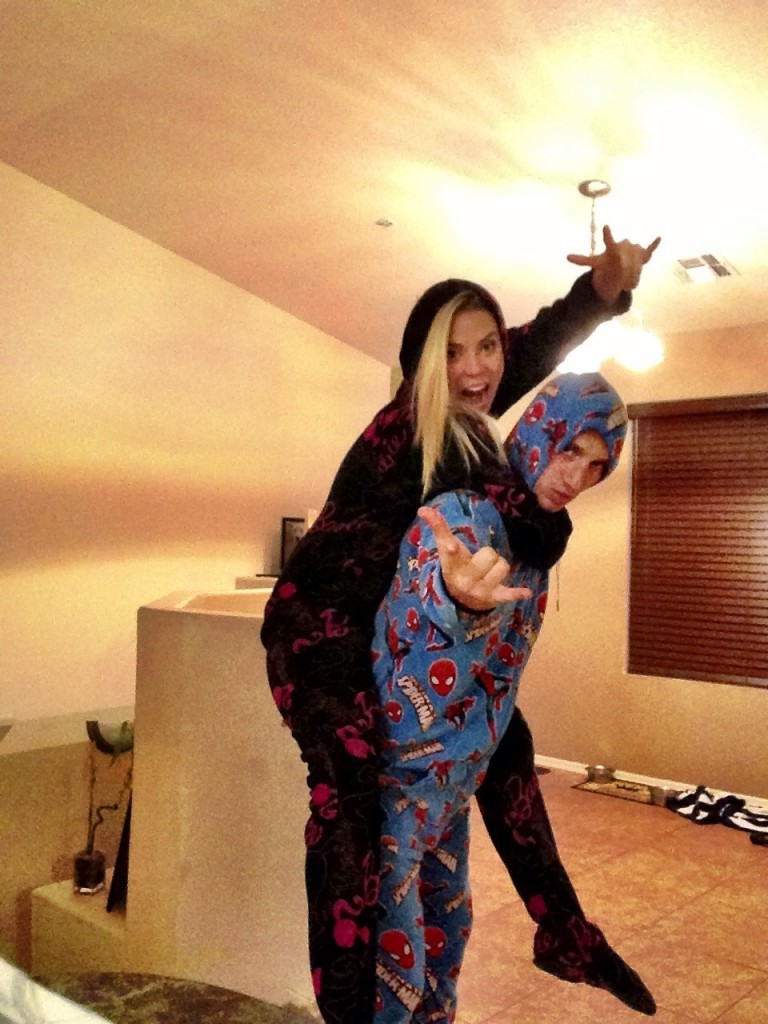 Nothing gives you a taste of your partners personality quite like the drink they order at a bar. "We were at a bar and I ordered gummy bear shots and she said no baby, I'll take a blue moon" Taylor laughs, "I knew she was the girl for me." Without hesitation Taylor confesses on a serious note, "watching Whitney compete for Miss Arizona 2012 during the evening gown portion. Seeing her walk down the stage in that blue dress I knew I was in love with the most beautiful woman in the world.
Leading up to an engagement can be the most anxious and nerve-racking point in time of your life. "Going to Switzerland I had thought that Taylor was going to propose, every time he went down on his knee I held my breath freaking out thinking 'FINALLY this was the moment!' It ended up he was just tying his shoe…"
On their two year anniversary, of their first date, Taylor proposed in Sedona AZ, a place where they both love hiking with their dogs and escaping the Phoenix valley heat. The couple celebrated with their parents and Taylors brother and sister in-law who came in from, California, South Dakota, and Switzerland to surprise Whitney.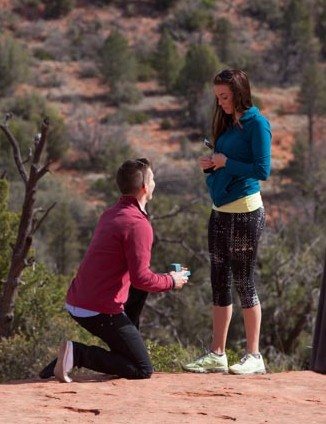 I asked the couple to describe each other in five words both had incorporated the word patriot. When Taylor and Whitney got engaged they both knew they wanted to incorporate their patriotic spirit and love for all things Americana into their engagement photos and wedding while tying in the Ford last name was a must.
Whitney grew up with parents in the fashion industry. Her father being a photographer and mother a make-up and hair stylist, Whitney had imagined her dream wedding ever since she was a little girl. When it came time for engagement photos her dad, Kevin, had scouted the flawless setting and pulled together all the details to make for the American-themed photo-shoot they had both been fantasizing about.
Set in the hills of Livermore California across from Wente Winery —the town where Whitney grew up— Kevin captured Taylor & Whitney's love story as the sun set the stage for an incredibly romantic, rustic engagement shoot. Kevin borrowed an old Ford truck which broke down during the shoot but made for an awesome shot and memorable recollection . The giant American Flag was their favorite detail, hands down, and the perfect prop for these patriotic soul mates.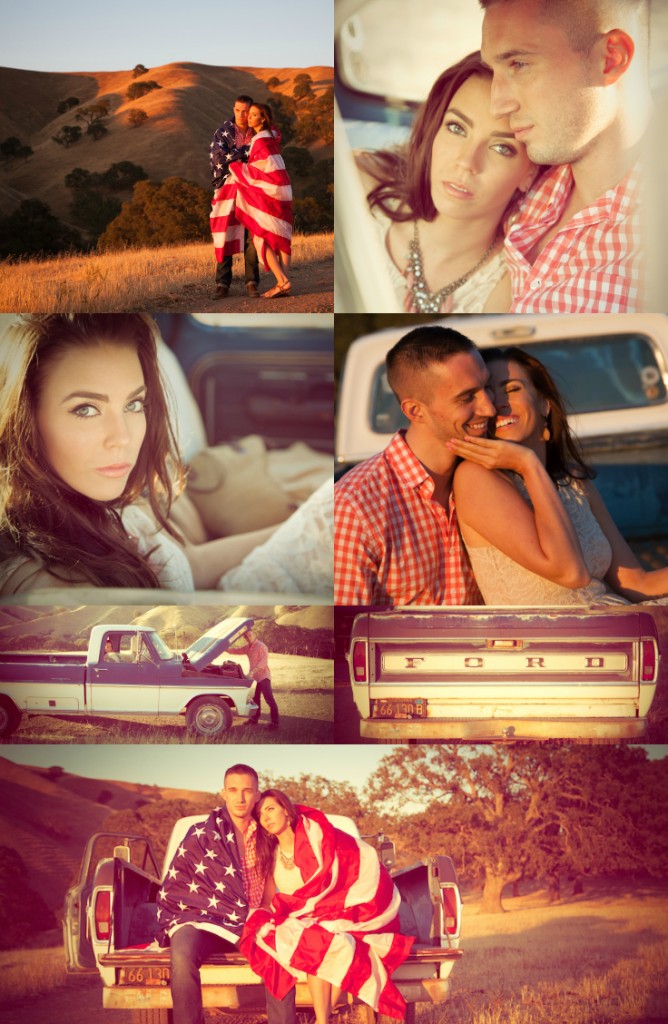 Written by: Brooke Muoio of Through Her Eyes
Photography: Kevin Thomas Photography