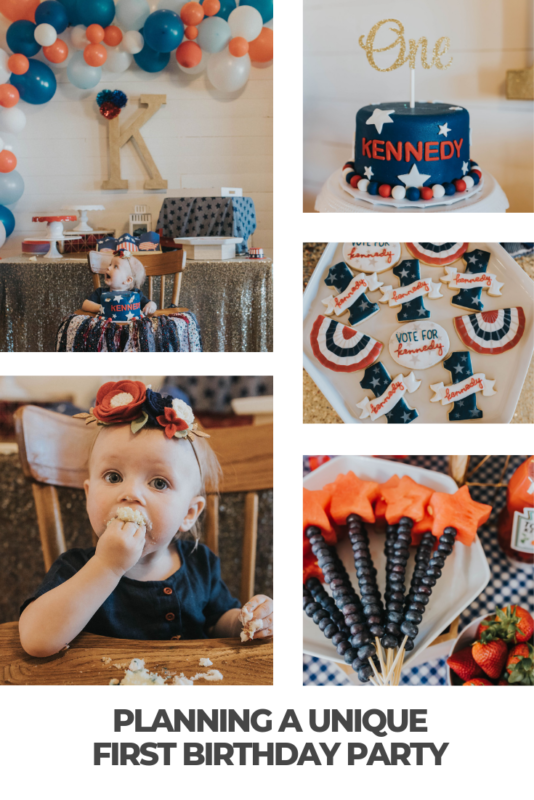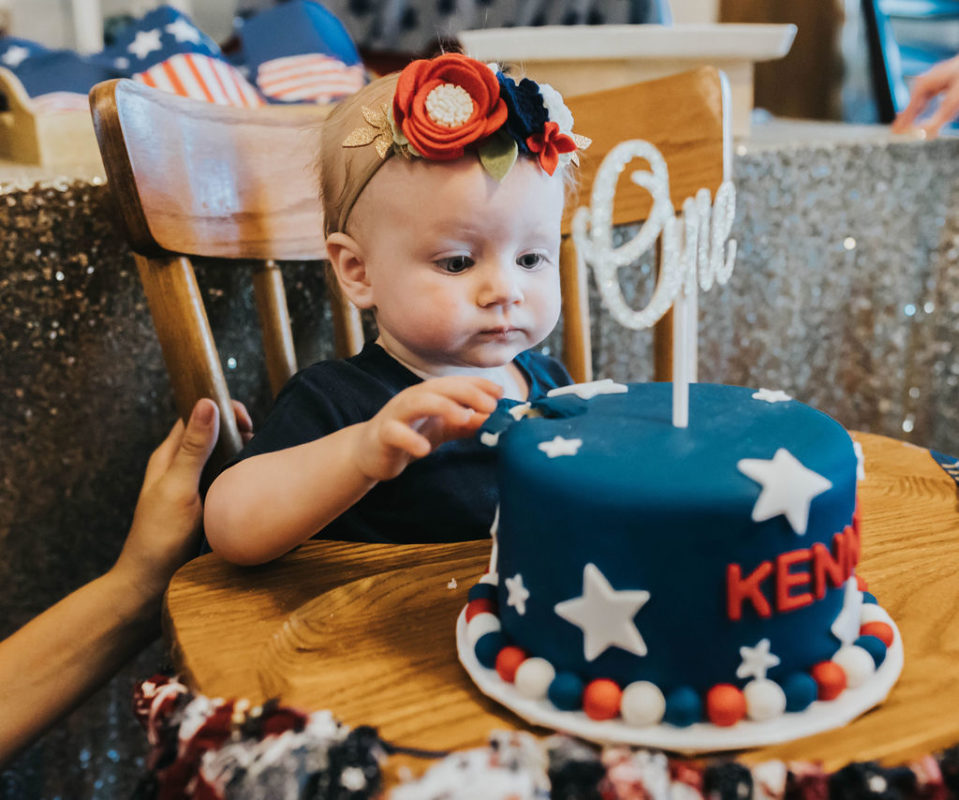 ---
Whenever it comes to planning a party, especially a first birthday I am always on the hunt for unique themes and birthday party ideas. I find the best way to brainstorm first birthday ideas (or party ideas in general) is to think really personal.

I start by thinking about the person I am planning a party for, their name, age, month or season they are born in, activities they enjoy, favorite animals, shows etc. If you're someone who wants your baby's first birthday to be unique and not "overdone" try starting by making a list from those items above before scouring pinterest for first birthday ideas. I often think of the phrase "Create before consuming" and I believe some of your best ideas may come to you prior to searching for inspo. Below are the themes of three parties I have thrown for my families and the reasons/ ways I came up with these themes:

Made In The USA – Tates First Birthday: We live in Arizona and are surrounded by adorable cactus parties, nurseries, decor etc. I had my heart set on some succulent cupcakes for his party but I also wanted his party to be something I had never seen done before…So I began throwing ideas around and seeing what would stick! Originally I was thinking of a "Locally Grown" party and having it be all succulents and cacti but then I remembered that by the time my son turned one he had already been to 11 states… that got my mind spinning into the idea to do a "tour" through all the states he had been to!

OkTAYLORfest – My husband Taylor's 30th birthday party was an Oktoberfest party! We did a play on his name and the well-known celebration for a festive party! Each year for his bday I do an "OkTAYLORfest" count down to his bday and he gets little gifts each day until the 14th.

Vote For Kennedy – Kennedy's FIRST Campaign Party: Before we had our daughter I had this party dreamt up in my head. Her name Kennedy Ford is very presidential and we are a very patriotic family. I knew this first birthday theme would be unique to her because it was so personalized to her name.

Now that you've gotten inside my head a bit on my brainstorming sessions here is a recap of our sweet girls First Birthday –
Theme: Vote For Kennedy – Kennedy's FIRST Campaign Party
Colors: Red, White, and Blue
Location: Our Home
Activities: Lego table, water table, sandbox, water balloons, slide, playhouse
Vendors: AP Sugar Co, Christina's Creative Cakes, Decor by Shiki,
Kenna Jay Photo, JNL Productions
Birthday Outfit: Dress – LittlePoppy Co Custom Flower headband SyddyKatCreations

Food

Let's all throw up a sweet hallelujah for my mother in law Dixie being in town for this party and helping me with all the food! Because we had this shindig in our home we thought grilling out would be fitting for the occasion. We served burgers and hotdogs in cute plastic baskets and Dixies signature pasta salad which was such a huge hit! Using a star cookie cutter we made watermelon stars to top our fruit skewers.

Sweets

If you're in the East Valley and you need a cake or cupcakes… you're welcome in advance because Christina makes the cutest and most delicious baked goods evaaa! I stumbled upon her in 2017 when planning my sons 1st birthday and have used her for every occasion since! I love how she makes my visions come to life better than I could ever dream up!
This year I had to have these to-die-for cookies from my longtime friend Allison of AP Sugar co. Her artistry is phenomenal and these adorable cookies were the perfect addition to Kennedy's cake table! My mother in law also made her signature chocolate chip cookies for our guests to take home in go bags but Dixie's cookies are too delicious and they were all devoured immediately!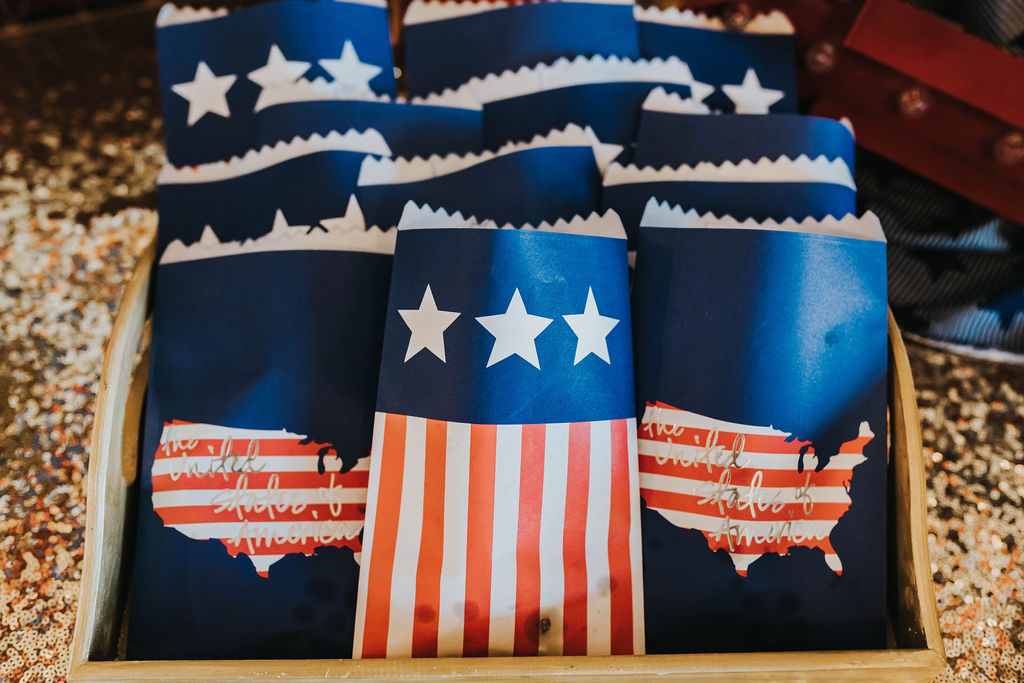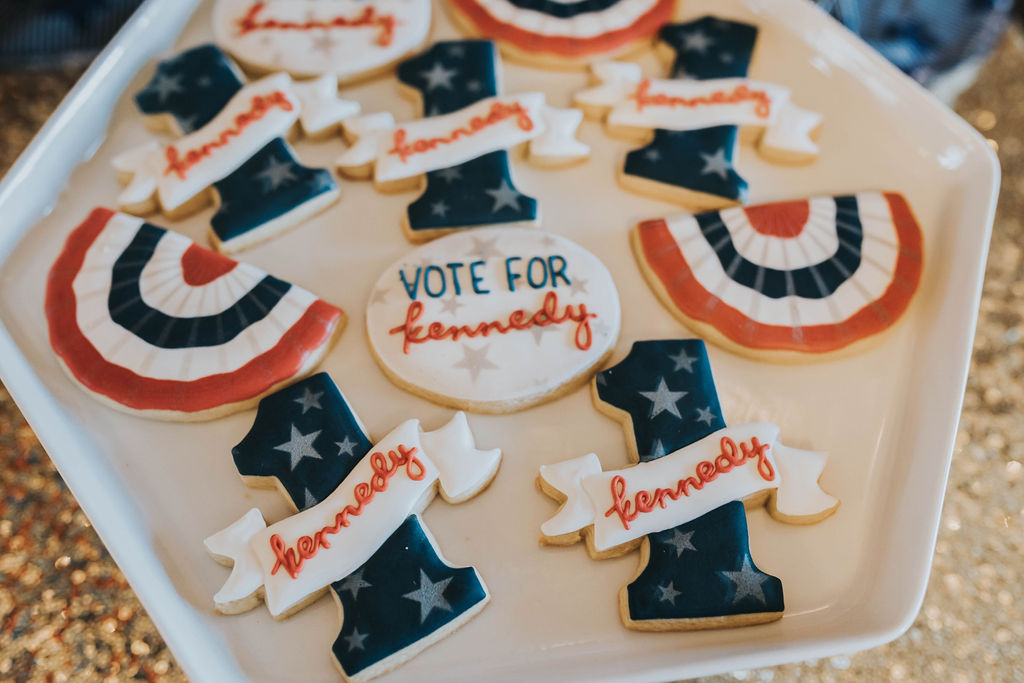 For Kennedy's smash cake we used my husband's childhood wooden high chair, I'm a sucker for sentimental touches and family heirlooms. We used the same fabric garland from Tatum's First Birthday to decorate the highchair for her to have her smash cake in. She loved her cake and big brother Tate had no qualms about helping her eat it.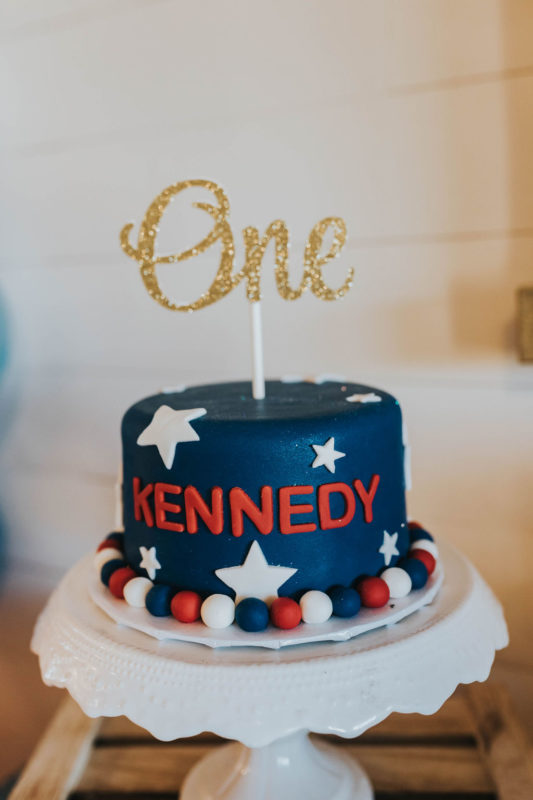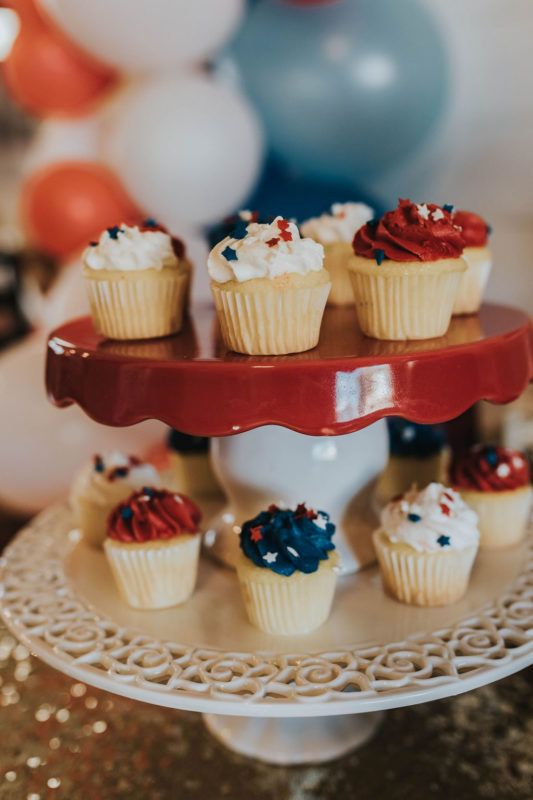 Activities

Thinking of first birthday party activities had me kind of stumped so we stuck with simple staples our kids and their friends love (that we already had) – We drug the lego table out back, filled the water table, added a few new toys to the sandbox, and called it a day! The kids playhouse was another big hit… With kids this young we truly didn't need to reinvent the wheel. For the parents, we busted out our custom cornhole set that my hubs made me as a housewarming gift.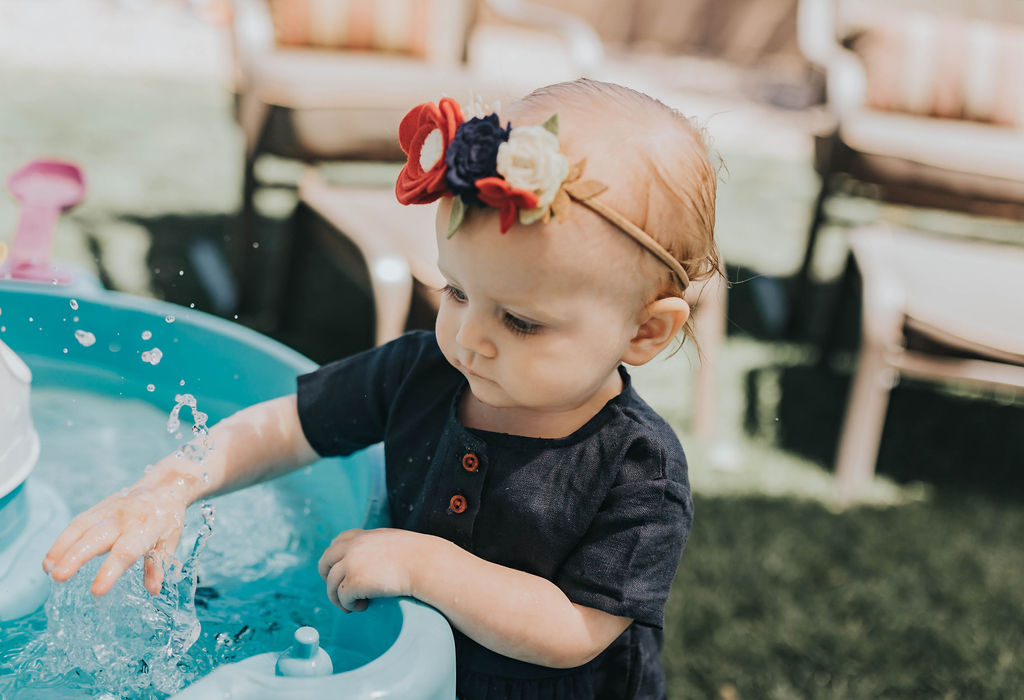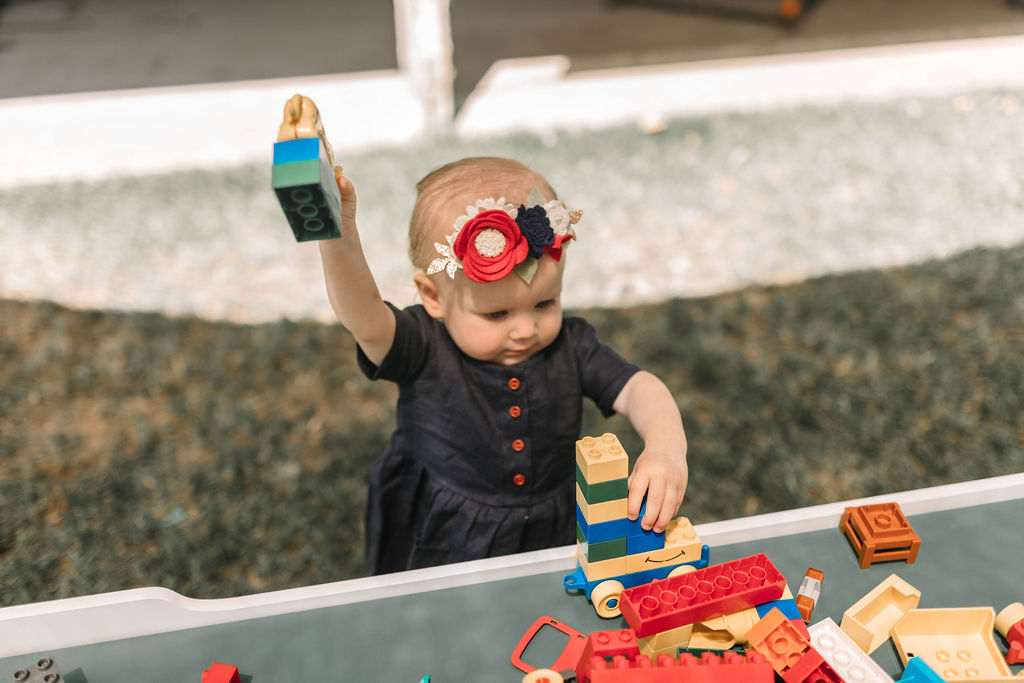 Decor

I try and focus most of my efforts on 3 to 4 areas and then let the rest fall into place.

1 – Dessert Table: This is typically the "centerpiece" of my parties. I prefer to have it in my dining room because the white shiplap wall serves as a clean and simple canvas to create my desired vision.

Here you can find the items I use to build balloon garland, I highly recommend this electric pump for inflating balloons! The balloon garland served as a picturesque frame for the table.

When planning a tablescape dimension is key! Using crates, boxes, a bucket upside down can create levels so all the items stand out. Incorporating fabric, various textures, and items of various heights/ shape can help capture attention.

I added some pompoms to this cardboard K from JoAnn's that we sprayed with gold spraypaint and then gold glitter spraypaint.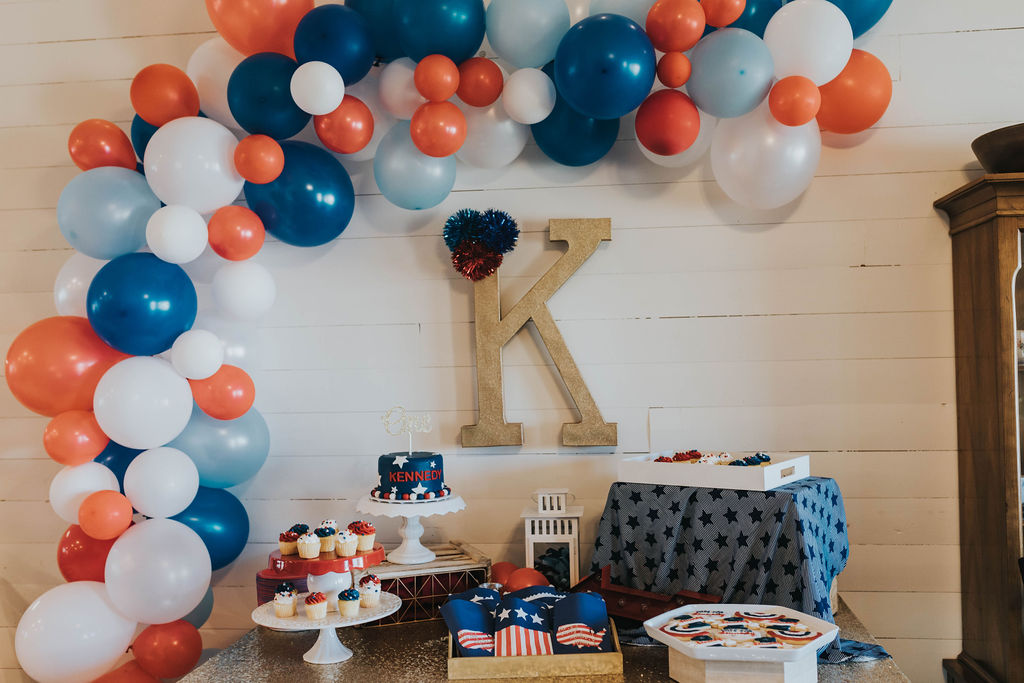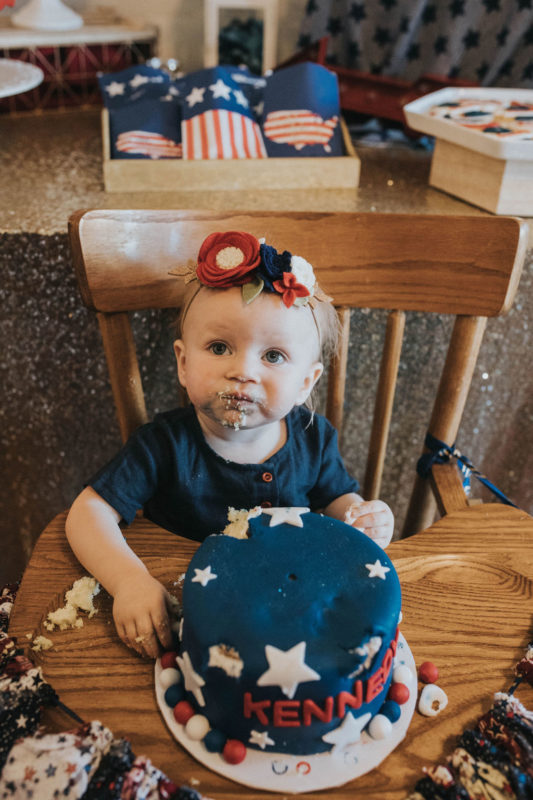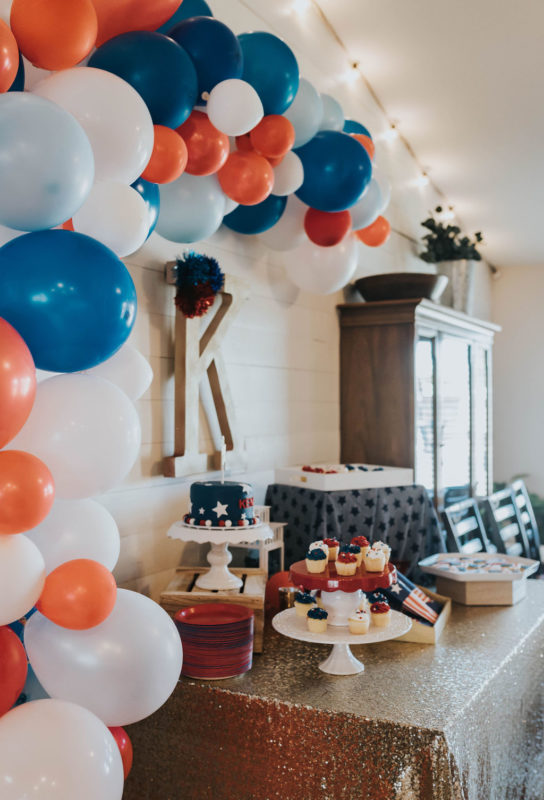 2 – Welcome table – I like to use our entry table in our dining room as a place for a welcome sign (we used a letterboard this time) party favors if we have them. At Kennedy's first birthday party we had hats and buttons available to take as a keepsake, they fit the campaign motif well. Banners and draped across the table were a simple way to tie in the color scheme throughout the house.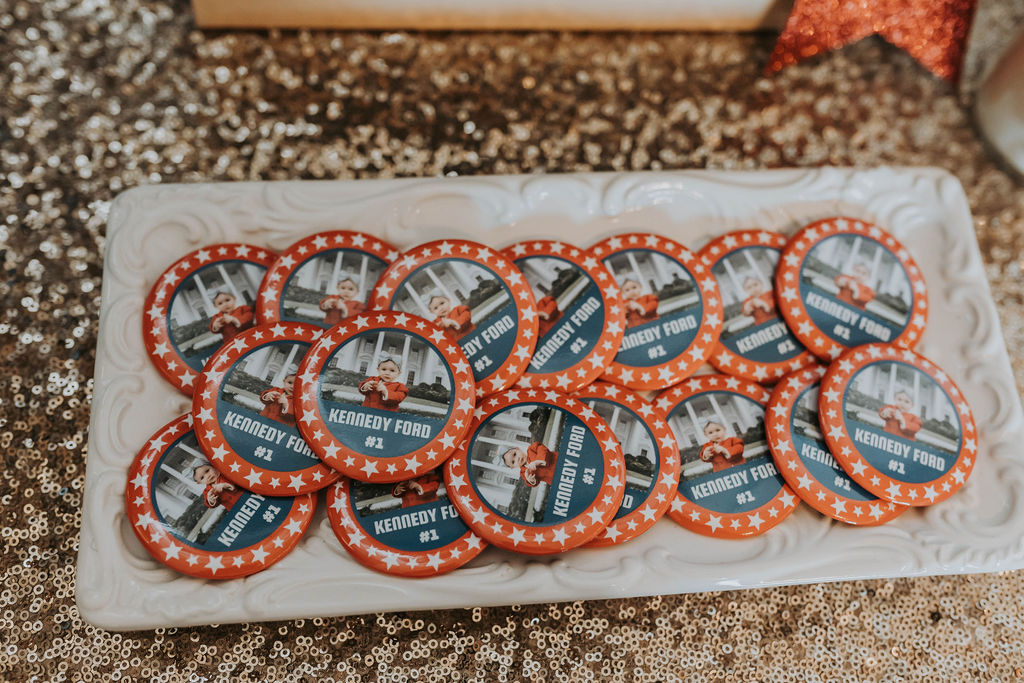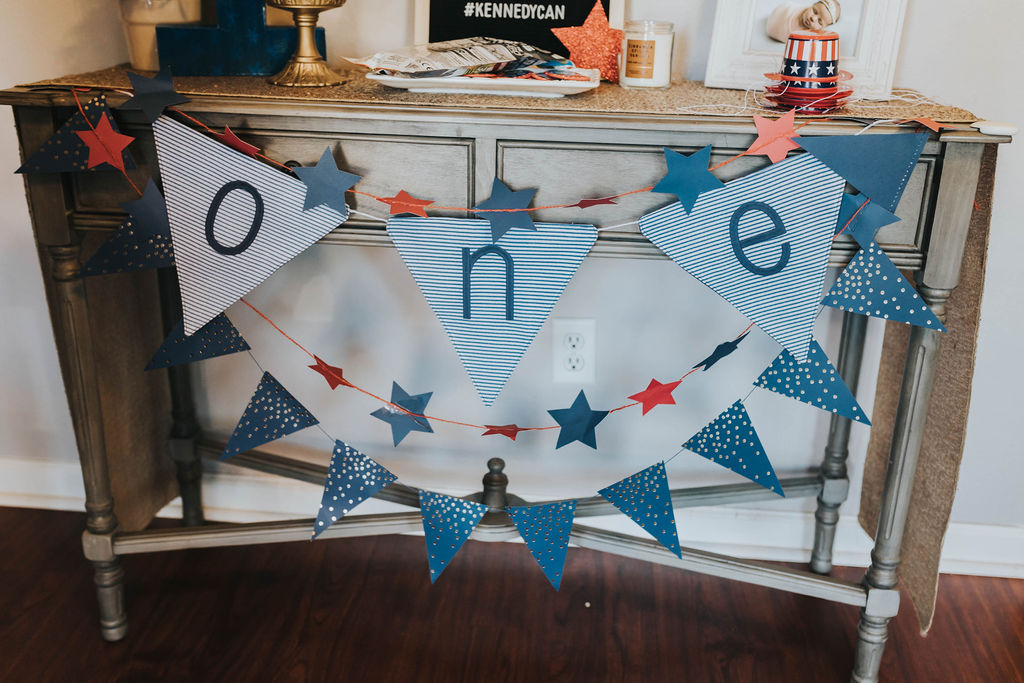 3 – Photobooth / Photobackdrop – I love when parties and events have places that encourage people to snap a pic. Setting up a photo area became so much easier when my mom gifted me this stand (yay amazon) I've had rolls of paper on it (like this pictured) and clipped blankets, sheets, sequined fabric to it as well for an easy-peasy backdrop.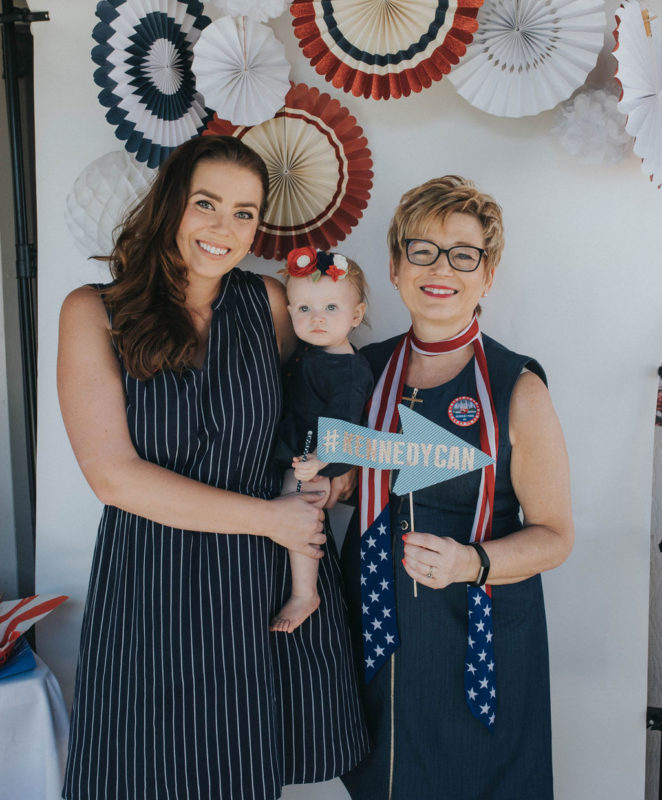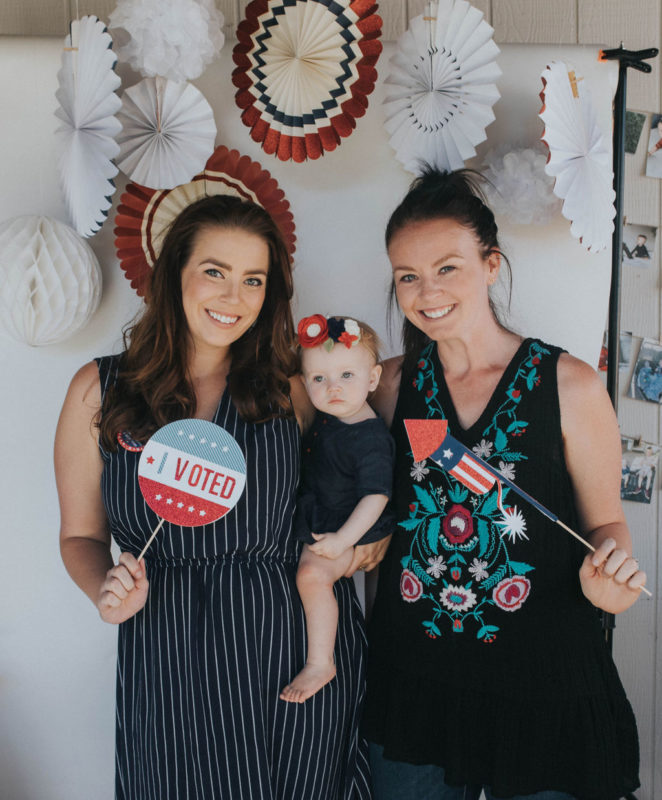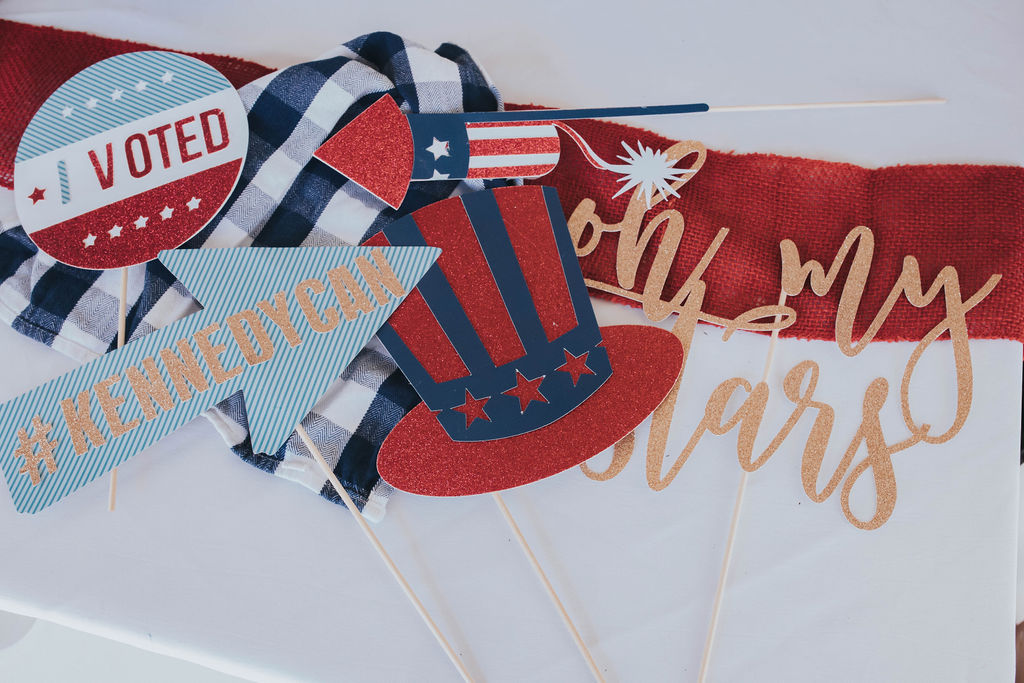 Rosettes from My Minds Eye Inc add dimension and pops of color + custom props made on my Cricut Explore are the perfect way to personalize an event. I personally loved the giant "I voted" sign.

Pro tip for photobackdrops / photots in general – Pick a place with lots of natural light but DIFFUSED natural light…we prefer our back patio because its very well lit throughout the day however the patio cover prevents harsh sunlight to cast unflattering shadows on us. ( This about why car selfies are so flattering, diffused natural lighting.)

We also are so thankful to have Kenne Jay Photo and JNL Productions shooting wonderful pics and video to document this day. To me the memories are so worth hiring a photographer and videographer.

Other notable decor that I feel added to the ambiance –

Photo strands ( fair warning collecting photos for your baby's first birthday can leave you in a heap of emotions) however I am so happy that I printed so many pics because it was fun for everyone to see her growth.


Sadly I dropped the ball on ordering her monthly photo pics and they arrived 2 days after her party (tear) But if you take monthly photos they are such a memorable item to display during a first birthday party.
Patriotic Pinwheels – A) Yesss! B) The Ford Fam will for sure be reusing these for every patriotic holiday. #winwin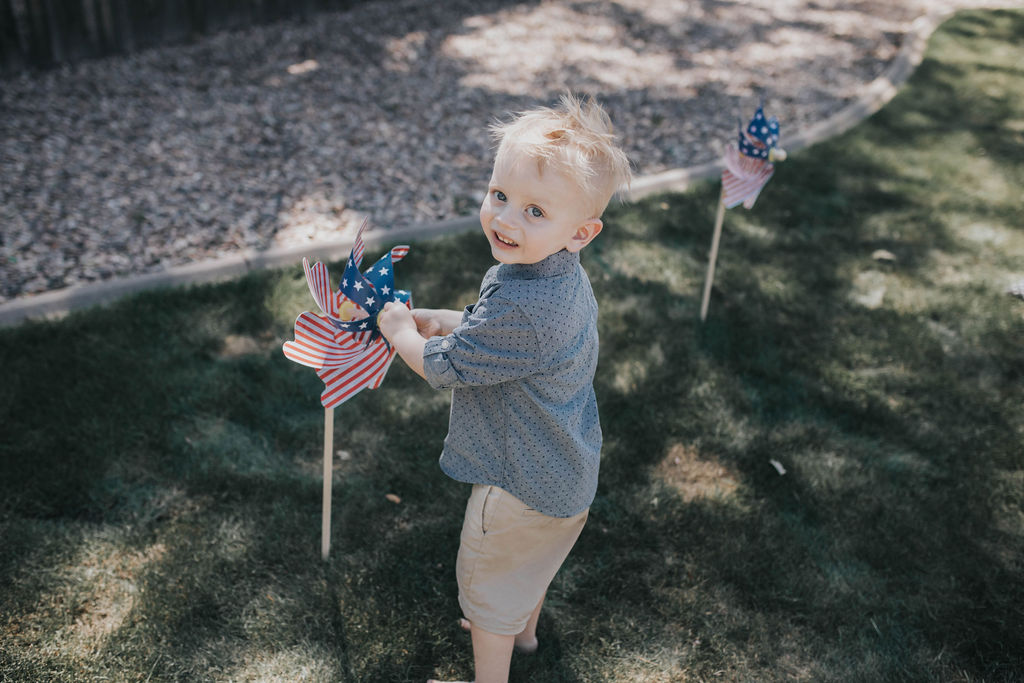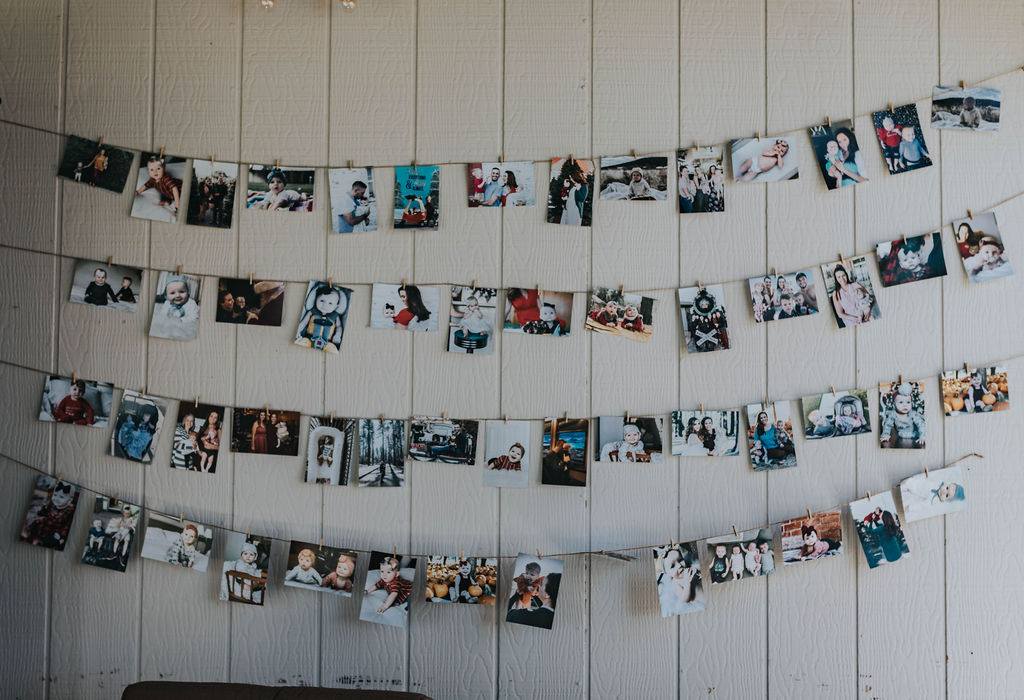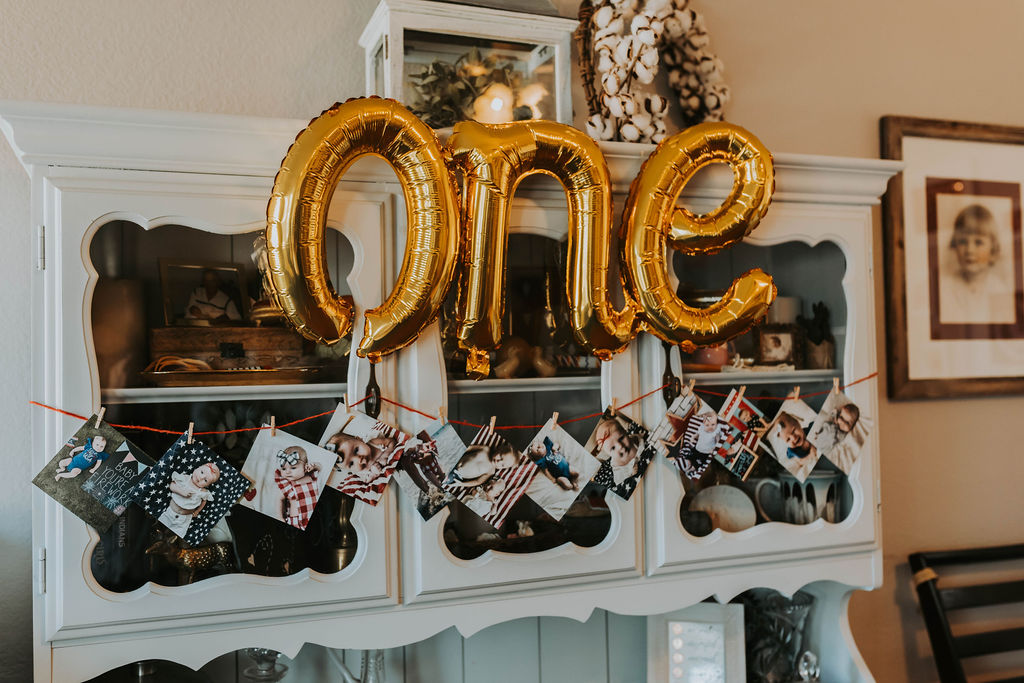 Favorite piece of decor??
The giant cardboard Whitehouse cutout and yard signs (Photos and sign design by yours truly!)
I sprung for this cardboard whitehouse because we were able to use it for invite and button photos
And it was truly a centerpiece of the party. Watch out world you may see Kennedy Ford in the real Whitehouse one day 😉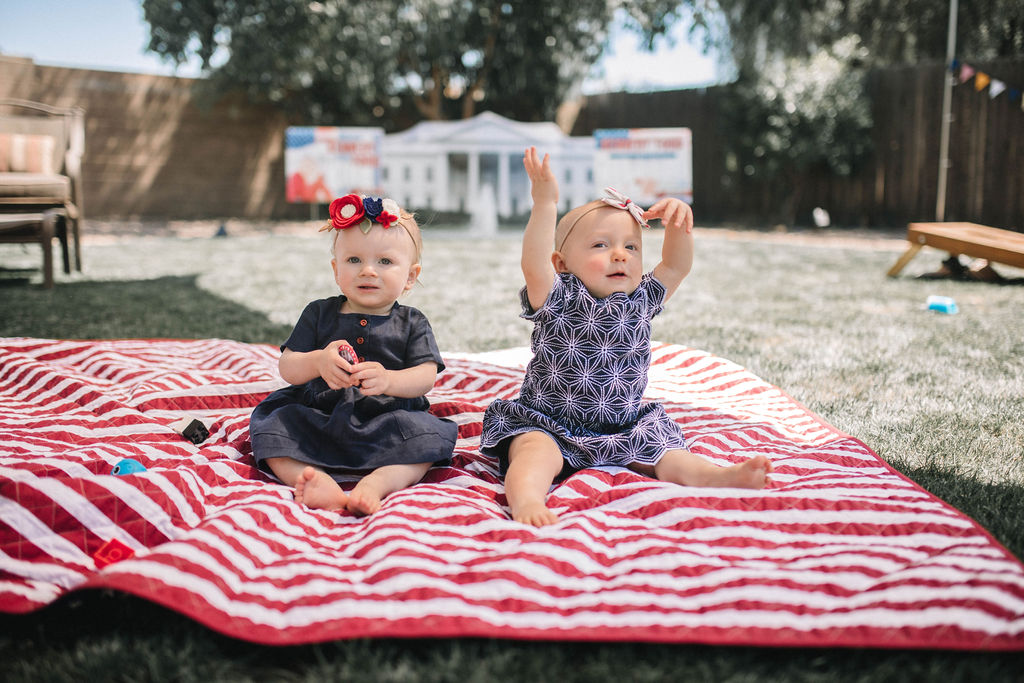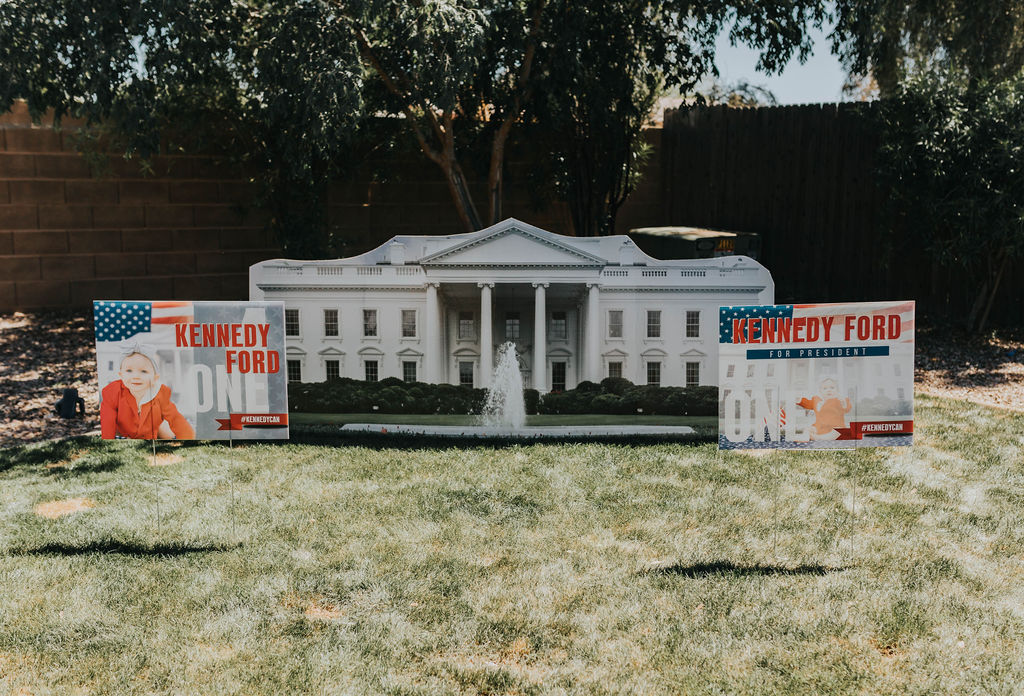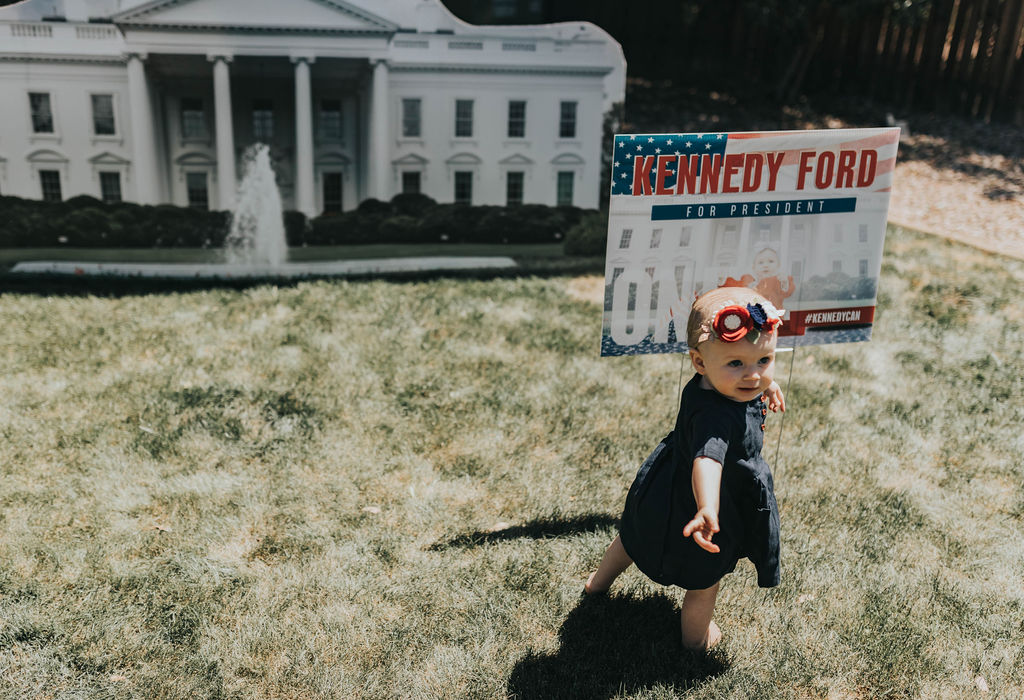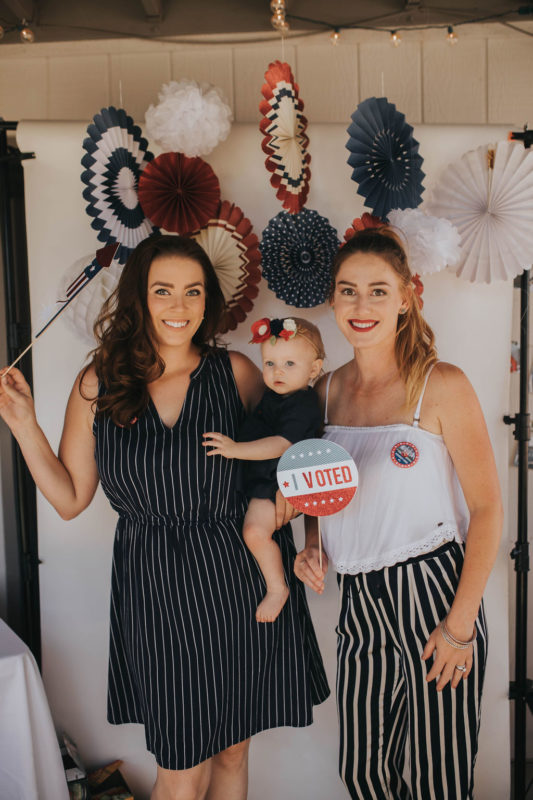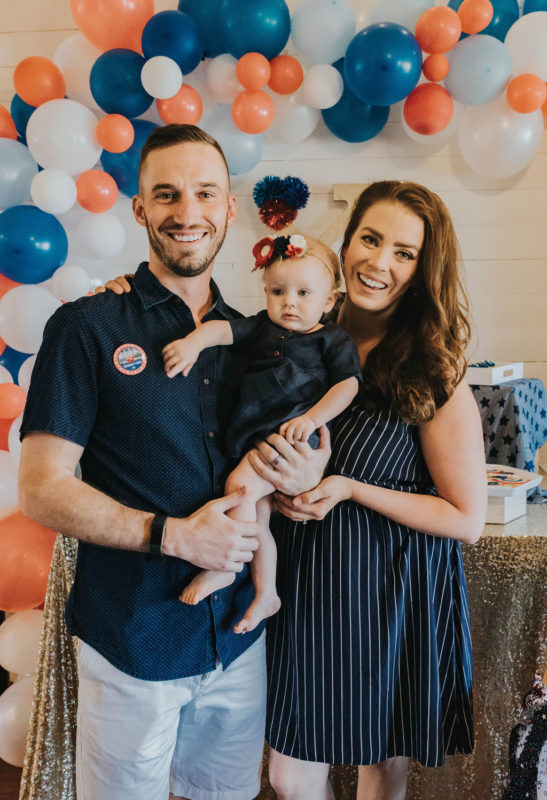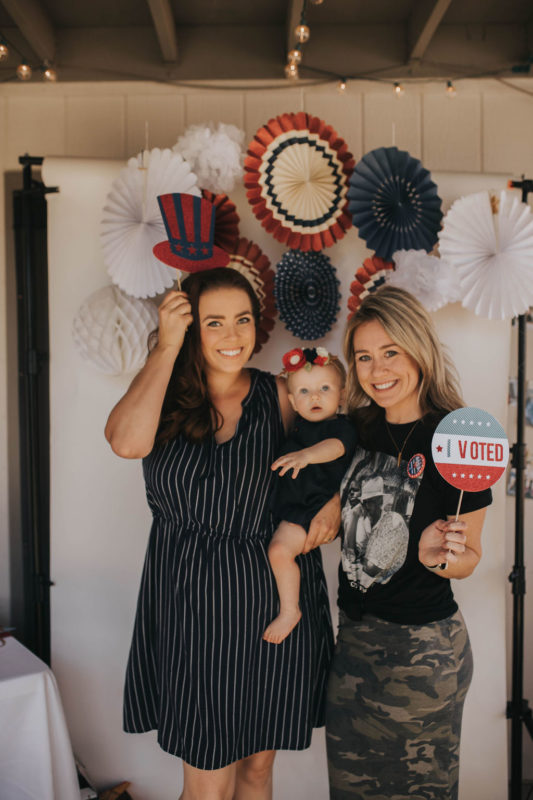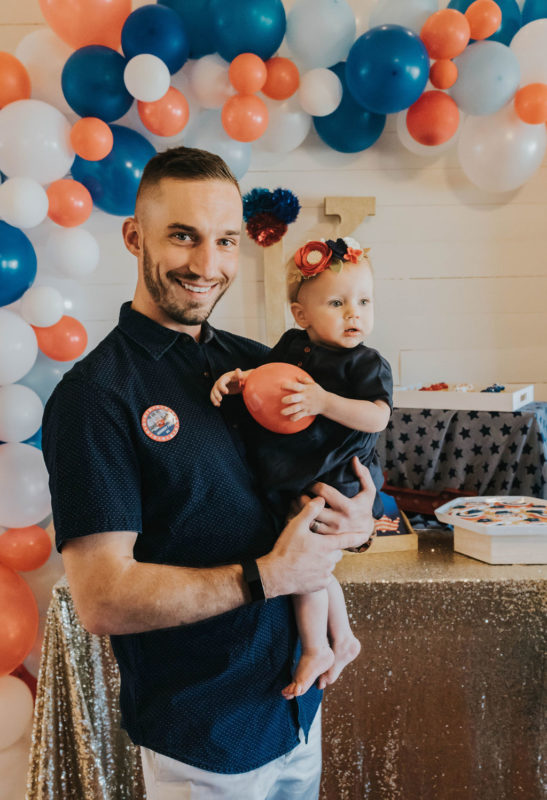 A huge shoutout to my girlfriends and husband who helped me execute this patriotic party and to all of our friends and family for coming to celebrate our favorite Presidential Candidate. #KennedyCan #VoteForKennedy