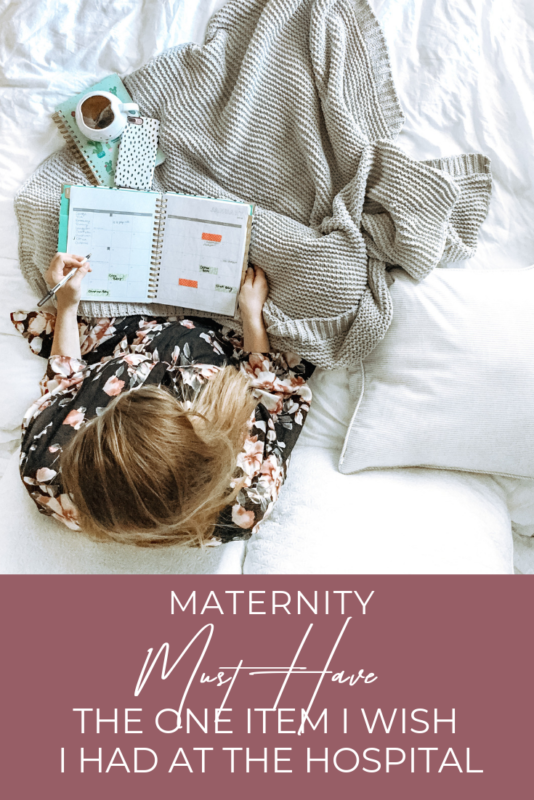 It's been awhile since I've hopped on here for a good-ol-fashion blog post. A lot has been changing over at Shiki HQ especially with the arrival of our baby girl coming soon ( April 2018 YAY! )
One of my goals for 2018 is to incorporate some more personal posts into the blog ( and actually post them) A huge reason I enjoy shopping small and supporting the brands I do is that I've been able to get to know the people behind the brand. So my hope would be I can rise to my own challenge and share pieces of my life, along with the exciting things that Shiki is up to!
As we are prepping for our daughter to arrive in April I've been thinking a lot about what items I need to drag out of storage, what maternity and baby gear I wish I had the first time around, and things I could have lived without. A full list of my infant-must-haves coming soon along with a hospital bag recap. In the meantime, one major rookie move I made when I was pregnant with my son Tatum was not just biting the bullet and getting nice maternity clothes.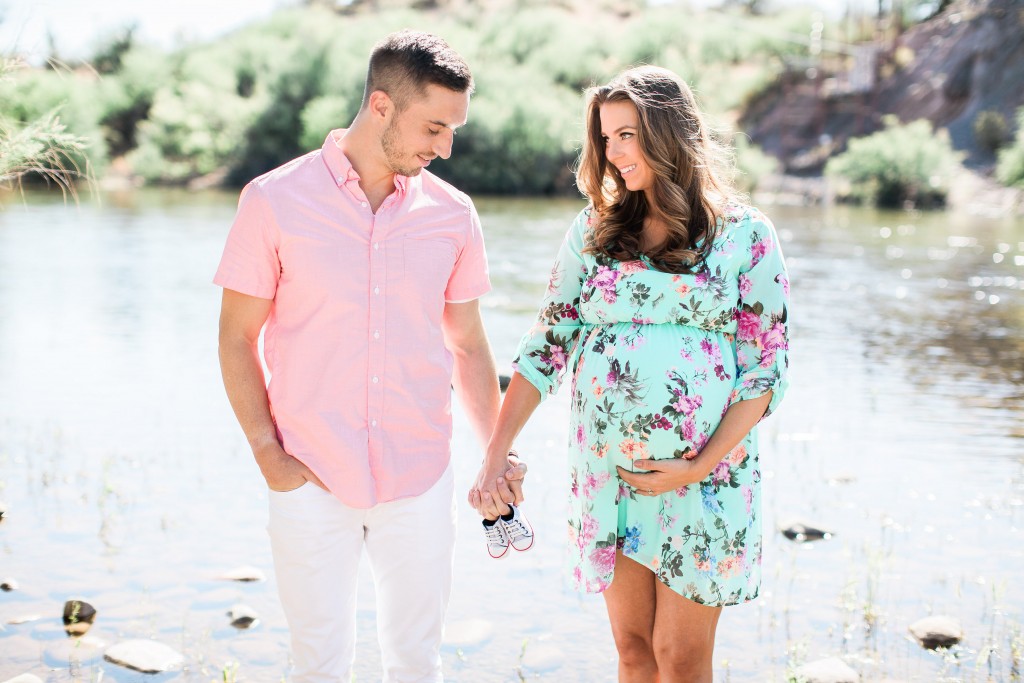 Sure I bought one super cute dress for maternity photos from Pink Blush Maternity, but when it came time to come up with a few more looks for our shoot, and for some weddings we were attending I was not prepared, in a time crunch and found myself trying to make non-maternity dresses work, which ended up with me in a puddle of tears in the dressing rooms of far too many stores. Let's face it if you want to find maternity clothes that aren't just for lounging around/ working out you pretty much need to order online. Which is totally fine so long as you aren't trying to find a formal dress the night before a wedding while 36 weeks pregnant (facepalm) So lesson learned…
While pregnant with Tatum I had a difficult time grappling with the changes happening to my body ( I'll be the first to admit I took eating for two a littttle too literally #WhenInRome ) Along with this and working from home, I didn't dedicate a lot of effort towards looking or feeling good.
I knew when I found out I was pregnant a second time that I wanted to give myself some tools to feel better about myself while on this miraculous journey. ( Full disclosure none of this centered around trying to gain less weight or was in any way focused on weight. ) I simply wanted my closet to be stocked with clothing that flattered my changing body and growing bump so I could ENJOY this time instead of constantly wishing for a time when could get back into my non-maternity wardrobe. This mindset also led me to insist that I allow myself time for self-care, for me this came in the form of showering… like realllly showering. Any mama knows the difference between a pre-baby shower and a post-baby shower, there's something to be said for not just rushing through your shower to simply get clean, but actually treating it as some time for yourself ( this obviously isnt a luxury us mamas get all the time.. Can I get an Amen? ) But when I can, I make a conscious effort to not rush it, take the time to do a little something extra like a scrub or mask, and to put my lotion on! ( It's the little things in life people )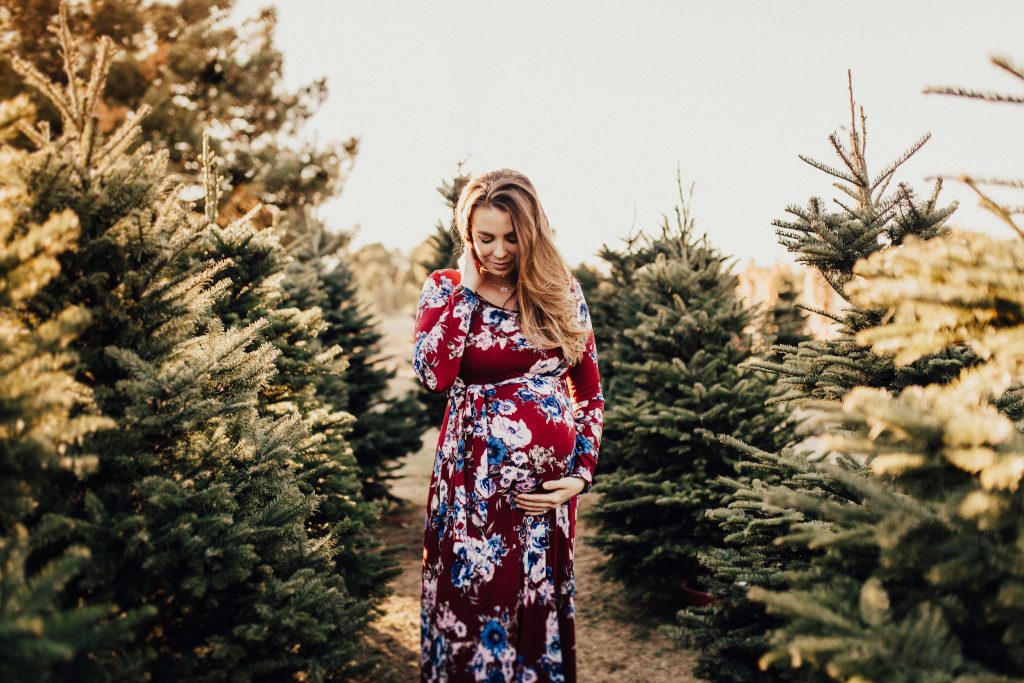 Early in this second pregnancy I borrowed a few Pink Blush Maternity maxi's from a mama friend of mine (Thanks Steph!), I'm so happy I did because I was able to see the great quality, how oh-so-comfortable they are ( comfort is KEY in the land of bumps ) plus I had something gorgeous to wear for The Miss Maricopa County Pageant, and for our holiday photos, bless it.
This burgundy floral maxi was such a dreamy color for our Holiday photos, and because it has stretch to it I felt so comfortable the whole time, even while chasing my toddler around.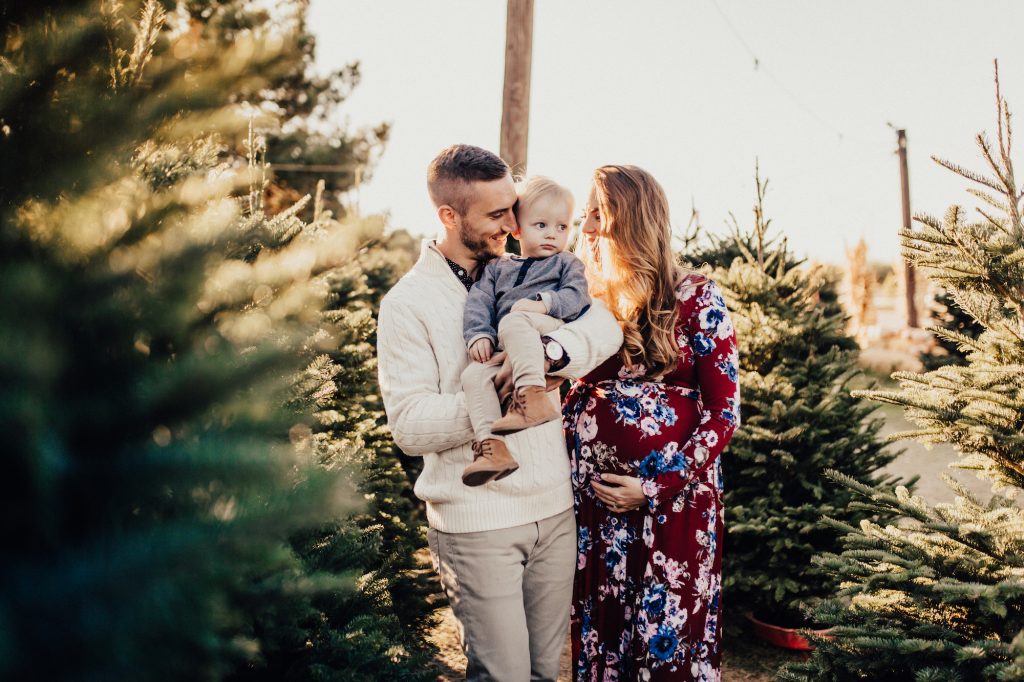 Along with ordering myself a few gorgeous goodies, I sent links to all my family members and received some stunning gifts from Pink Blush for Christmas ( I'm telling you this bump has been well dressed this time haha )
Visit my personal Instagram to see my weekly bump-dates and you'll see a whole lot of these maternity dresses ( most of which will be great for post-baby, and for nursing #winwinwin )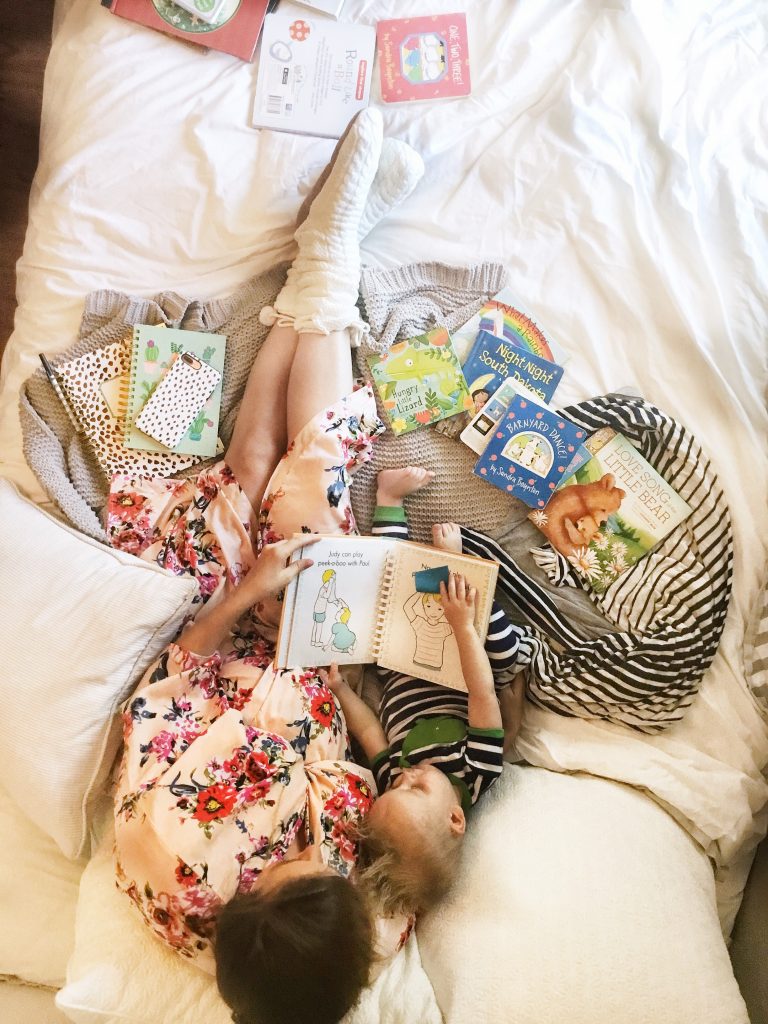 One of the items my mama gifted me was this gorgeous floral robe! Not only have I been rocking it on the daily, I plan on bringing it with me to the hospital too. When I gave birth to Tatum I pretty much instantly regretted my robe choice, I just snagged something from Nordstrom Rack in a hurry, and while it was cute, and comfortable it was not long enough ( Especially when you still have a significant bump post-baby) I didn't feel comfortable walking the hospital halls without putting leggings on… and lets be honest aint no body got time for that. #NoPantsAreTheBestPants and it didnt tie on the inside too so it crept open too much for my liking. We plan on having a birth photographer present, and I'm so happy I'll have something feminine and pretty to change into so I can feel a little more put together and comfortable!
What do I love about this robe the most aside from how beautiful it is? ( I'm having a baby girl sooooo that means give me alllll the florals! )
– The length, it's not too short and not too long
* I'm almost 5'9 so full length can look awkward on me if its not long enough, and sometimes too long around the house gets in my way *
– The weight. Living in AZ and being preggo means I'm constantly hot ( and then cold again bc of the A/C blasting haha ) I love how lightweight and breathable it is, and I know it will be my go-to for nursing and snuggling my sweet babe postpartum.
In fact, I've gotten so much use out of this robe since Christmas, that when Pink Blush Maternity chose me to be a Style Ambassador, my first selection was another amazing robe!!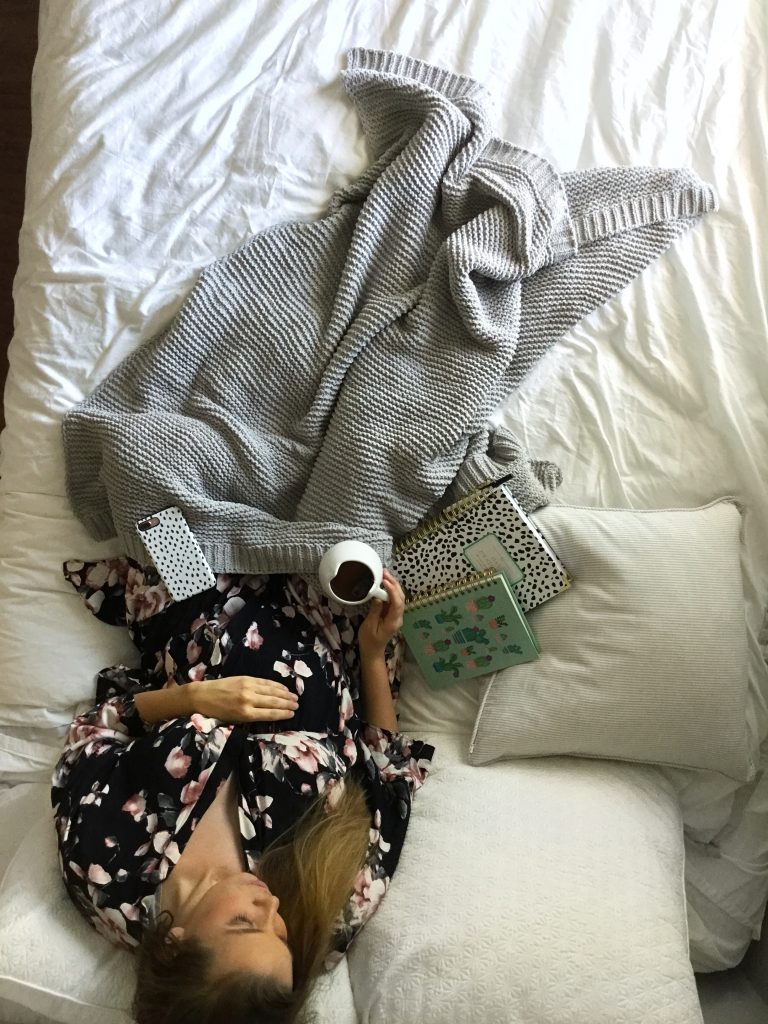 I chose this black floral delivery robe because I know I'll need to rotate them especially in those first few weeks of the newborn phase ( hello newborn snuggles!) It's also very complimentary of the first outfit I have chosen for baby girl to wear in the hospital ( Bring on the coordinating mommy and me outfits haha!)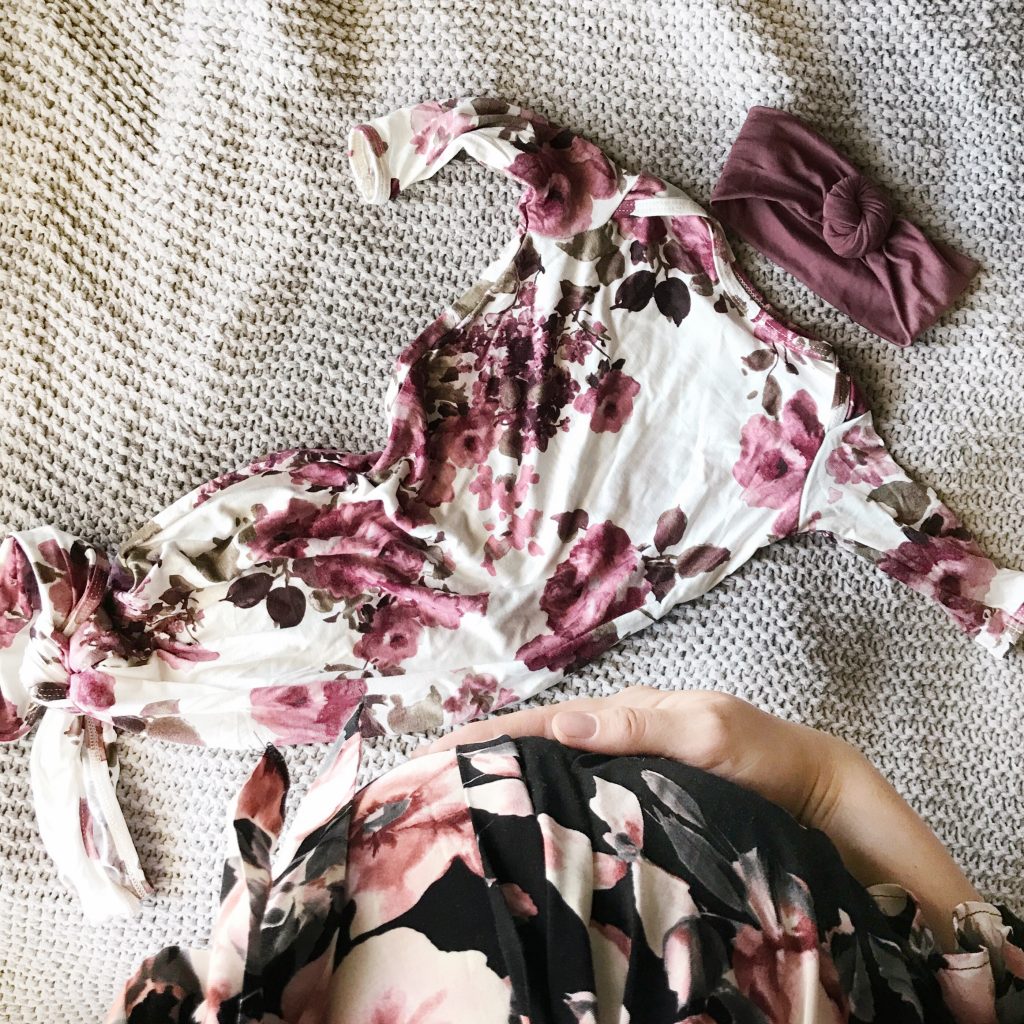 I've truly enjoyed having something that makes me feel pretty even while lounging working at home. It's easy to let yourself go when working from home and rarely seeing other humans besides your husband and son… but I'll tell you what a hot shower and a pretty little robe can go a long way for your self-esteem if you're feeling stuck in that motherhood grind.
Stay tuned to see what Pink Blush dress I chose for my maternity photo shoot coming up!
*** Occasionally brands will send me products to try, and feature. While some items in this post were sponsored all words, ideas, and opinions are my own, and I had the opportunity to choose items that fit my personal style and that I would actually use. ***