For all you mama's and expecting mamas you know that nesting is no joke. I'm not sure if this is a good or bad thing but my nesting doesn't manifest itself in the form of cleaning (sorry hubs) … It's more in the neurotic planning of every detail of baby's room, outfits for the hospital, and organizing.
When I found out we were expecting a baby girl it took me a few weeks of disbelief before I even allowed myself to get excited about planning her nursery. The number of ideas that spun around my head would make anyone dizzy. Finally, I landed on the ideas you will see below, and with some beautiful collaborations from some incredible small shops, and the hard work (and patience) from my darling husband this vision of mine was brought to life.
As many of you know Taylor and I's first babies are our spotted beauties, Desiree and Lacee…and these little Dalmatian Pittbulls have been our most loyal companions. They have made me really partial to anything with spotty dots, which is why I absolutely fell in love with Shop B Darling's Aspyn wallpaper. From there I developed our color pallet and it all started falling together.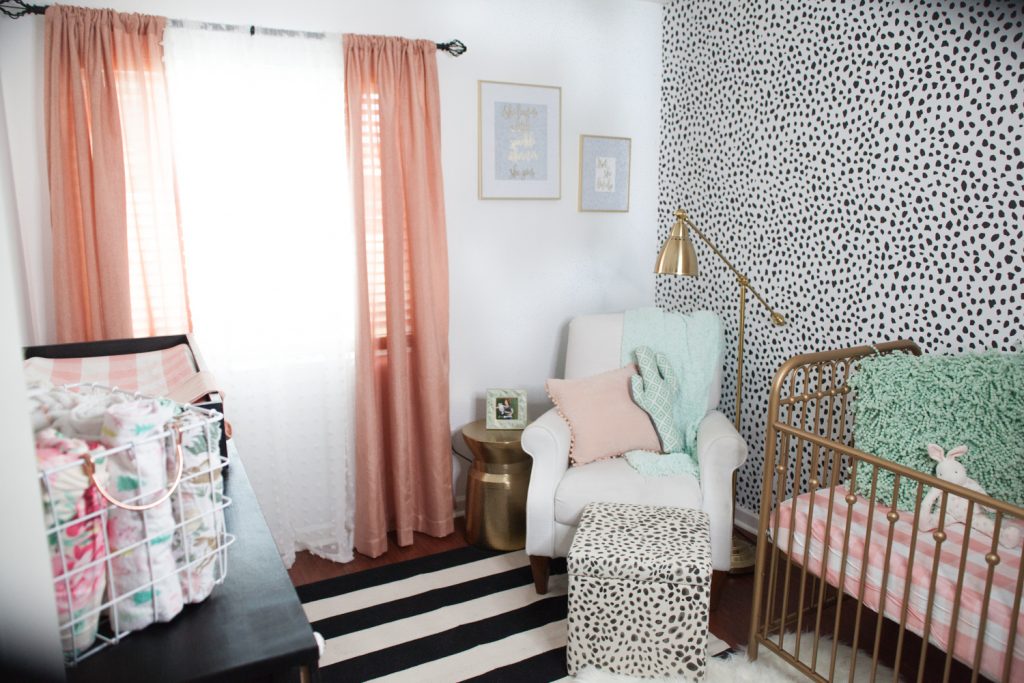 Colors: Black, White, Gold with pops of Mint, Peach, and Coral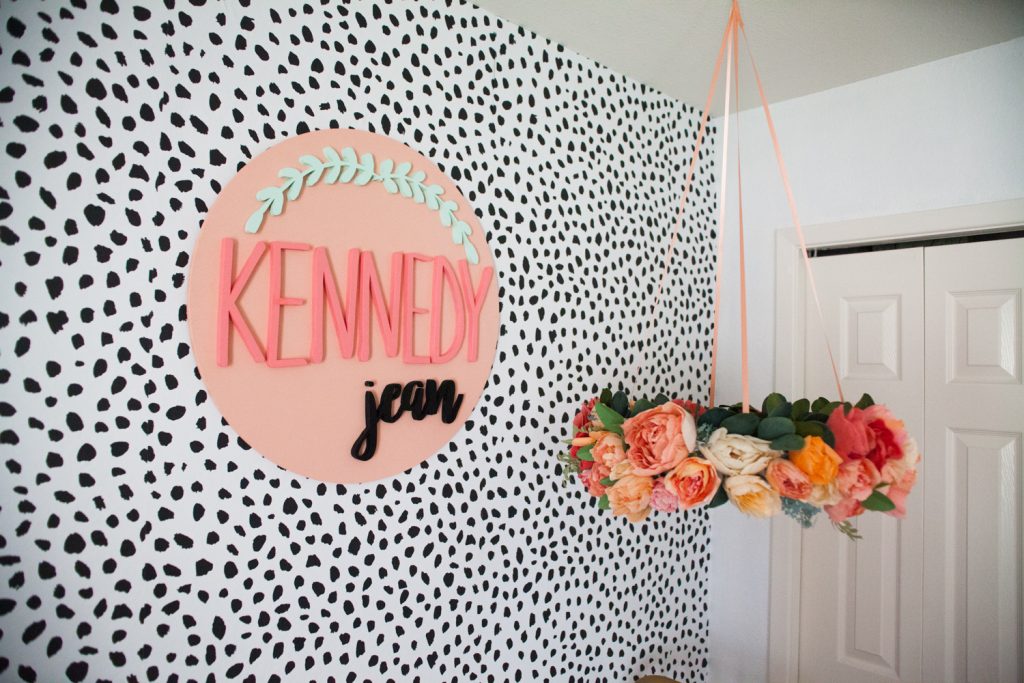 DIY Projects:
Dresser: Anyone who knows my hubby knows he's a reallllyyy good sport about all (well most) of my ideas, and I can always count on him to make these ideas possible!
We bought the Ikea HEMNES 8-drawer dresser, and because it was black-brown (and I wanted a true black) We used Annie Sloan chalk paint in graphite with black wax to accomplish this look, and I found these ornate gold & white knobs at Homegoods. (Which is my favorite place to find unique knobs and pulls if you're willing to hunt it out a bit)
The changing pad box was made by Taylor as well, it was grey from when we made it for Tatum's nursery and we just painted it to match KJ's room.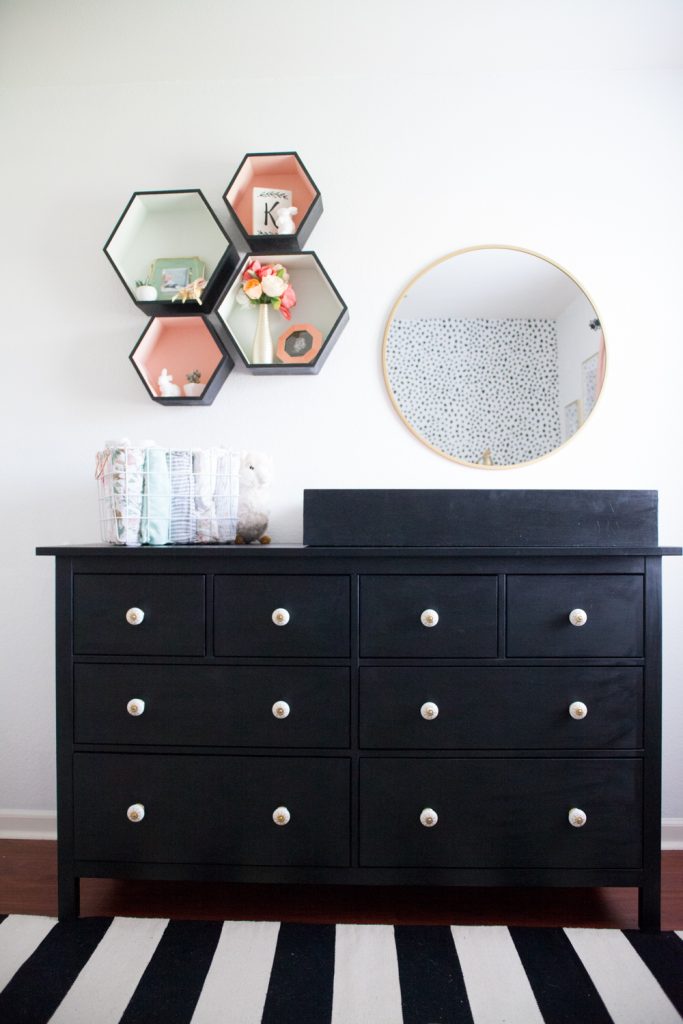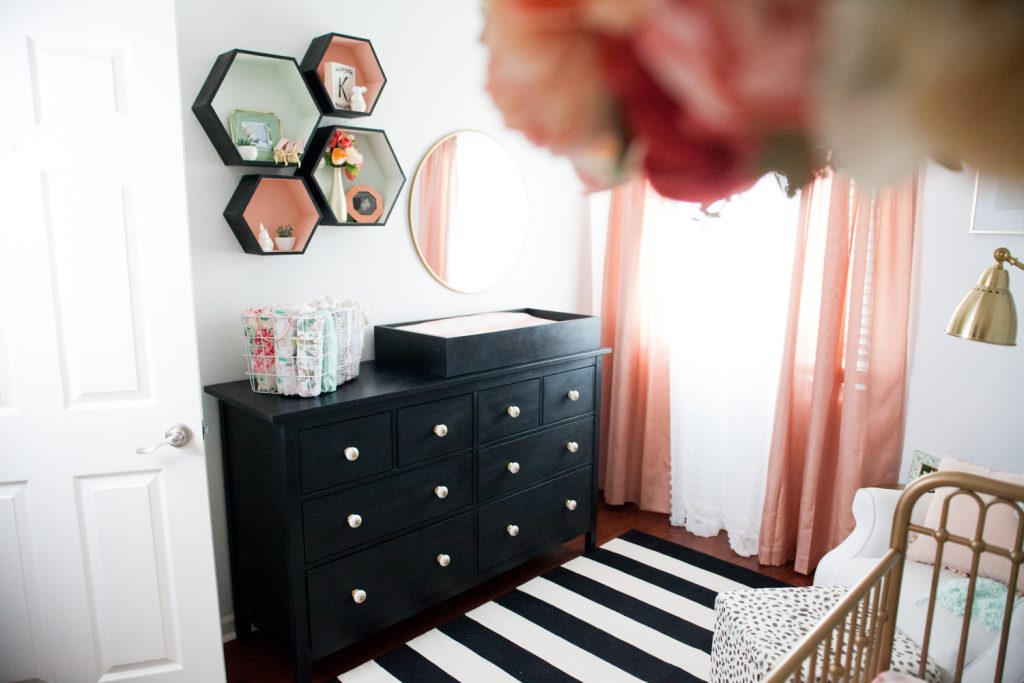 Shelves: These shelves are from Hobby Lobby (I mean who doesn't love the hob) They come in grey/pink and we gave them a fresh paint job to coordinate.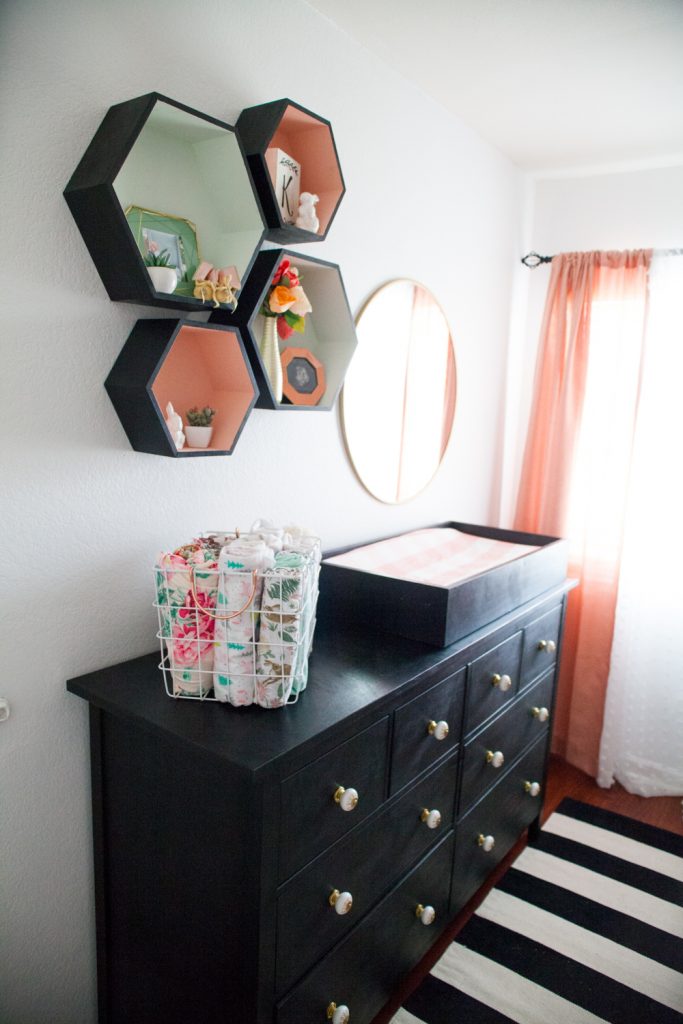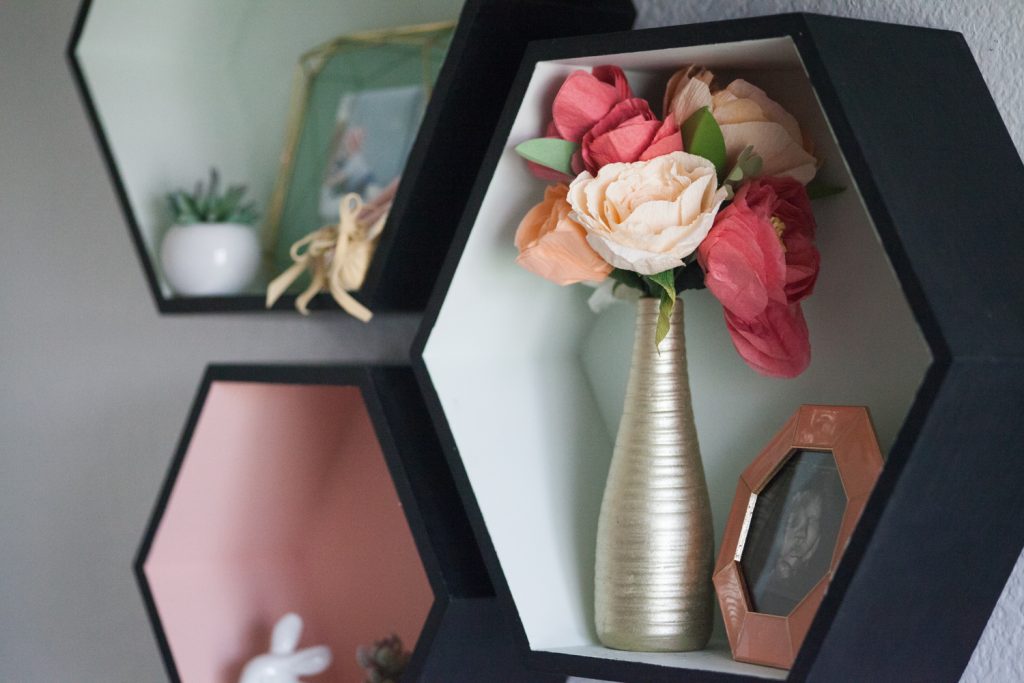 Prints: I created these prints using gold Cricut vinyl and spotted vinyl from Hobby Lobby, I love the simple gold frames that compliment the gold details throughout the room.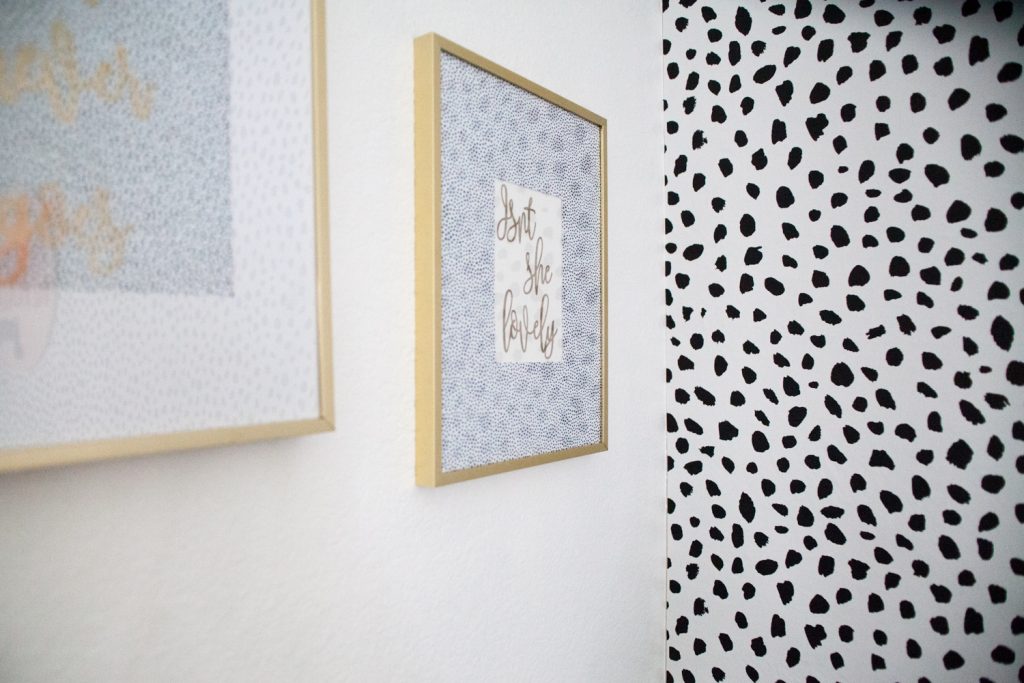 Mobile: Now this mobile holds a really special place in my heart…I wanted to incorporate florals into Kennedy's room but nothing was speaking to me. One thing I wish I had done for my son's room was a mobile so this project was a priority. This floral gem is made from handcrafted tissue and crepe paper blooms, these flowers are especially meaningful because they are from the centerpieces I created for our wedding. Over the course of 13 months, my friends and I handmade over 1,100 paper flowers which were featured in the bouquets, centerpieces, ceremony arch and more. These forever blooms are proudly displayed in my office and I'm always feeling guilty that they are basically collecting dust on a shelf. So now our daughter will coo and kick below my most heartfelt creations!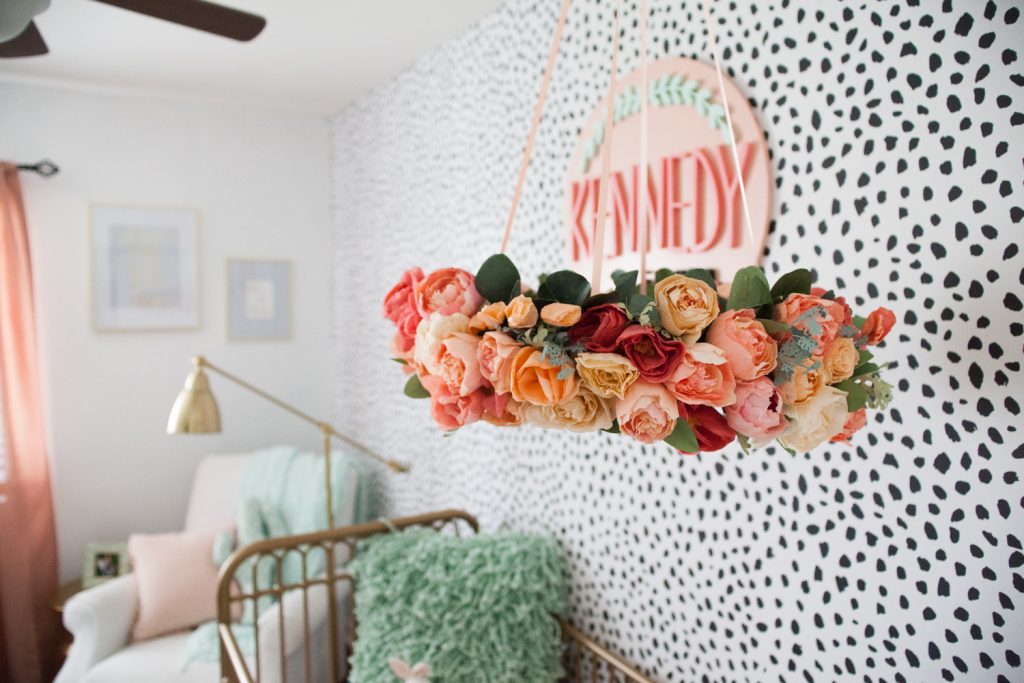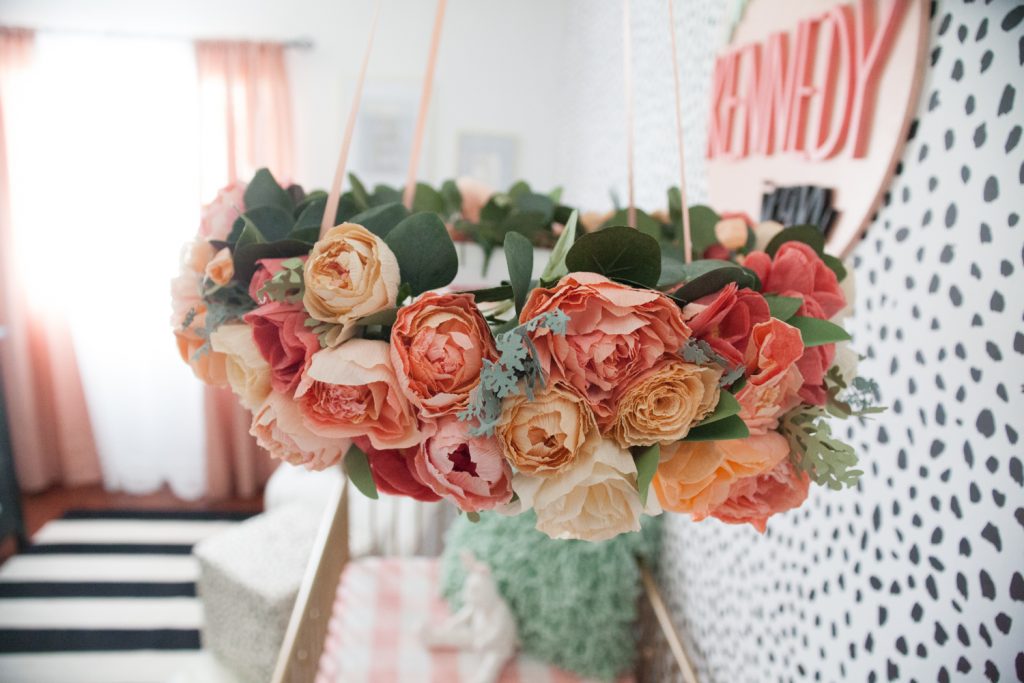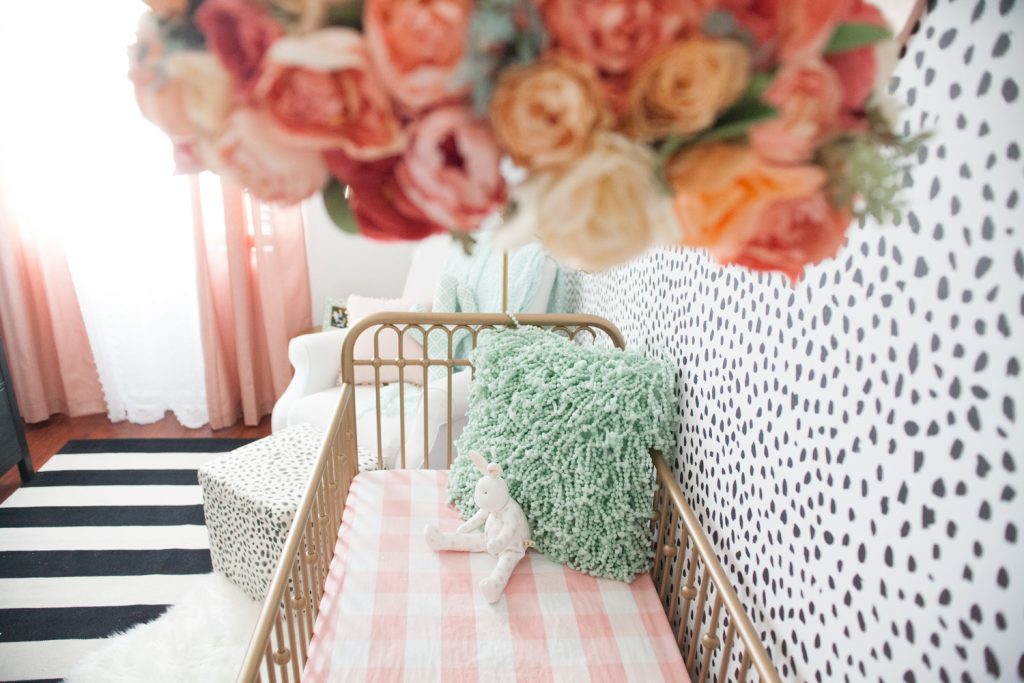 Notable Details:
THE sign…oh my gosh, I laid awake many nights wondering what would hang above baby girls crib, and then the stars aligned and I was connected to a shop owned by the sister of a friend of mine! Samantha, the total #momboss behind Knox and Navy created this exquisite beauty for Kennedy in record time, and with so much attention to detail and care for her craft. This sign really tied everything together for me, and gave me a renewed confidence in my color choices.
I know this sign will remain a keepsake for Kennedy for her whole life, it's just SO Special!!
Be sure to visit Knox and Navy on Instagram because we are hosting a killer giveaway…
A free custom sign AND a Mama + Me moo moo/onesie set of your choice!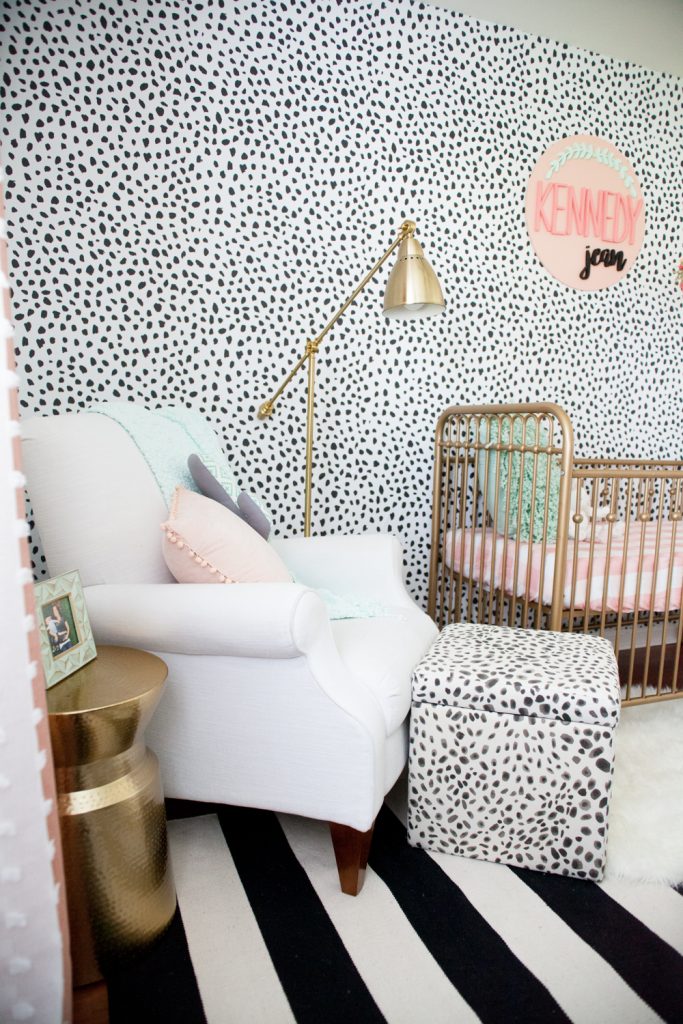 Name inspiration –
I have a thing for initials when my maiden name was still intact my initials (Whitney Irene Thomas) were WIT and I always thought that was so cool! When preggo with my son I knew I wanted our first son to share his daddy's initials. My husband Taylor Joseph Ford (TJF) is also quite fond of his initials, and his middle name Joseph is after his late grandfather who everyone says is a Tay's twin from another generation.
Our first date was on Tatum blvd and so Tatum (Tate) Joseph was an easy choice… prior to finding out the gender of our
firstborn we had settled on a girl and boy name, and those two names were the only ones we even chatted about, it was like they both clicked, and we KNEW those were the names meant for our babes.
Back to Kennedy… Both of my parents and one of my lifelong friends have the initials KJ,
In an effort to honor those very important people I wanted our daughter to share those very special initials. Kennedy seemed to flow so nicely with our last name Ford ( Kennedy Ford sounds so presidential, and we are a prettttyyy patriotic family!… Kennedy Ford for president 2058) Jean is my beloved mama's middle name, and her grandmother middle as well.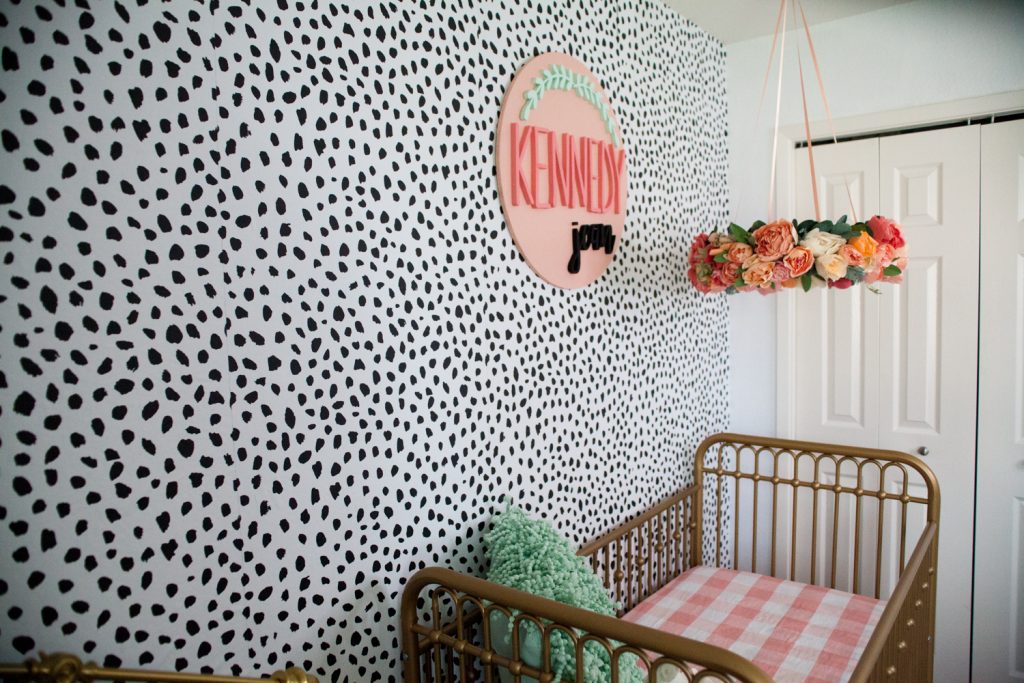 We cannot wait to welcome little miss Kennedy Jean Ford into our family any day now!!
Moccasins – The dainty newborn moccasins were created by my maternal grandmother, Annette Ketchum (Annie) I'm a proud member of the Delaware Tribe, and these traditional Delaware Moccasins will be a treasured keepsake. I have my first moccs proudly displayed in my dining room, and Tatum's are in his room. Not only are they special because their great-grandmother made them, but because they are a tangible symbol of the immeasurable efforts my grandparents have gone to, to ensure our tribal ways are preserved and passed on.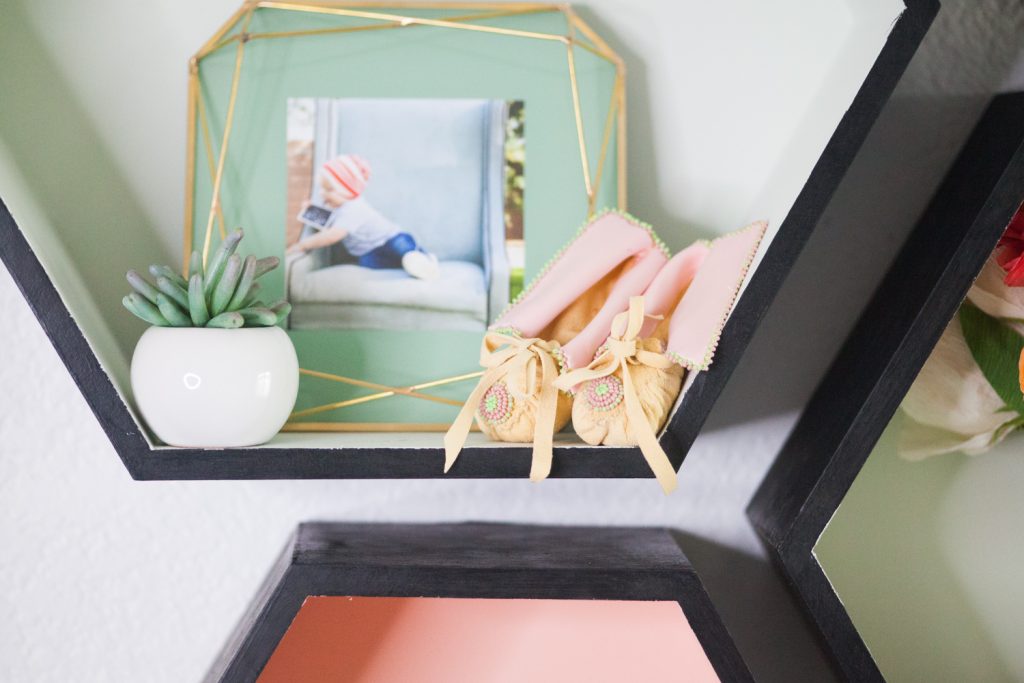 Bunnies – My mama has called me "bunny" for as long as I can remember. It's a nickname only she calls me and it has always been endearing to me. When I found out Kennedy was due so close to Easter, I instantly imagined her as my little bunny. The ceramic bunnies on her shelves are from my Mother-In-Law's personal Easter decor and they were such a sweet detail to incorporate.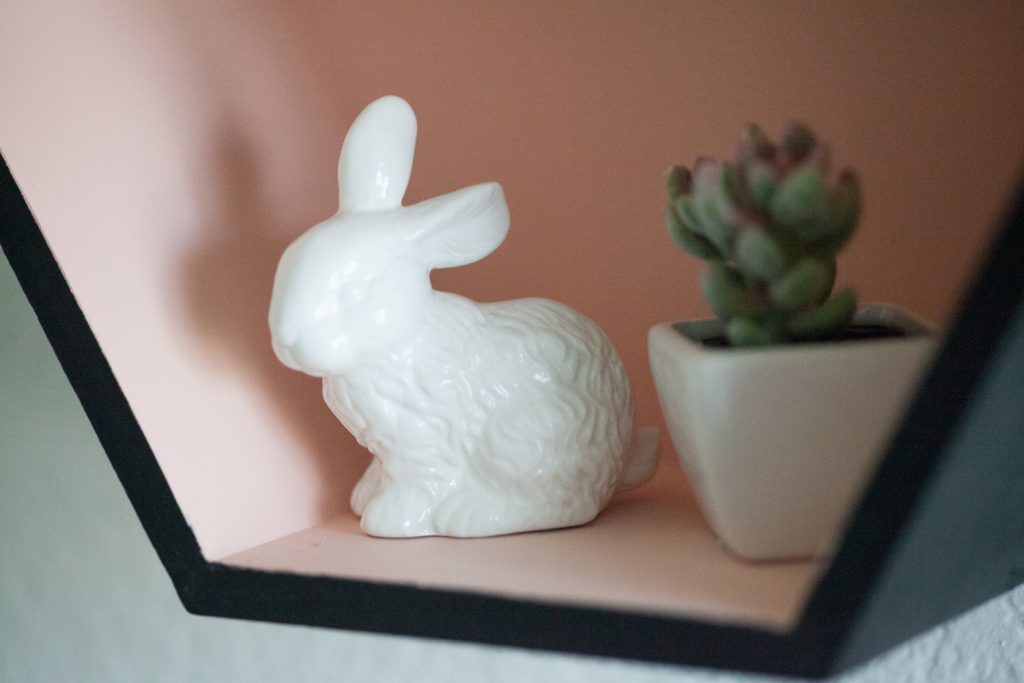 I'm so thrilled with the way our sweet girl's Nursery turned out, full transparency I second guess myself a thousand times when it comes to home decor. This is the first time I can look at a finished project and feel 100% confident in each decision we made to make this space special for our daughter. Curating this room has been such a fun bonding experience for our family, and seeing our sons excitement anytime he gets to show off sisters room turns me to total mush every time. The love, care, and time Taylor has put into this project (and really all of our home projects) is a physical reminder of his heart for family and seeing us happy.
Seeing him with our daughter will be game over. You can find me in a heap of hormonal tears on this fuzzy white rug when that day comes.
Thank you to our friends and family for sharing these experiences with us! Don't forget to enter the giveaway!!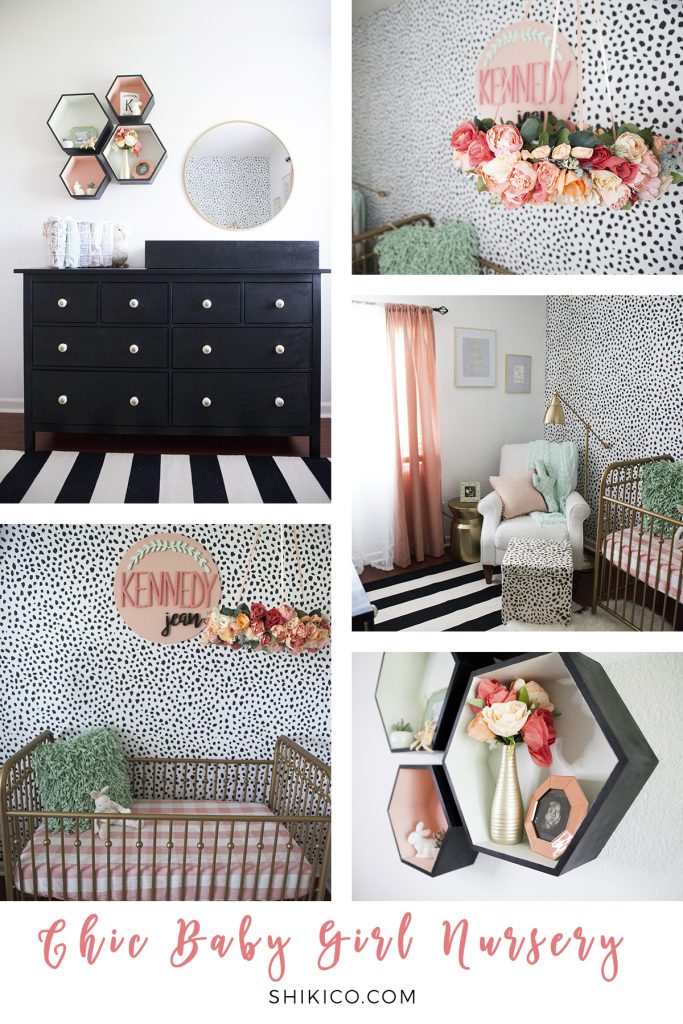 Dresser – Ikea (pulls HomeGoods)

Crib – Wayfair
Rug – (striped) Target (Fuzzy) Homegoods
Wallpaper – Shop B Darling
Sign – Knox and Navy
Recliner – Homegoods ( Lazy boy brand )
Ottoman – Target
Mint Throw – Target
Peach Pillow – Homegoods
Cactus Pillow – Prickly Pear Lane
Frames – (gold) Target (colored) Homegoods
Mobile – Shiki
Shelves – Hobby lobby
Curtains – (Coral) Target (White) Homegoods
Sheets & Changing Pad Cover – Carousel
Mirror – Target
Table – Target
Lamp – Ikea