Living in Arizona away from all family our little ones have grown accustomed to flying and picking loved ones up from the airport so its no surprise that our son Tate loves airplanes "A-HANE" as he calls them.

Around when he was turning two I bought these darling paper-airplane pants from Bitty B and knew I would save them for something special. The words "time flies" kept repeating in my head throughout the year and then one day it clicked, we have to do an airplane party for Tate.

I'm excited to share with you the details of Tate's Time Flies Airplane Birthday Party.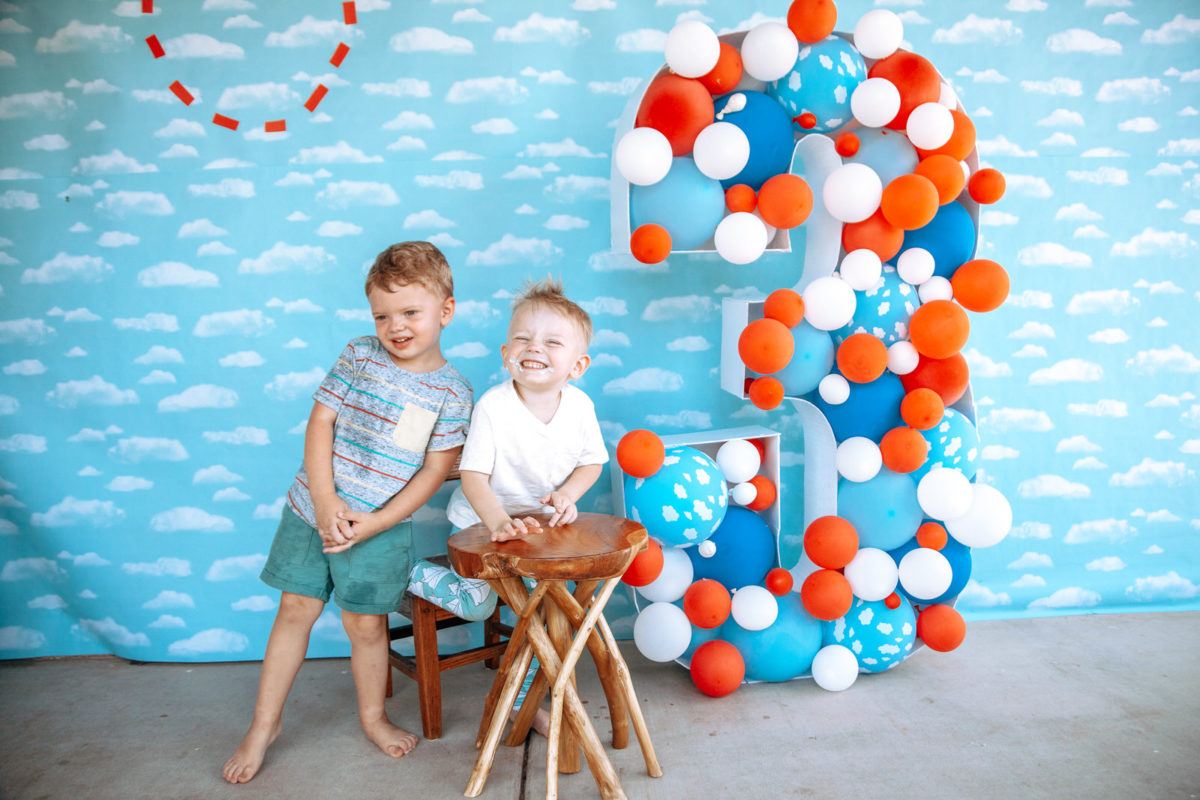 Theme: Time Flies – Airplane BIRTHDAY Party
Colors: Light Blue, Red, White
Invitations
There are so many adorable invite templates and printables available on Etsy but I had a special surprise for Tate that also led to adorable invite photos. If you're local to Arizona you've got to check out the Hanger Cafe in Chandler. It's located at Chandler Airport and you can watch the planes takeoff and land right by the patio. They also have a hanger open where the planes are being worked on and you can come inside getting a close up look at the private planes.

We took my nephew here when he was 5 years old and he was enthralled. We took Tate and some of his buddies there for breakfast and the kiddos loved seeing the planes up close! I loved getting these darling pics of Tate which we used for his invites and printed throughout the party!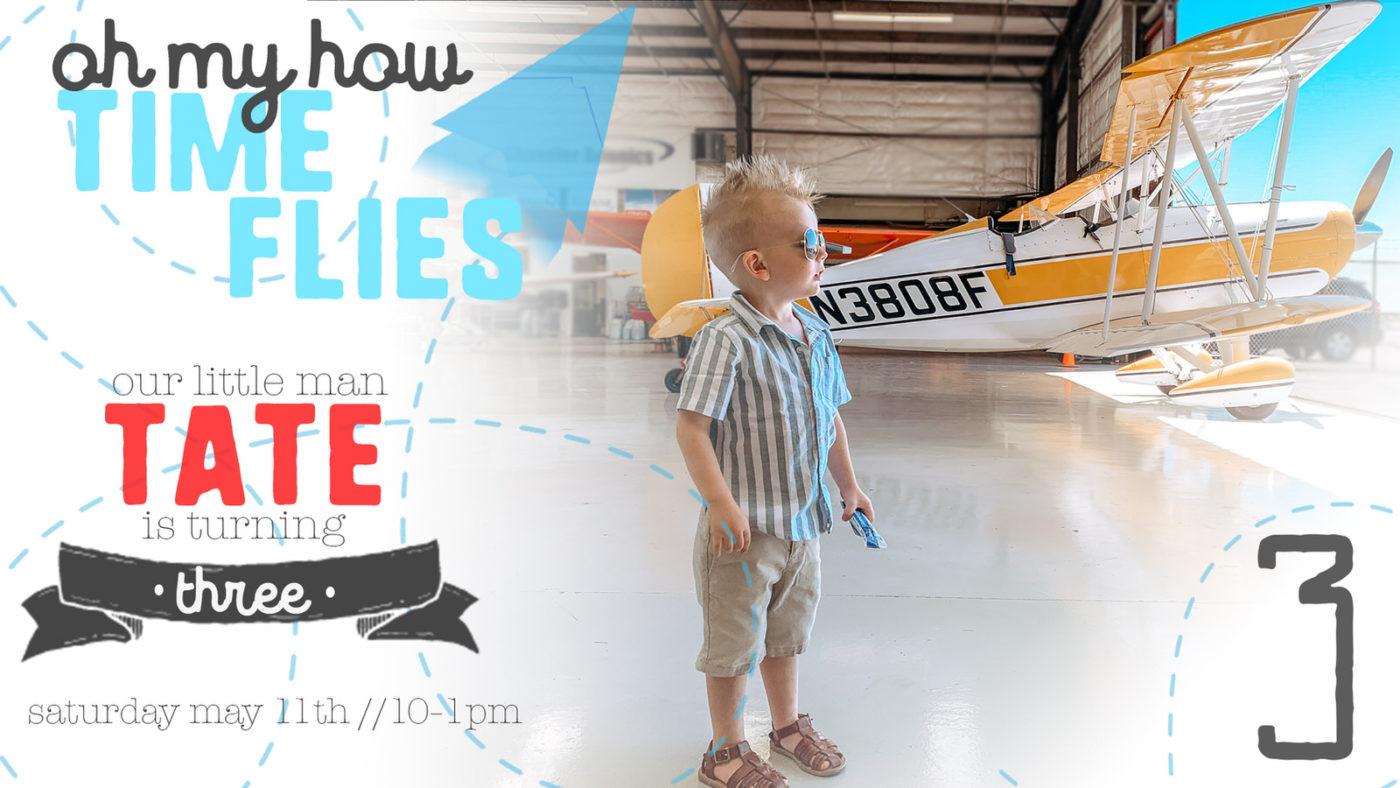 Food
I've got to give my husband credit for this one – I didn't want to grill out because our daughter's party was the month prior and we didnt want the same menu. Taylor suggested a spin on Tate's favorite food – Mac N Cheese. The Mac N Cheese Bar was a huge hit, we kept the mac n cheese in the crockpot to stay warm and guests could load their pasta up with sides

Bacon crumbles
Grilled Chicken
Pepperoni
Hot Dog Slices
Shredded Cheese
Green Onions
Bread Crumbs
Tomatoes
Peas

Sadly I didnt capture a photo of the food table – however I caught this cute moment of Tate feeding his buddy William =)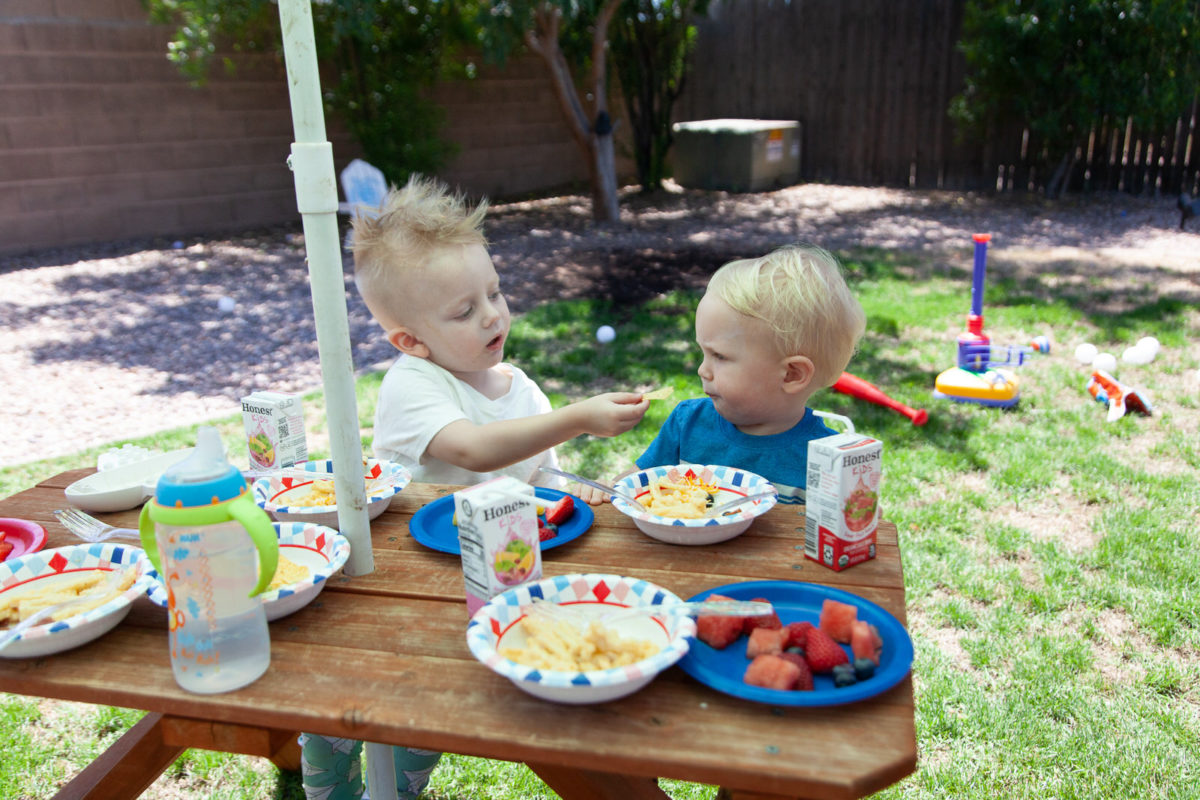 Treats
If you've read any of my previous party posts you know I'm obsessed with our Cake Lady Christina – she made this darling cloud cake with Tatum's name written on it in skywriting fashion. We topped the cake with a classic plane figurine from Hobby Lobby.

Dixie (my mother-in-law) made airplane shaped rice krispy treats which are always a hit with the kiddos.

And my friend Allison from AP Sugar Co created the most adorable aviation-themed cookies for our Time Flies Airplane party! I don't know if I'll ever have a treat table without these fabulous cookies!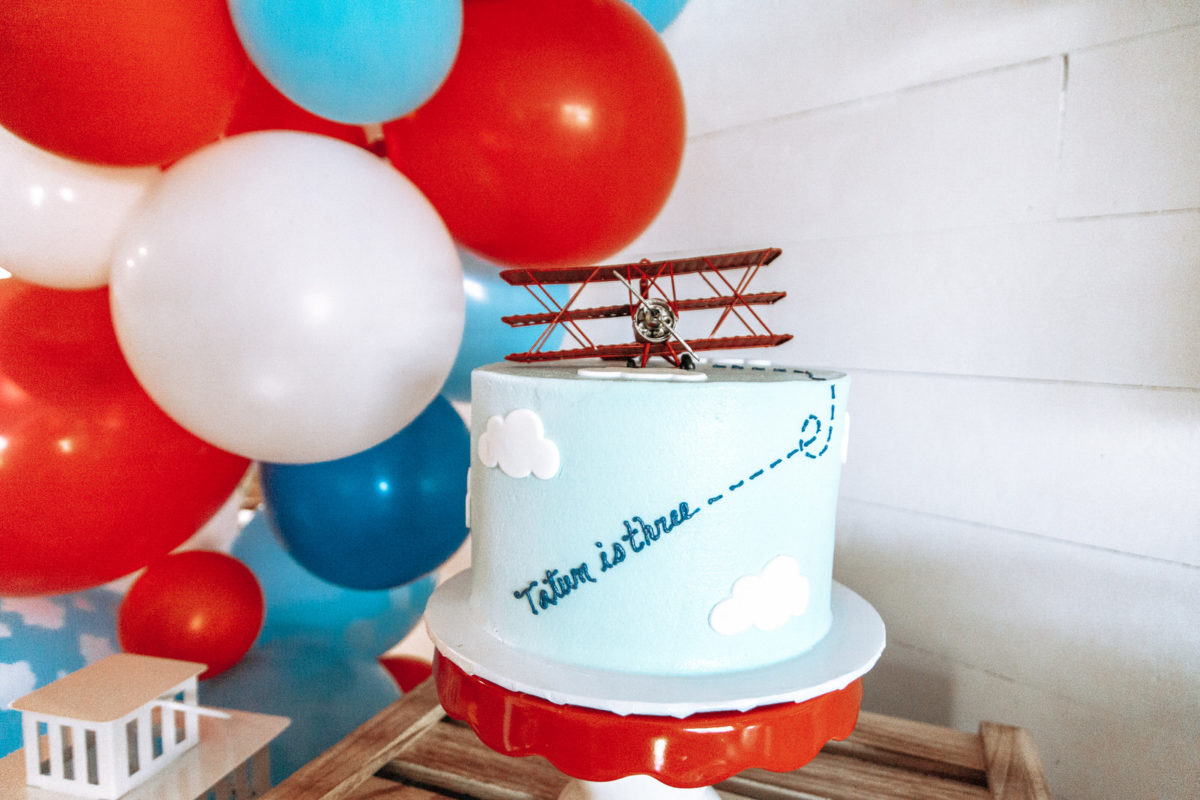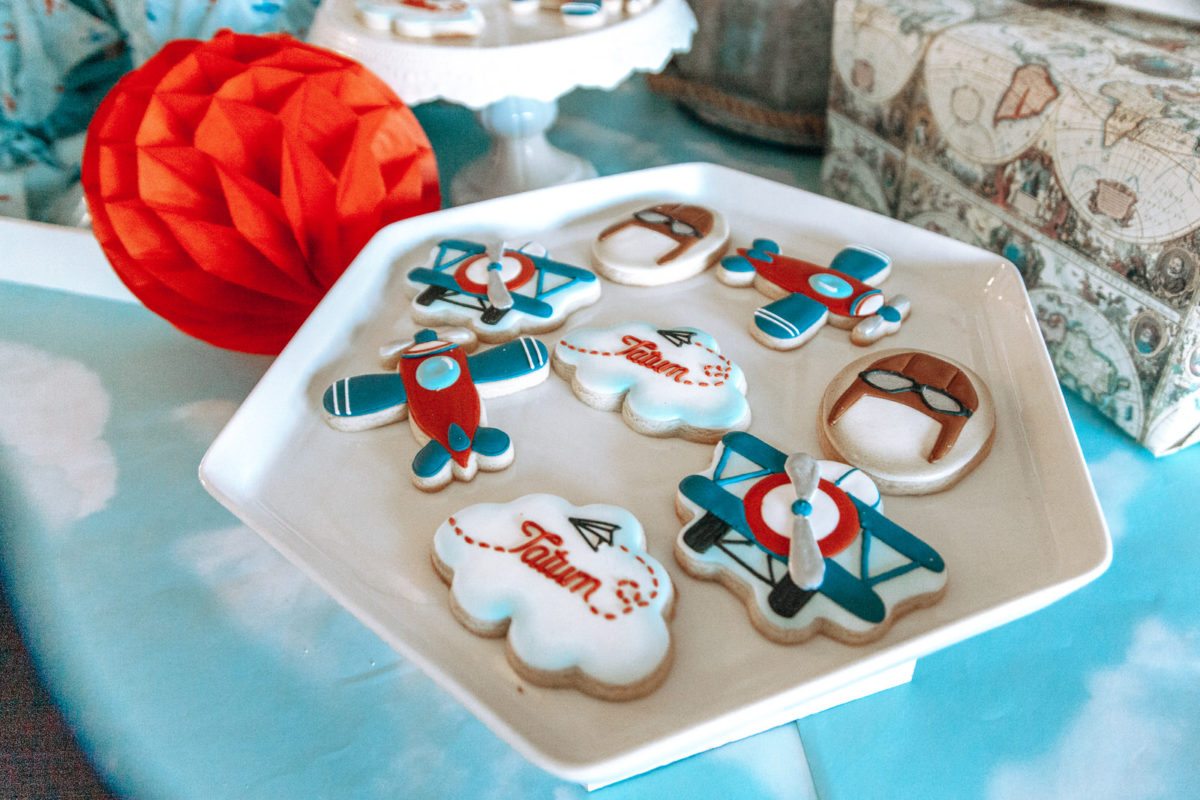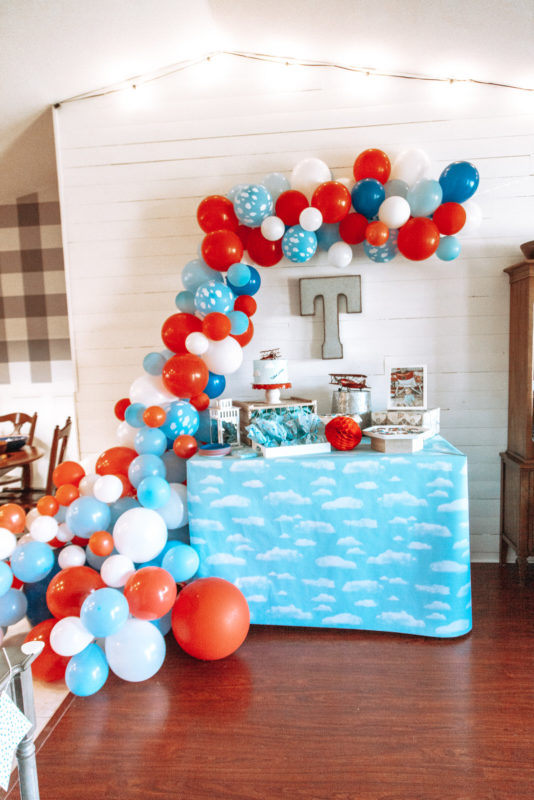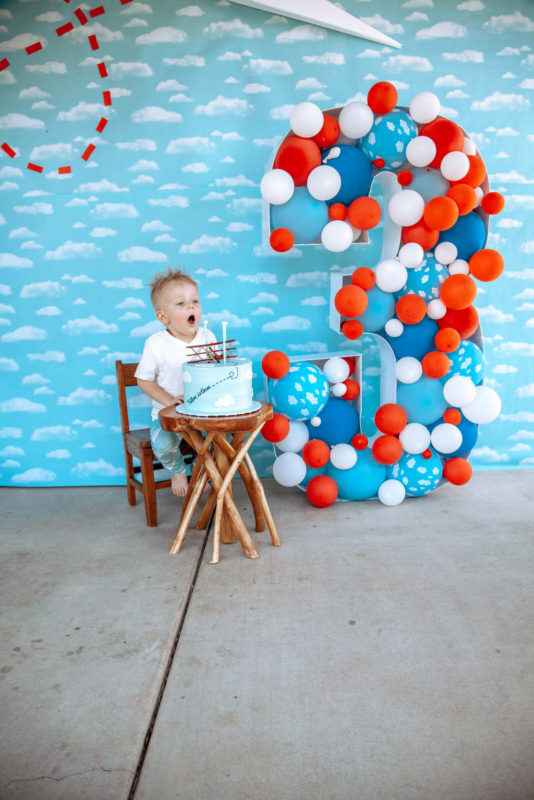 Activities
With the ages of kiddos we had coming to the party (3-12 months) I knew we could entertain most of them with just the toys and activities our yard has, the sandbox, playhouse, water table and little slide… we also brought our train/ lego table outside and the kids were entertained by building.
Inside we had airplane coloring pages!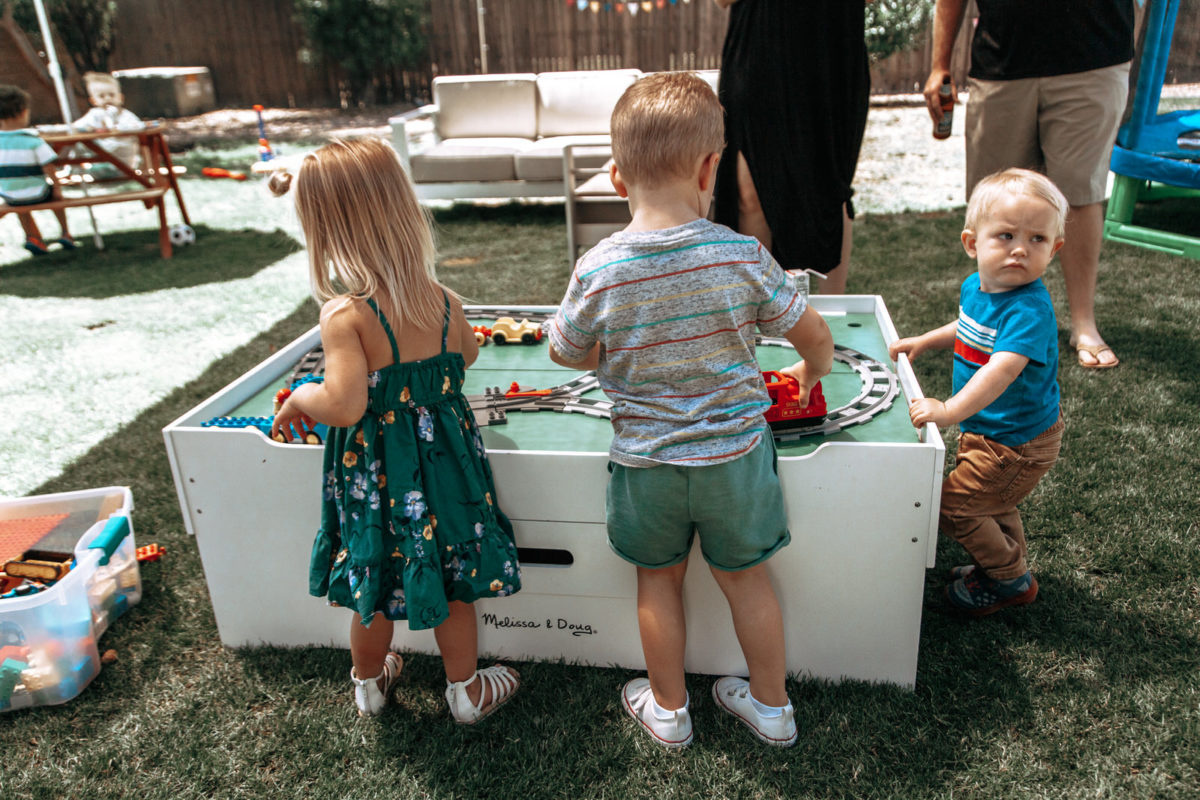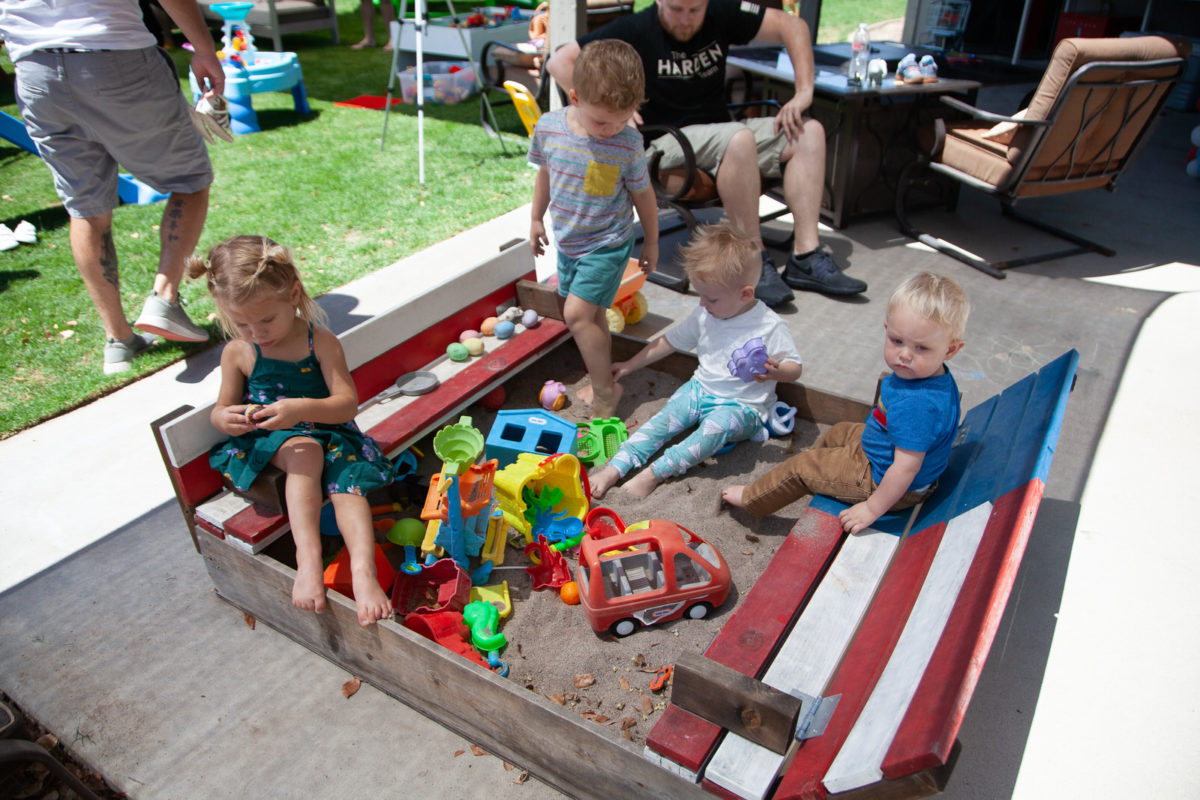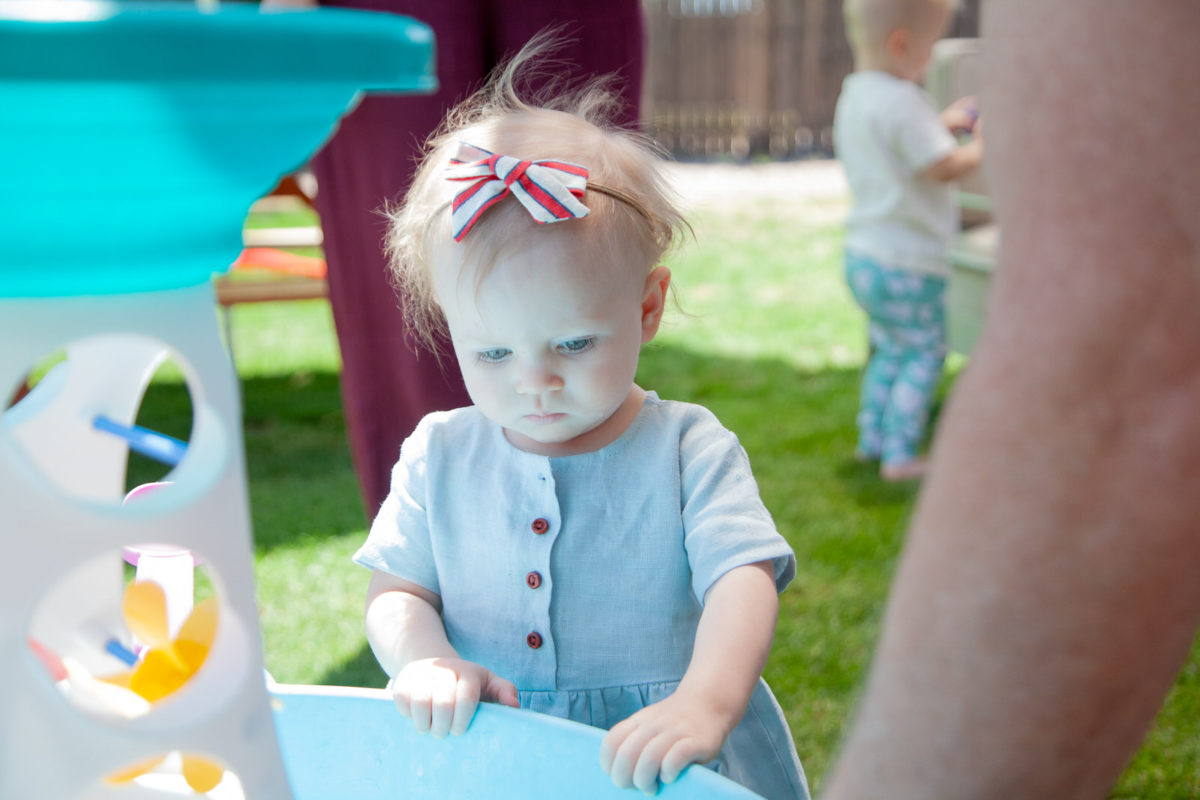 Decor
For Tate's Time Flies Airplane Party I knew I wanted a lot of clouds complemented with airplanes here and there. I focused most of my efforts on two main projects –

The Balloon Garland and the "3" Balloon Mosaic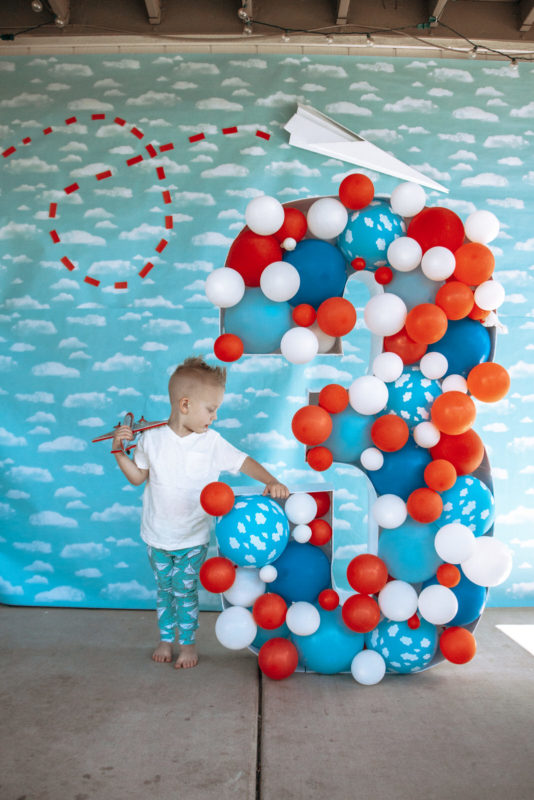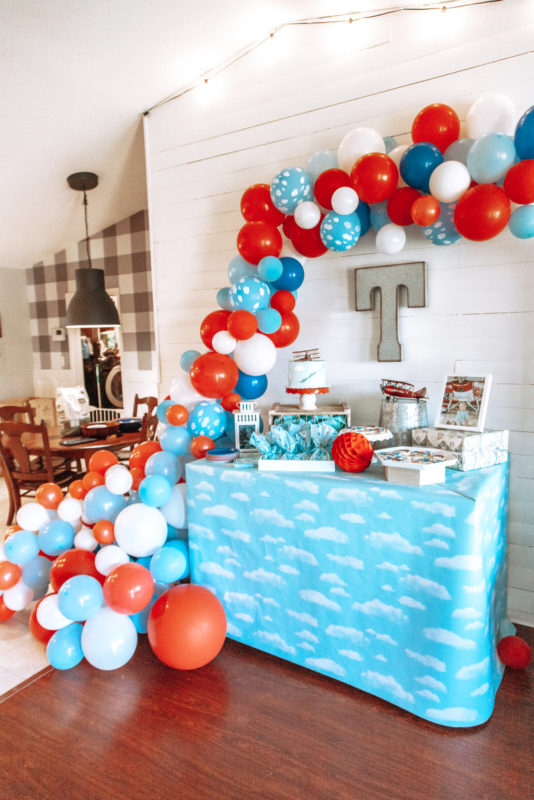 Supplies for the Balloon Garland:
My three biggest keys to assembling a balloon arch are:
Invest in the pump – best $22 you're gunna spend!
Buy different sized balloons ( 11/12" and 5" are my go to)
Once you get a good amount of big balloons attached to the strip, hang it where its going
And then fill it in as needed

Balloon Mosaic
Wow what a project! Lilly from the Creative Heart Studio is a creative genius! If you want to make a balloon mosaic go check out her templates and instructions she seriously has thought of it all! I could spend forever scrolling her Instagram for inspo!

Pro tip – If you're looking for a large 40"x60" foam core board they keep them in the back of the framing department at most craft stores. Just ask someone in the frame department for help and they will bring one from the back for you!

I made the frame a week before the party and filled it with balloons the day prior!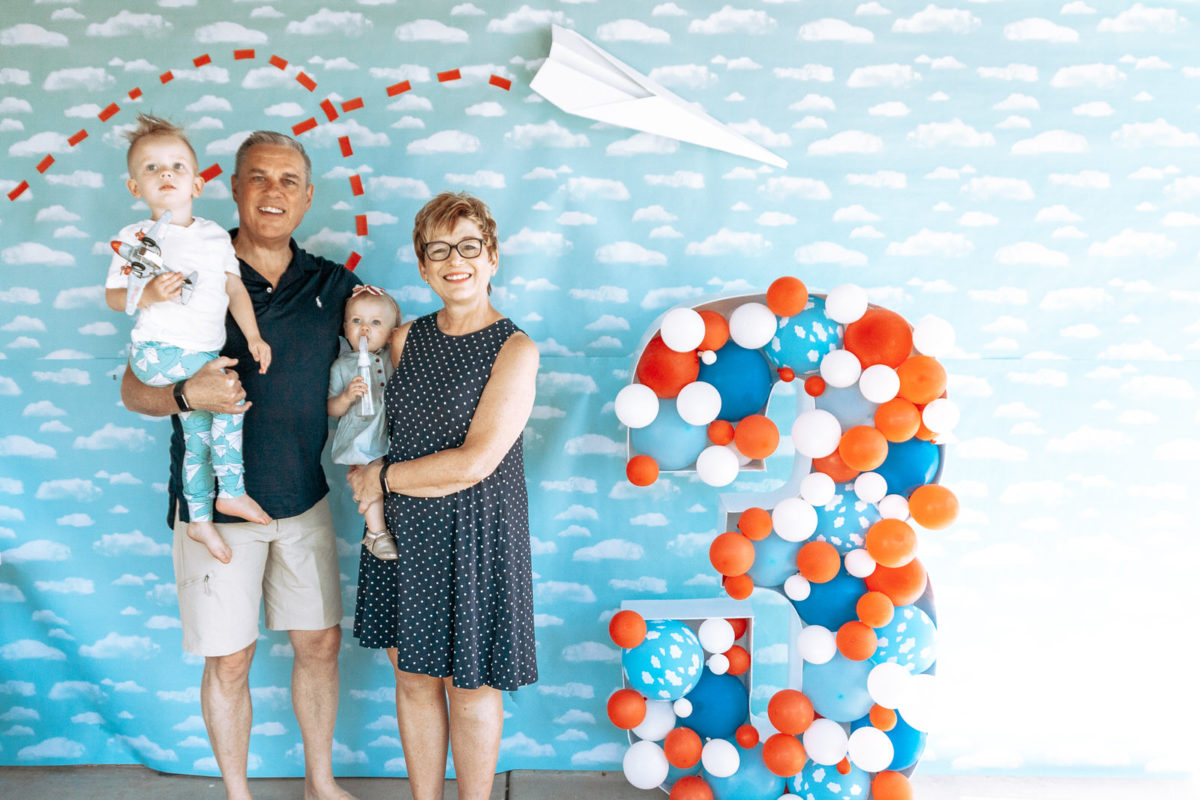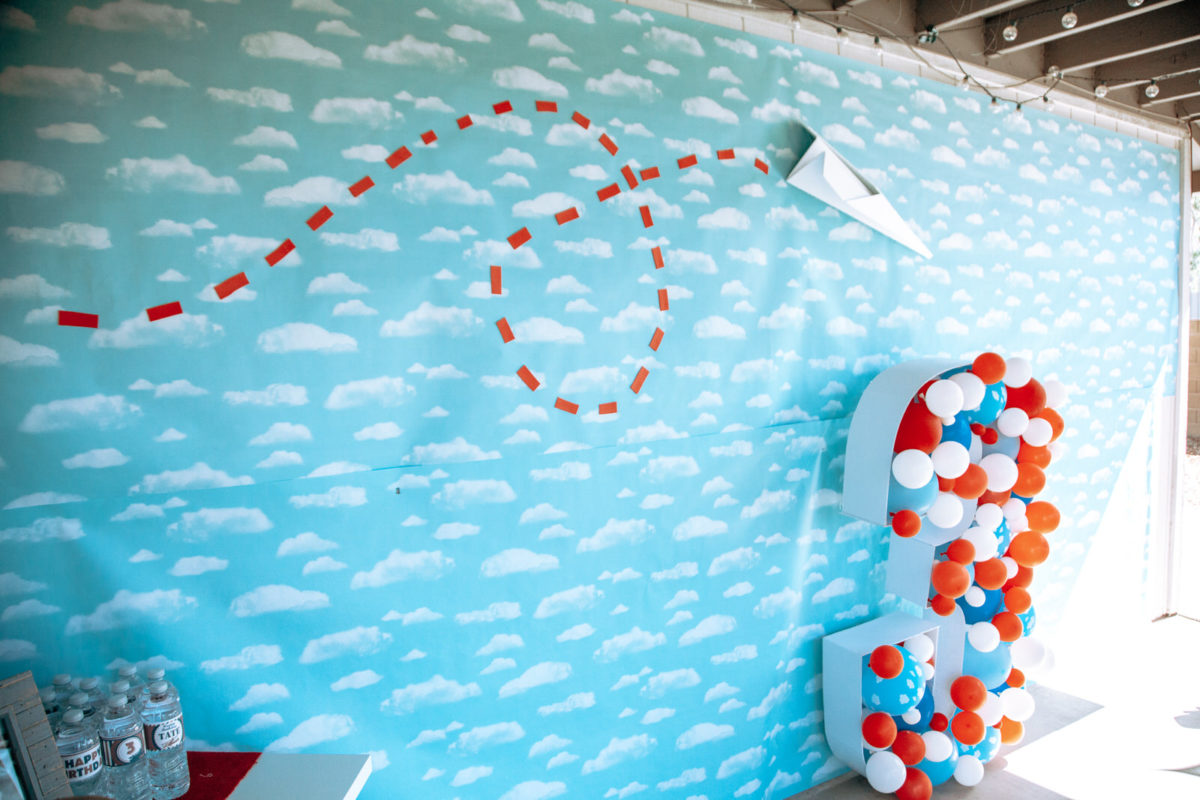 When it came to decorations I focused on 3 main areas – Welcome table, Photo backdrop, and Treat table.

Welcome table supplies:
Favor boxes: these adorable old school suitcase looking boxes were filled with candy and airplane temporary tattoos
Airplane and cloud garland (made with my Cricut Explore)
Pennant banner (Target Dollar Spot) added planes cut with Cricut
Vintage model airplane
Framed printable welcome sign
Framed photo from the Hanger Cafe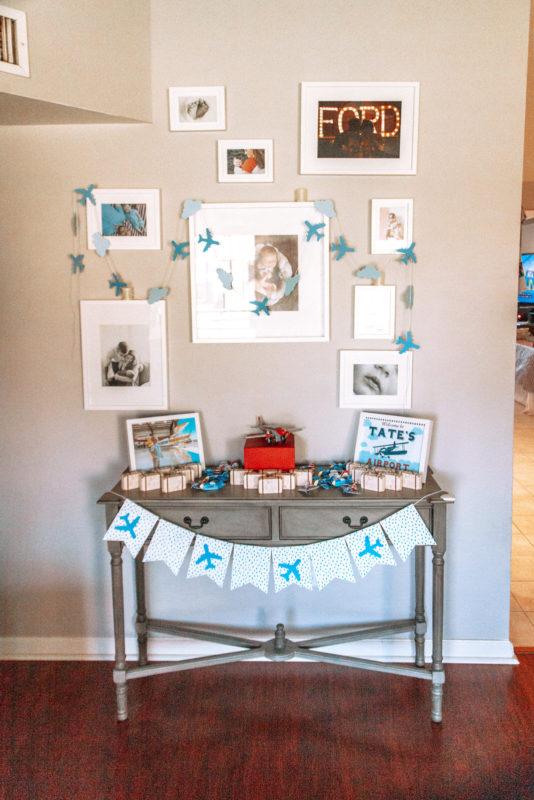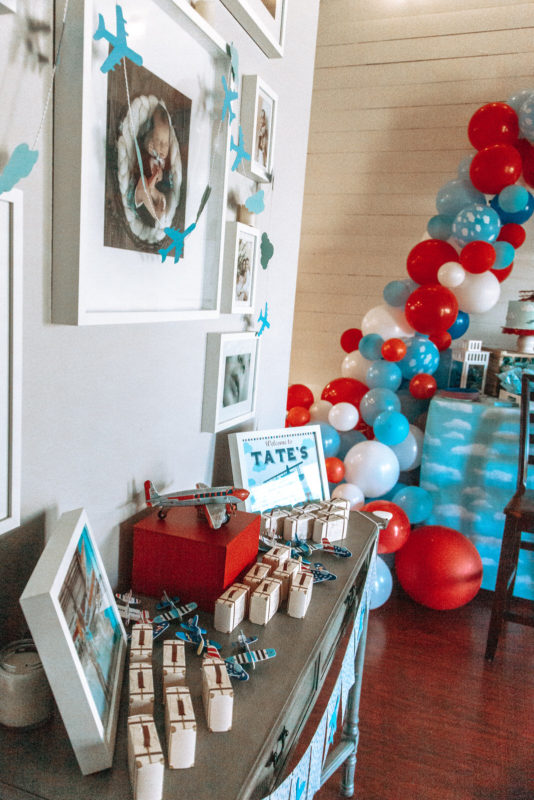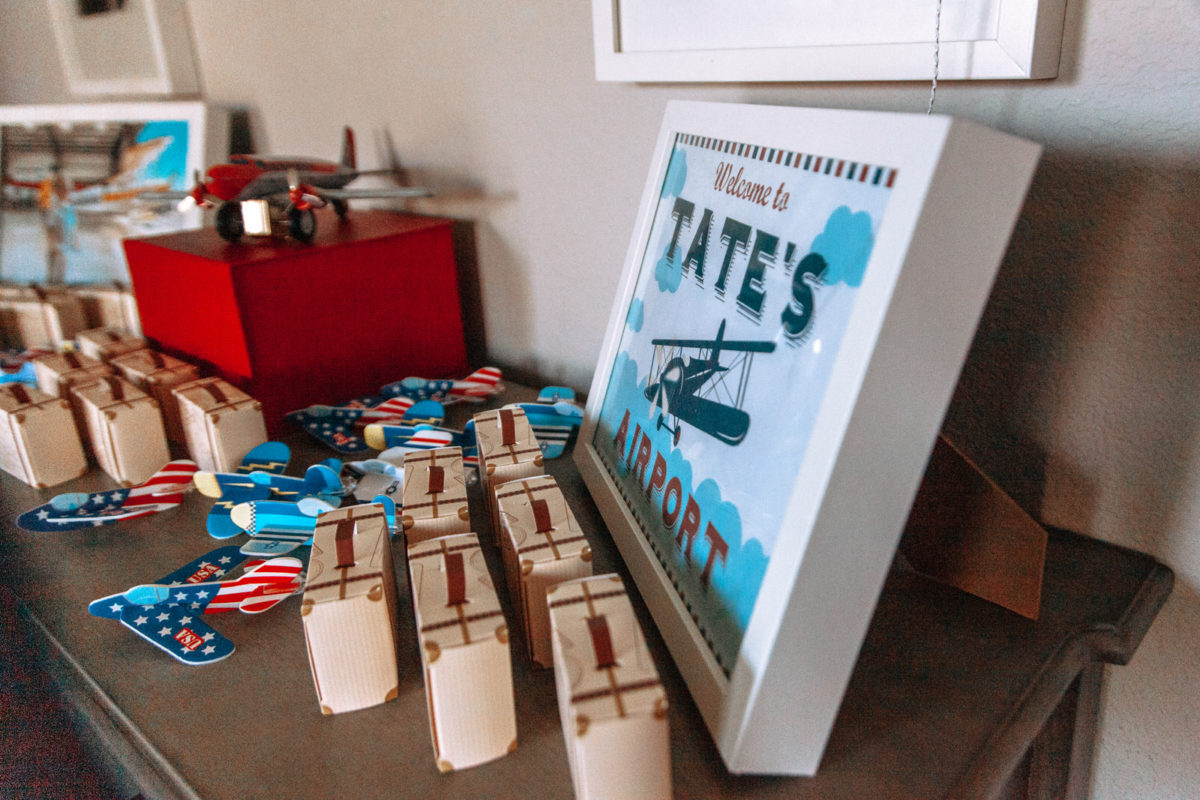 Photo Backdrop Supplies
5 foot "3" Balloon Mosaic
Large foam board paper airplane
Cardstock rectangles for skywriting
Pro tip – We always try and put our photobooth in natural (yet diffused) lighting. We place our photo backdrops under our patio for optimal lighting

The roll of paper we purchased from Oriental trading came in so handy, we used a staple gun to adhere it to the patio wall – it was a great statement piece and covered so much space.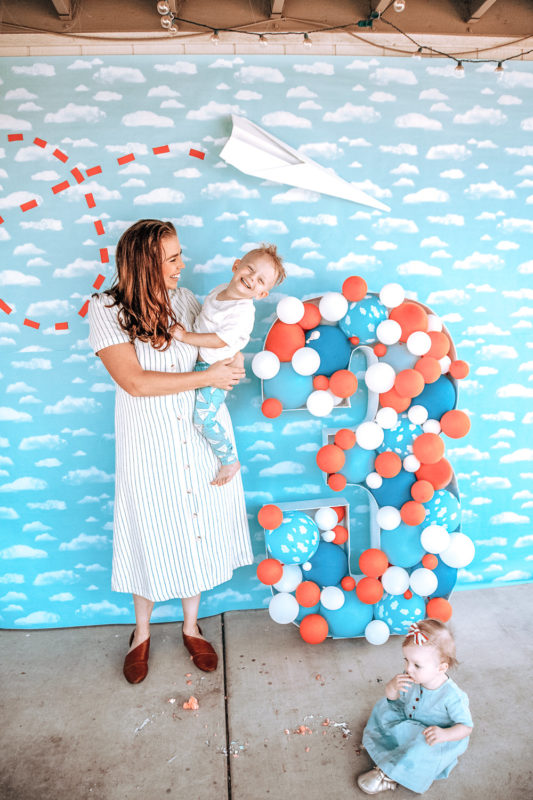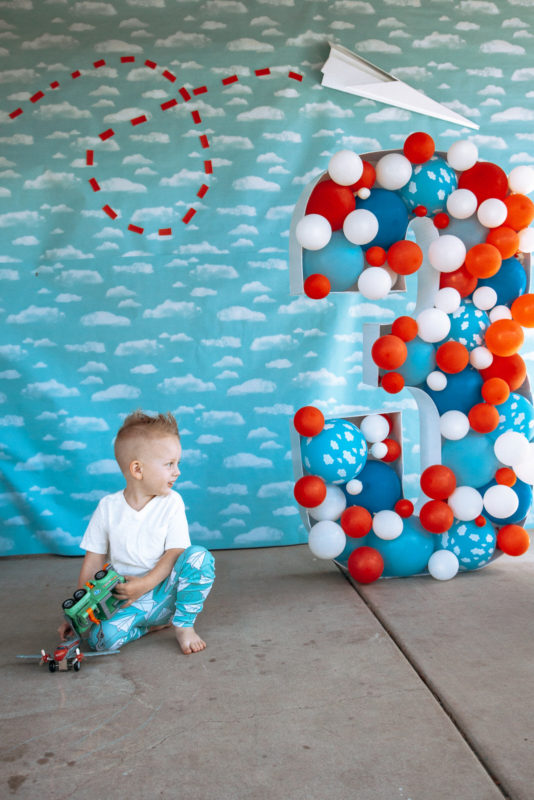 Treat Table Supplies
FADELESS PAPER ROLL-CLOUD 48″X50′
Balloon Garland
Assorted trays, cake stands
Bucket, wrapped boxes, wood shelves, crates
Lantern with tissue
Metal T
Rather than using a linen to cover the treat table for our Time Flies Airplane party I utilized the remaining cloud paper roll and wrapped the table like you'd wrap a present. This was a great solution for covering our counter height table as traditional linens dont often work.

I think a key to tablescapes is levels for dimension – using crates and buckets flipped over can achieve this effect – I also used these trendy little hexagon shelves as risers for trays + wrapped empty boxes with "map" wrapping paper.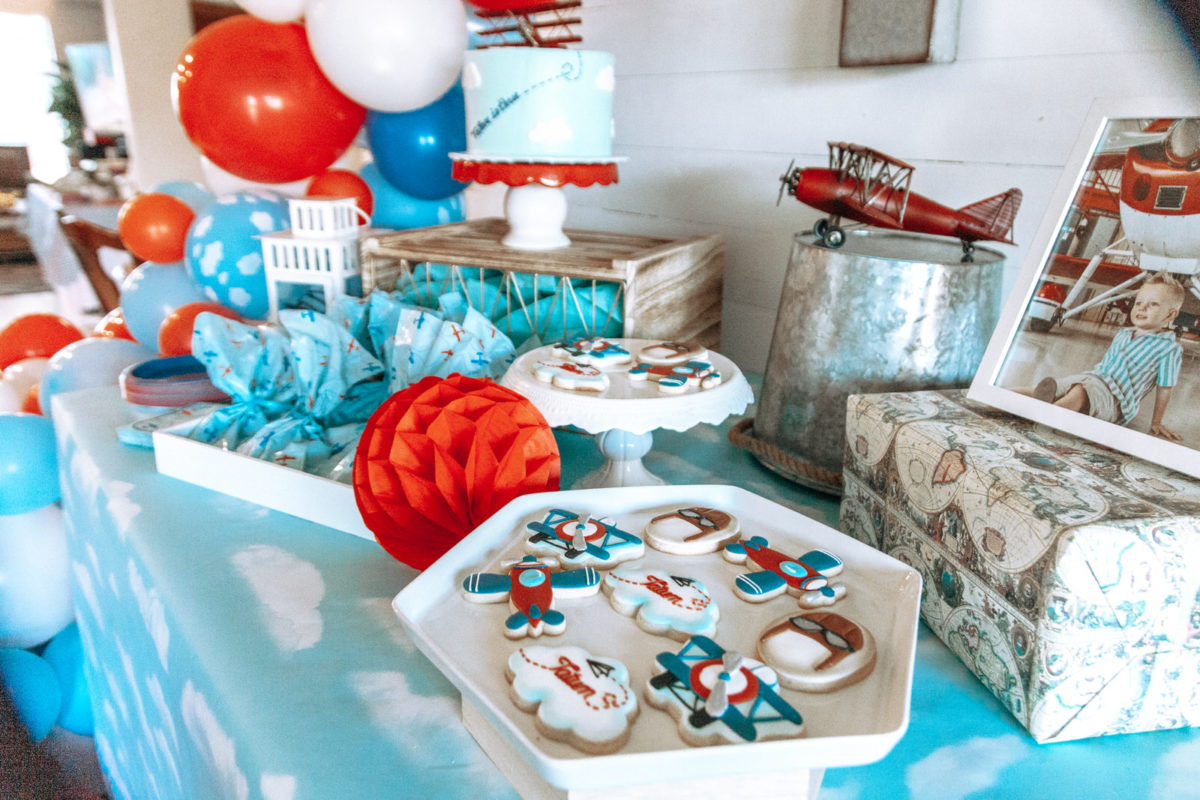 Party Highlights
This age is one I want to remember forever, Tate's awareness of everything around him is astounding. He truly enjoyed having all of his family and friends celebrate him and seeing the joy he felt when we sang happy birthday to him is a cherished memory.

For both of my kiddos first birthday's they ate cake in my husband's childhood wooden highchair
So I wanted to incorporate another heirloom into this party – We mixed it up and had Tate eat cake on the patio instead of by the cake table & he got to sit in this little wooden chair from my childhood.

Seeing Tate share cake with his bestie Owen and hearing him talk about his party for weeks after made all the late-night craft sessions completely worth it.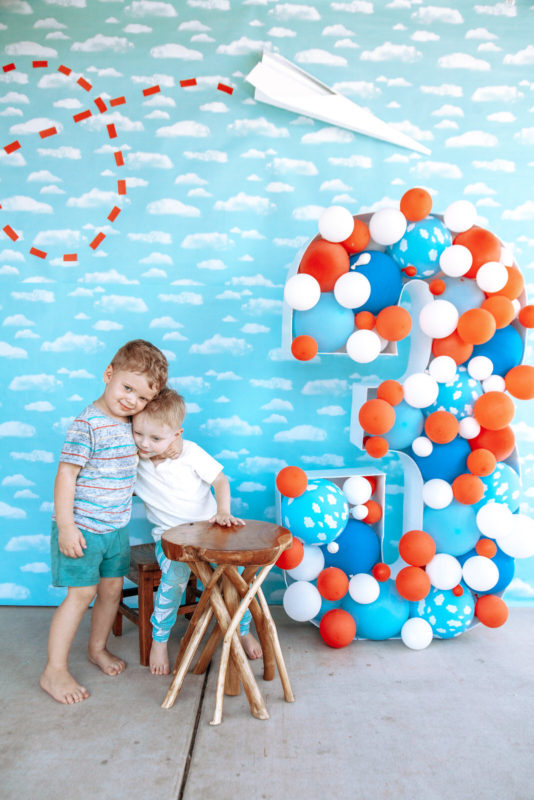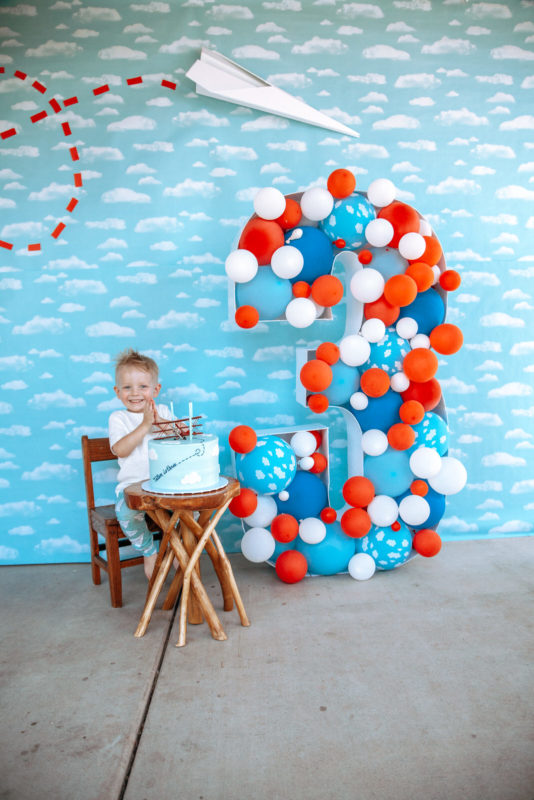 Like this post? Share the love and Pin it on Pinterest!