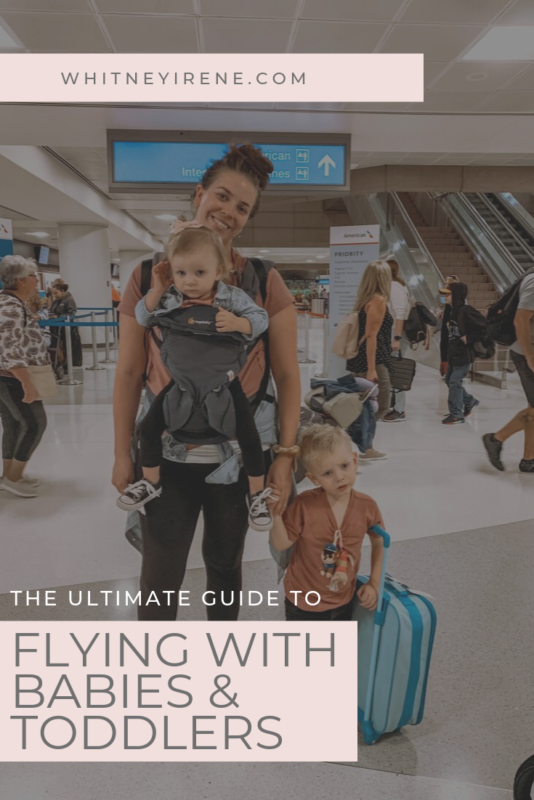 Recently I took my first solo trip with the kiddos! My children are 3 years old, and 17 months and I wanted to take them back to Northern CA to visit my family but my hubs didn't have the time off work so I braved the wild skies on my own. I must say my kids are really great travelers and we have taken many flights and road trips with them so I felt like I knew the drill enough to test the waters solo.

I've had a lot of parents reach out asking for tips on flying with the babies and toddlers, so I wanted to outline how we do it – I think the BIGGEST piece of advice I have for traveling with kids is to expect the unexpected…be willing to be flexible and go with the flow because kids are unpredictable and so is traveling.

When our kids start having meltdowns, or have a blowout, or we land and our car battery is dead in the parking lot, I try and dig reallly deep and just have patience. More often than not when flying with babies and toddlers, I've been greeted with kindness over eyes rolls and impatience. People can relate to those days and will offer up at the very least a smile, or a helpful hand.

Our son Tatum, has been to 15 states and to Canada, and our daughter Kennedy, has been to 10 states, I truly think that by us not being afraid to take them places with us has taught them to be good travelers.
Below is the Ultimate Guide to Flying With Babies and Toddlers.
Packing
Confession – I am naturally a TERRIBLE packer… A running joke at my jr high youth group growing up, was not to bring a "Whitney sized suitcase" – they even put on a church camp flyer one year, that we had to be able to carry our own bags and referenced me haha. I also tend to pack like someone who is intoxicated, so when I get to my destination and cant piece together a single realistic outfit…but good thing I brought this ball gown ,camping just in case.

Traveling with kids requires a lot of stuff so there really isn't room to be willy nilly jr high Whitney with the packing. Being intentional and organized is KEY. I've also found that is is extremely necessary for the items you need to access on the flight to be packed accordingly ( ie – snacks, activities, and wipes MUST be in the carry on that fits under the seat.)

Some things we feel are must-haves when traveling:
Packing cubes: this allows us to keep everyone's stuff organized and separated
Portable battery: Nothing is worse than trying to pull up your rental car confirmation number, or call and uber and have your phone die.
Cash: Having cash comes in handy a lot so we always make sure we bring a handful of small bills for tipping shuttle drivers, curbside check-in etc. A little gratuity goes a long way.
Backpack diaper bag: my husband and I both bring backpacks as our 'personal item' the fewer things you need your hands for the better.
Thermometer & some medications (you never know with little ones!)
Reusable water bottle (we clip outs to the backpack with a large carabiner)
Hand sanitizer and wipes
Several changes of clothes in carry on for the kids just in case! ( seriously – you cant have enough wipes, diapers, and changes of clothes!)
Leggings with pockets – I personally don't know how I ever traveled without them.
For baby – a dock a tot. Our daughter slept in a dock a tot at home so we loved traveling with it becasue she slept amazingly. It was like she was in her own bed at home!
Helpful Hints
Car Seats
The airline will check car seats for free
We have these car seat bags (they've survived countless flights + friends have even borrowed them) and it's a major plus that they have backpack straps on them

If you pay for your child's ticket you can install the car seat on the plane. Also if you're checking your car seat at the gate and didn't pay for the baby's ticket you can ask if the flight isn't full and sometimes if there is room they will let you bring it and let baby have their own seat ** we have never done this but I know other parents who have**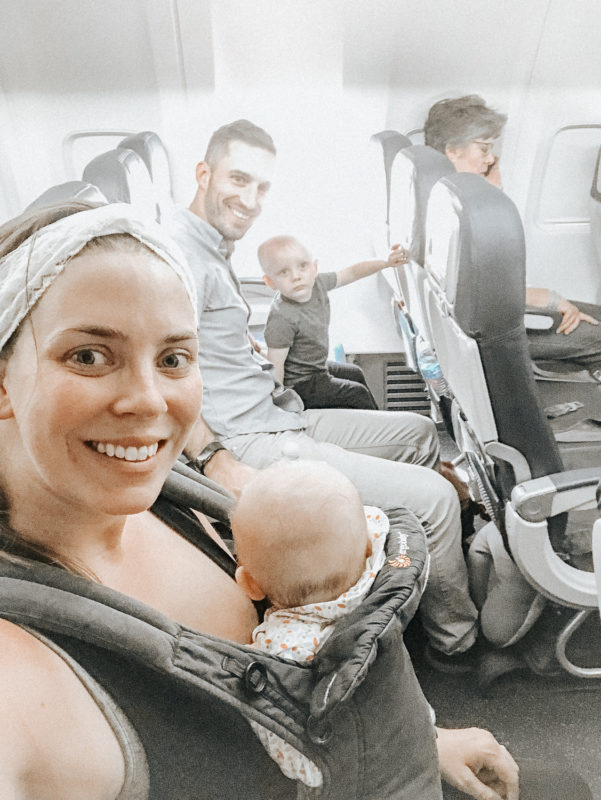 Strollers
Airlines will check a stroller for free as well
When I'm with my husband we bring the stroller right up to the gate to check it so we can use it in the airport (especially if we have a layover)

* Some airlines (like American) discourage double-wide strollers from being gate checked, but they are fine with you checking it up at the ticket counter. It's always a good idea to call ahead if you have a double-wide stroller. The double-bob we have is one that some airlines are particular about.

When flying solo I chose to check the stroller at the ticket counter to avoid having to fold it by myself at the bottom of the ramp when boarding.

If you do decide to take your stroller all the way to the gate, be sure it is completely cleaned out as TSA requires it be completely empty.
* we made this mistake once and were cleaning out the caddy and undercarriage in a scramble

If you have a single stroller that can be folded and fit through the scanner they may require you fold it and put it through. (be prepared and able to fold your stroller quickly and efficiently… no really, practice at home haha)
Babywearing
I always babywear while flying. I'd rather wear my baby and put heavy stuff on the stroller if that's what it comes to. Plus being hands-free and keeping that babe close are big pluses.

When going through security you don't have to take baby off (so long as your carrier has no metal on it) They will wipe your hands if you wear baby through security.
I prefer to wear my babe in our Ergo because it's very sturdy, can be worn comfortably for long periods of time, baby can face in and out (if old enough) and I can move bend and such without worrying about baby being supported properly.
++ no metal on this carrier so its good for security
For the above reason, I wouldn't recommend a ring sling for airport travel
You still have to take your shoes off at TSA even with a baby strapped to you – plan accordingly so its not super cumbersome to get your shoes on and off.
I'm not sure why but during takeoff and landing you cannot wear baby – this is the reason I also chose a SSC like the Ergo over a wrap like a solly because if baby falls asleep before takeoff or landing its rather easy to unclip and slip the straps off and hold baby on your chest without disturbing them.
Feeding
Snacks – My kids are snackers but the key here is to spread them out. If give my daughter a whole bag of something she will:
A – probably spill it on the floor.
B – woof the whole thing down and cry for more immediately.
I like to proportion a lot of the snacks into smaller amounts so they last throughout the flight.

Pouches – These things are lifesavers for long flights, we always have a few just incase a little snack isn't cutting it.
For small children who don't have the ability to adjust to altitudes, it's recommended that they have a bottle or nurse during takeoff and landing.
I nursed my kids so I chose not to mess with bottles while traveling.
Tips for nursing would be to have a blanket or sweater to put under your arm for comfort, should you chose to nurse with a cover get a nursing cover that's easy for you and baby.

For bottle-fed babies:

– I brought a few bottles of breast milk on the plane when Tate was small, just incase, TSA was very polite when testing them, they typically have you open it and they hold a little paper strip over it and thats it. Packing these items in a small lunch box with an ice pack or two is recommended.

-Since I nursed both my babes for so long I have never traveled with formula, so I got some insight from my life long friend and mama of 3 darling kiddos – Katie. She says – "you can bring any liquids through security as long as they're for the baby. We bring a large water bottle and pre-portioned formula and fill bottles as needed – if you pre fill they will leak."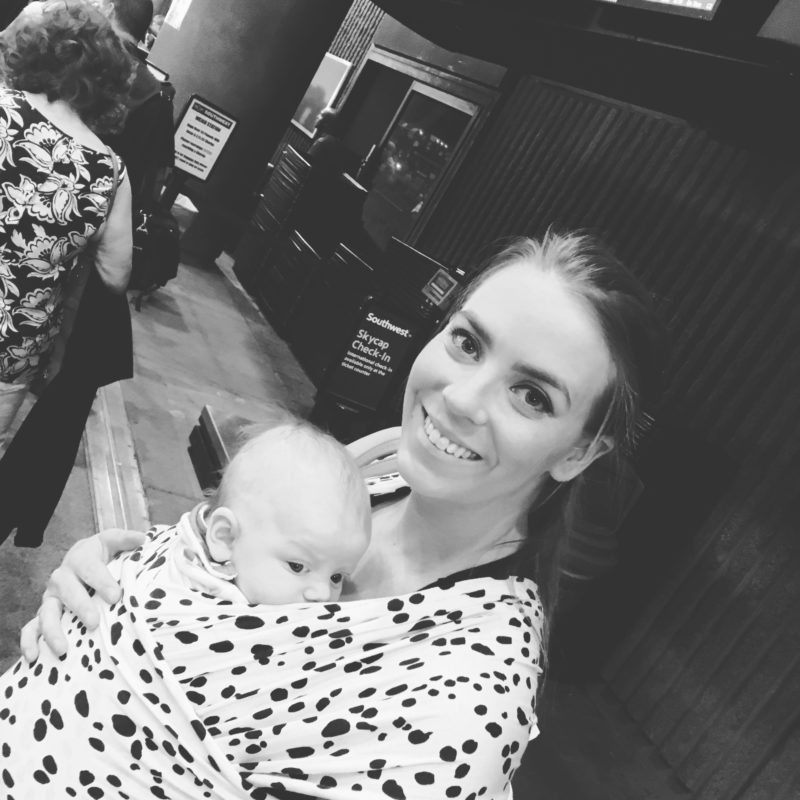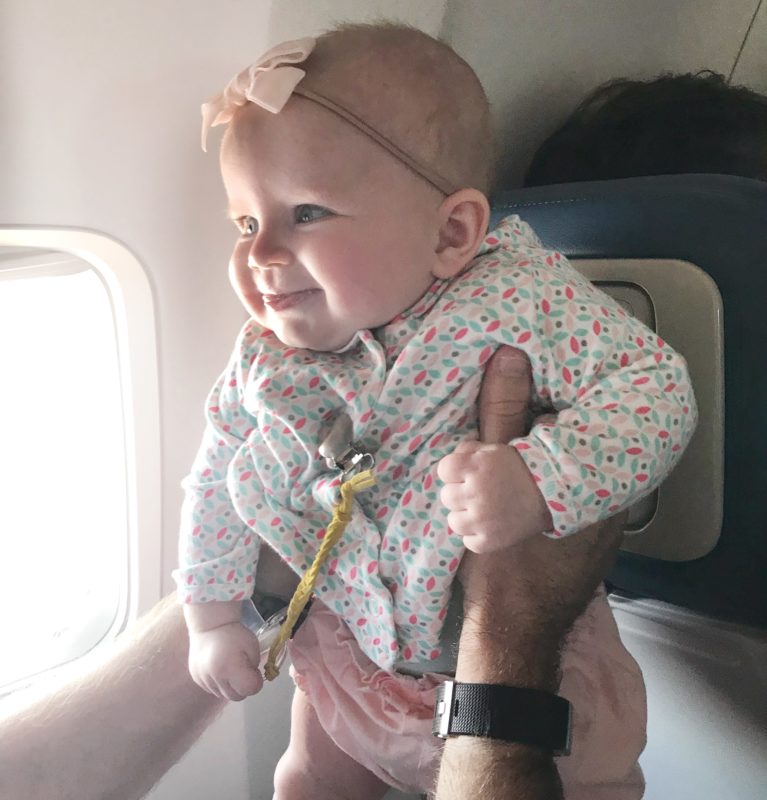 Additional Security
If your child is under 2 make sure you have "Infant in arms" on your boarding pass. Most airlines you have to call ahead, after booking, to have this added OR have it added at the customer service desk at that airline. ** It cannot be added in self-check-in nor at curbside check-in.
Most airports we have flown through allow families with small children to go through the special assistance line at security (If no one is directing us I usually just ask the nearest agent) This typically saves us some time!
Small children under 12 don't have to remove their shoes.
Some airlines check birth certificates for children under 2 always keep a copy of these with you.
You can bring a cup of water for your kids but they will make you open it to test it at TSA
Typically breast milk, formula, and baby food will be tested.
There are always mixed reviews on what TSA allows as far as amounts of liquids, babyfood, and breastmilk when traveling so I highly recommend tweeting https://twitter.com/AskTSA when it gets closer to your trip to get the most up to date answer.
Activities
Okay so you've gotten yourself onto the plane, the novelty is wearing off and your kids are getting restless. Now what?


Ipad: I know we're in the age of monitoring screentime and I'm totally one of those moms who tries to limit is as much as possible, but this hail mary is worth not having your kids SCREAMING on a plane.

Tips: Netflix allows you to download shows while on wifi that can be watched offline. They expire after a few days of watching them, so be sure to download these ahead of time and then double-check that on your trip home they are still good to go!
We snagged bluetooth headphones in the Target dollar spot for $10 #score!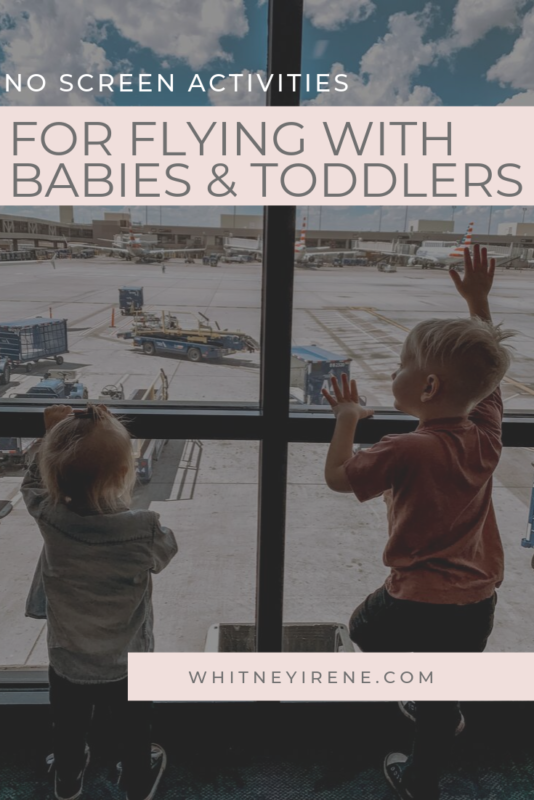 Non-screentime activities
I like to pack things that we arent super attached to on the plane in case we lose them. 
We also always pack a coloring book + crayons and coloring books where you fill the pen with water, in addition to those we've had great success with the following no-screen activities when flying with our baby and toddler!

Paper straws in a Puff Canister
This activity kept my kids busy as babies and still keeps my 17 month old busy
I take an empty puffs canister and fill it with various colored paper straws. We take the straws out and encourage baby to put them back in, its a great fine motor skill activity. As the child gets older you can have them only put a certain color back in, or count the straws. You can play pick-up-sticks with the straws as well for older kids.
Washi Tape
I love washi tape because its sticky enough but not too sticky to leave residue or damage surfaces + it comes in endless colors, patterns and styles! I pack a ziplock bag full of various colors and patterns, once i wipe and santize the tray table I cover it with washtape, you can make a pattern, criss-cross lines etc. And then encourage your child to peel the tape off. It keeps them entertained for quite awhile!
For older kids you can make a racetrack for them and bring a little car they can "drive" around the tray table, you can make a tic tac toe board and play with the provided pretzels 😉

Poof Balls + A Paint Cup
This concept is similar to the straws and the puff can but its a different shape so it makes it interesting for kids. I love these little paint cans for this because the little hole where the paintbrush would normally sit makes it fun to stuff poofs into.

I dump all the poof balls out onto the tray or into an empty cup and then have the kids put them into the paint cup. I'm serious this kept Kennedy busy for AT LEAST 30 min! Tate played with it on and off for about 10 min at a time.

Having different colored poofs makes for an opportunity to learn colors, and you can have older kids sort ( you can also use a whole set of the cans since they have different colored lids and make it into a full-on sorting game!)
Snag these paint cups here
Paint cup + endless ribbon
Using the same paint holder thing and lots of scrap ribbon this made for such a fun activity.

I took many different pieces of scrap ribbon and tied them together, once I had a long enough string I stuffed it into the paint can and left the tail out the hole in the lid. My kids have so much fun pulling this ribbon out, all the variety in color, texture, and width is fascinating and it feels never-ending! Once they get to the end we stuffed it back in and started over.

Color Matching
Grab some colorful construction paper, tape, and these colorful stickers (we use them all the time)
Tape the paper to the tray, and let your kiddo go to town with matching colors! This is great for developing fine motor skills and for learning colors.
Here is what I pack all of our plane activities in to keep them in one place in my bag. These zipper bags are my go to for pretty much everything in life haha.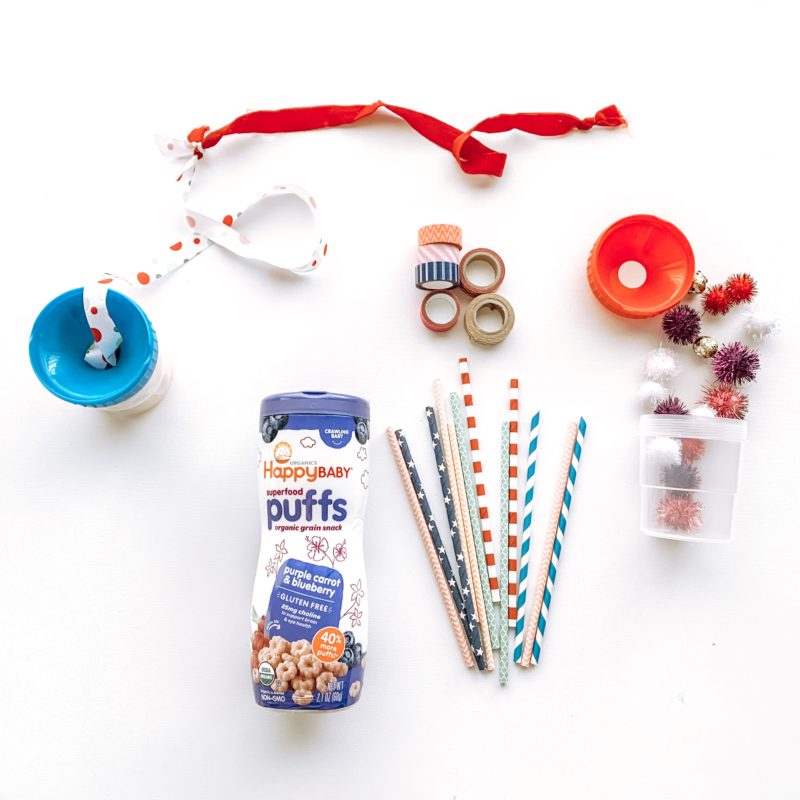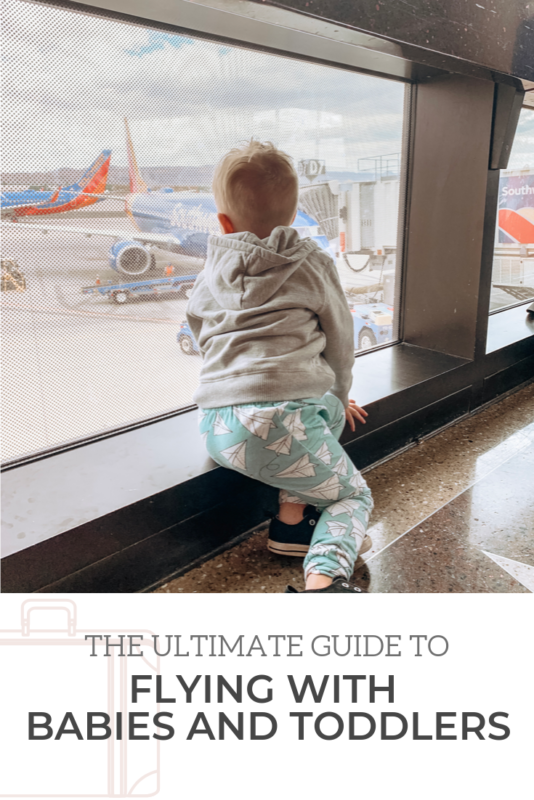 Traveling with babes isnt for the faint of heart. So give yourself lotssss of grace!! I wanna know what travel hacks have helped you survive traveling with babies and or toddlers!?

PSSST If you enjoyed this post will you help a mama out and pin in!