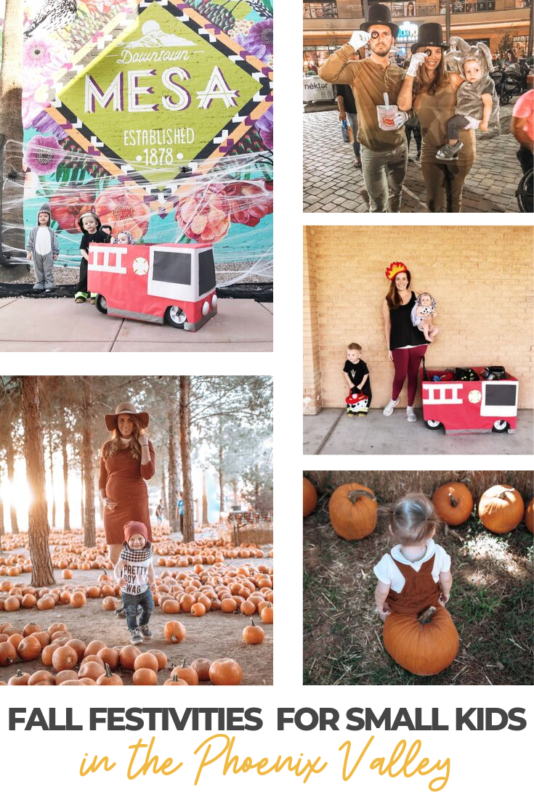 It's finally fall and for all my fellow Arizonans, it might still be in the 90s, but hip-hip-hooray we have survived the summer! The mornings are beautiful (and the afternoons are bearable) and like all basic girls around the world, I 👏 am 👏 here 👏 for 👏FALL!!

We're coming up on our 4th Halloween as parents (our son was 5 months on his first Halloween, cue mom tears!) and I distinctly remember having no idea what fun fall stuff we could go do (hi there's no manual for parenthood) – I also didn't have many local mom friends at the time so I wasn't in the know.

Enough of my pity party – I'm here to help you Arizona mamas make some super fun memories. Below are some of the best Fall festivities for small kids in the valley.

Two of our favorite fall traditions include visiting Mother Nature's Farm (if you make it to the bottom of this post you can spot all four years of photos from our visits!) and trick or treating in downtown Mesa.

I'm breaking this list down by date so grab your day planner and get ready for some fall fun!

All October Long
Visit Pumpkin Patches

Location: Gilbert
Hours: 9am-9pm 7 days/ week
Admission: $10/child** $5/adult
** Includes one small pumpkin + stickers to decorate
Enjoy the pumpkin patch, pumpkin decorating, hayrides, maze, jumpy houses, farm animals and more!


Location: Queen Creek
Hours: Thursday – Sunday Thursdays 10am-9pm| Fridays & Saturdays 10am-10pm | Sundays 10am – 9pm
Admission: $22.00 + tax (under 2yrs free) discounts on event page
Hayrides, petting zoo, roller coaster, kiddie ferris wheel, pumpkin patch and so much more!


Location: Mesa
Hours: September 30th – November 3rd
Monday-Thursday 9am – 9pm
Friday-Saturday 9am – 10pm
Sunday 10am – 6pm
Admission: $10 per person, ages 2 yrs and under free5 acre Corn Maze, Mini-golf, Giant Jump Pad, Giant Tube Roll, Mini Zip Line,
Extreme Air Pillow and much more!
Location: Tempe
Friday, October 4 – 31, 10:00 am – 5:00 pm
Admission: $17.95
We're annual pass holders at Legoland discovery center (and Sealife Aquarium) and both kids love it! There's so much to do inside its bound to be a blast.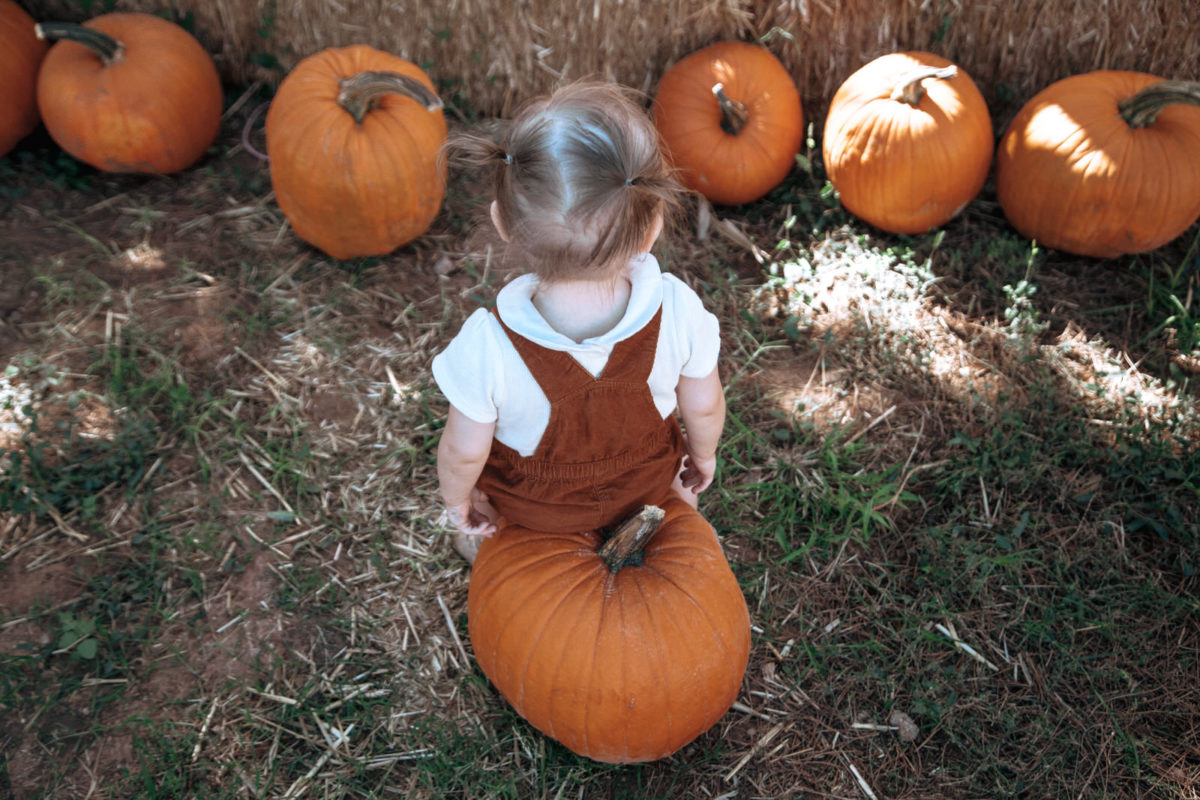 October 25th
Location: Scottsdale
Time: 5:00-9:30 PM
Admission: 2 & Under FREE | Ages 3-12$10 | Adults $12
This Halloween festival will light up Scottsdale's night sky with 20 glowing hot air balloons. About 4,000 pounds of candy will be passed out. Listen to live music, feast on food and beverages from vendors, play in a kids zone, walk a haunted trail and enjoy a fireworks display.

I've seen photos from friends who attended this and it looks like such a cool event!

Location: Phoenix
Times: October 25, 2019 + October 26, 2019 6:00 – 10:30 p.m
Admission: $12.95 general | $9.95 members | Kids 2 and under are free.
Howl-O-Ween includes activities and experiences for the whole family.
Please be aware of the activity's description before participating.*

Looking for scary tricks?SCARY activities are for guests ages 8 and older who like a good scare!
Sweet treats more your style?MERRY activities are appropriate for all ages.
Funhouse maze, Trick or treat doors, Character Meet & Greet Pirates of the "Scare"ibbean, Dr Howls Science lab and more.

Location: Scottsdale
Times: ALL WEEK LONG October 25-31st 6:30 – 9:00 PM
Admission: Train tickets $5, Fast pass $15

Experience a spooky train ride created with younger children in mind… a bit spooky, but not too frightening. Trick-or-treat stations will be open on Halloween night from 4:30 p.m. to 9:00 p.m. Various events and appearances will happen throughout the week, visit their event page for details on planning your visit!

My kids LOVE the Railroad park so I know this event would be a hit for them!

October 26th

Location: Chandler
Time: 5:30-8:30 PM
Admission: FREE
A safe trunk-or-treat experience. Ghoulish games, haunted houses, arts and crafts and costume contest for toddlers to teens.



Location: Scottsdale
Time: 1:00 – 6:00 PM
Admission: FREE
Costume contest, Character Meet and Greets, Face Painters, Trick-or-Treating, Make and Take Crafts, Music and more.

October 27th
Location: Scottsdale
Time: 12:00 – 4:00 PM
Admission: FREE
Win PRIZES in their Halloween Costume Contest on Center Stage, Trick-or-treat for candy from the local Vendors, enjoy Bounce Houses/Slides, Face Painting, Live Entertainment, Family-friendly Performances, Prize Giveaways/Raffles and Shopping.

Location: Tempe
Time: 2:00 pm (Costume contest at 4:30PM sharp)
Admission: FREE
Join downtown Tempe for festive crafts, games, trick-or-treating and a costume contest.


N. Scottsdale United Methodist Church Trunk-Or-TreaT
Location: Scottsdale
Time: 4:00 PM – 6:00 PM
Admission: FREE
Hosted by the enjoy North Scottsdale United Methodist Church carnival games, snow cones and bouncer, food trucks and food, costume parade and more!

October 31ST
Location: Mesa
Times: From: 11:00 AM to 02:00 PM
Admission: FREE
Get ready for a spooktacular time at Downtown Mesa's 7th Annual Trick or Treat Main Street! Trick or Treat Main Street is a fun and safe family event where kids will get to trick-or-treat at over 15 Downtown Mesa businesses.

Location: Phoenix
Time: 9:00 AM
Admission: $14.95
Get your Halloween costume ready and trick-or-treat throughout three floors of hands-on exhibits. Little ghosts and ghouls are also invited to a "Monster Mash" on the dance floor.



So I wanna know, what are your favorite FALL things to do as a family? We look forward to the pumpkin patch, trick or treating in downtown Mesa & then in a neighborhood each year. This year we wanted to include even more friends in our festivities so we're hosting a pumpkin painting party! Can't wait!
If you found this list useful help some mamas out and share it to your social media, PIN IT, and drop a comment below so I know to create more like this!! Thanks for reading
XO