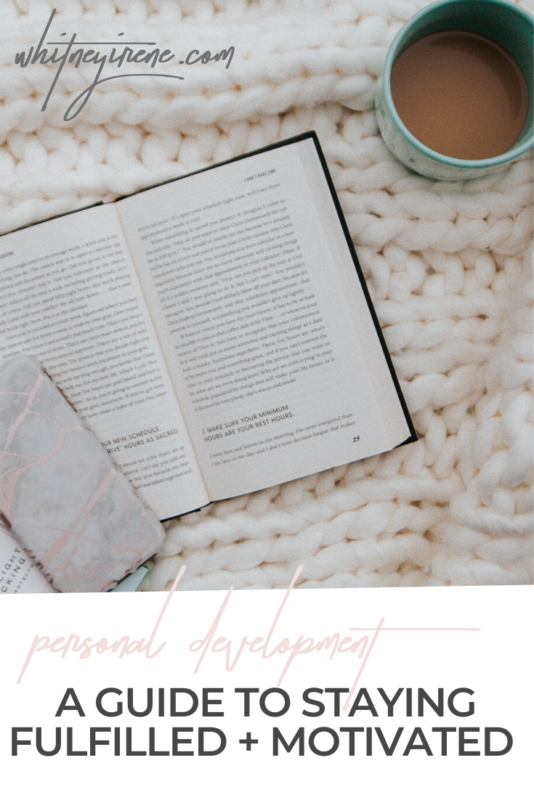 I'm apprehensive to write posts like this because let's face it, we all have encountered impostor syndrome from time to time. I dream up these ideas and then self-doubt creeps in, "who are you to tell people about XYZ." I'm actively pushing past the negative self-talk, and going to share things that genuinely get me excited. Today I'm talking about how I prioritized personal development to better myself and empower those around me.

---
Disclaimer: This post contains affiliate links. If you purchase something from one of these links I will make a small commission at no extra charge to you. Thank you for supporting bloggers like myself. As always I never share things that I don't believe are a great fit for my family and my readers!
---
Empowered Women Empower Women
I've had a passion for mentoring women for as long as I can remember. Growing up I loved taking girls under my wing, in church youth group, theater, sorority. It also helped fill that desire for a little sister. (Love you little bro, sorry for dressing you up as girl so much.) For most of my twenties and into my thirties I've been the Executive Director for a Miss America Preliminary Pageant – The Miss Scottsdale, Miss Phoenix, Miss Maricopa County Scholarship Organization.
While helping these women reach their full potential has sparked so much joy in me, I realized that I was no longer pouring into myself. I'm not just talking about (the very overused term) self-care, I'm talking about personal development. It's hard to pour into and teach others when your cup is empty and your growth is stagnant. 
After a lot of trial and error, I developed a personal development guide to staying organized, fulfilled and motivated throughout the year. It's something that is everchanging and evolving, and it's personalized to me but hopefully, this journey I'm on can help you develop some personal development routines that you find useful.
The Struggle
In February of 2019, I had a 2.5-year-old and a 10-month-old, I was struggling with what I would classify as PPD and neglecting myself. This wasn't something a bubble bath and spa day could fix ( Please note what I am about to write is not a cure or treatment for PPD. If you are experiencing signs of postpartum depression or anxiety please seek help from a medical professional, and please know you are not alone.)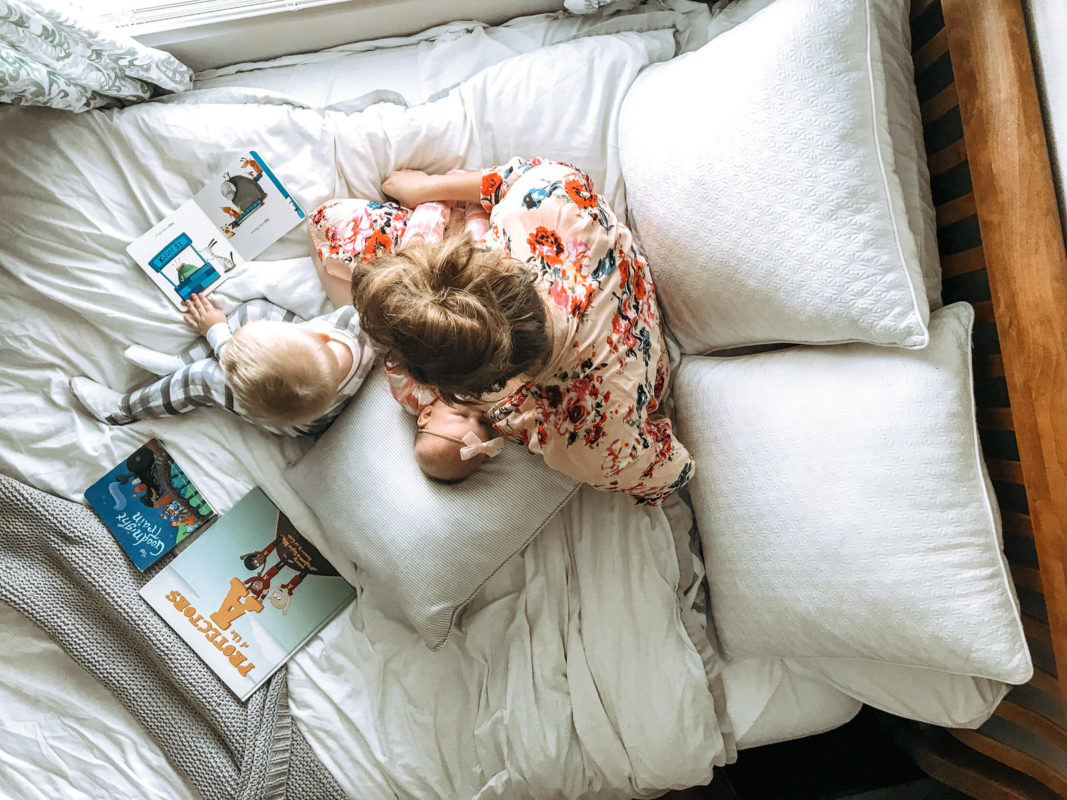 Since my first pregnancy starting in August of 2015 to present, my body has grown, and nourished tiny humans non-stop…Motherhood while incredibly fulfilling and rewarding is also demanding, draining, and all-encompassing. I let things like us not having family in the state, and my nervousness about being away from my babies turn into a vicious cycle of not investing in myself. My brain felt foggy, no amount of coffee could wake or focus me, and I felt very lost. 

I had so many excuses as to why I didn't have the time to (fill in the blank) read, exercise, get ready, have "me time"…

Taking my life back
Somewhere along the way I discovered things that started to help me get a glimpse of the old me, the efficient, empowered woman who was dedicated to being a better version of herself each day. Now I don't for a minute regret pouring myself into motherhood as much as I have, but I finally woke up to the fact that I can be a kick-ass mama and continue to grow as my own individual, they aren't mutually exclusive. 

Below are some of my favorite resources that helped Stella get her groove back (spoiler alert – I'm Stella):

Podcasts
Woah I'm about 10 years late to the podcast game, I seriously felt like I was one thousand years old when I discovered how cool podcasts are… what rock was I living under? 
Thank you to Becca Booker ( A fellow Alpha Chi sister for keeping me in the loop on technology and trends) 

Podcasts were one of my firsts steps into investing in myself. I started putting my airpods to use and listening to podcasts while cleaning the house, walking the neighboorhood etc. With podcasts I can make monotonous tasks fun and productive – they help me learn, get inspired, and feel alive.

Here are a few of my faves:
Guilty Pleasure – All the Bachelor Nation podcasts
Reading
.This was a hard one for me, I felt guilty sneaking off to my room or laying on the couch while my husband was on kid duty after working all day – but there's just nothing like curling up with a good book. I'm so glad I forced myself to read 10 pages a day to get through that first book because it showed me how much it lit my soul on fire to just consume some good reading. My favorite books of 2019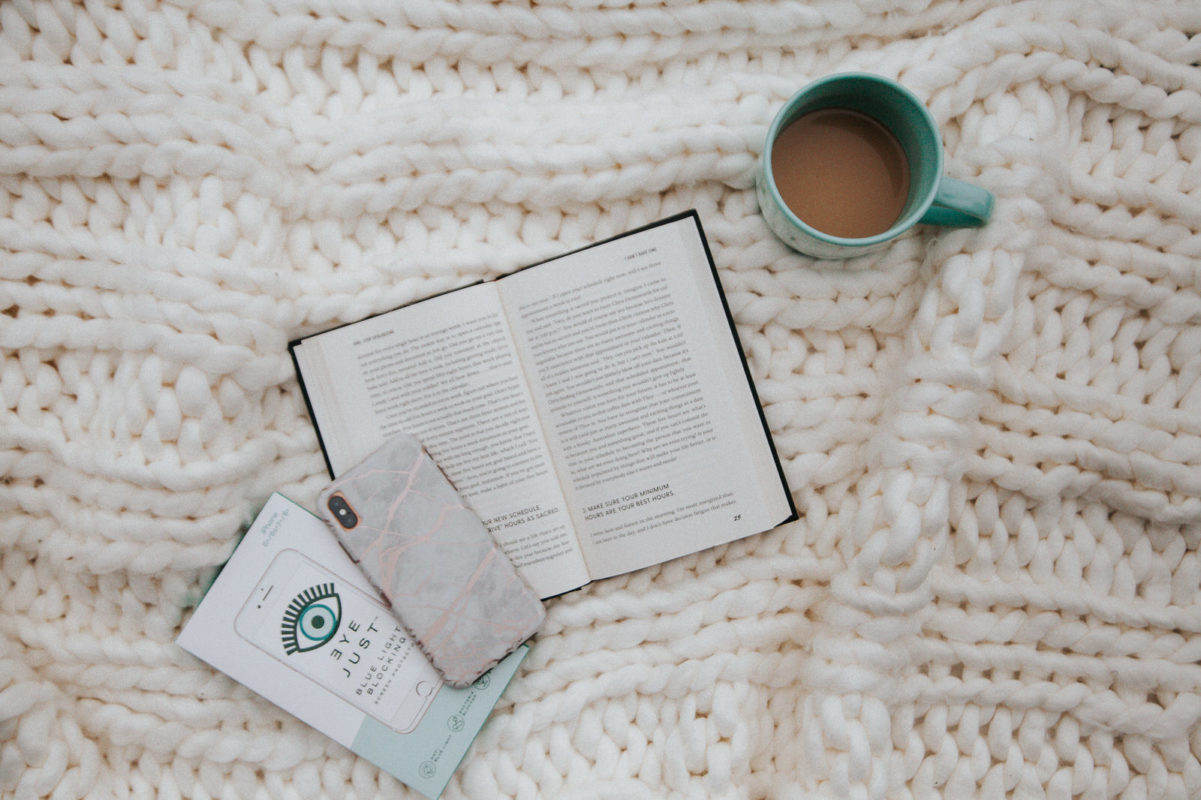 Courses – I don't know about you but… I was kind of an online course skeptic…however after feeling like I was gaining so much value from Jenna Kutcher's Goal Digger podcast I thought if she gives away this good of information for free, imagine how much value her courses provide. I bought one of her courses and it didn't disappoint. Learning and applying what I had learned to my business made me feel some kinda way. I've since invested in several online courses and feel like I have gleaned so much knowledge from these incredible female entrepreneurs all from the comfort of my home. In 2020 I am committed to carving out time weekly to take courses.

Personal Development Morning Routine 

Around March of last year I started a morning routine – now I am not a morning person at all so for most of the year I would actually do this after having been up with my kids for several hours and I would wait until the nanny came and would spend the first 30 min at my desk on myself.

However, the mornings that I would wake up before my kids and complete my morning routine I feel SO MUCH BETTER. The morning routine is single-handedly the best way for me to implement all of the pieces of my guide to staying organized, fulfilled and motivated throughout the year. Starting personal development routines in the morning kicks your day off right, and ensures you have the time and energy to make it a priority. In 2020, I'm committed to waking up earlier so I can have that hour to myself in the morning. I recently read The Miracle Morning and I am fired up to ramp up my morning routine and see even better results. 

Short morning routine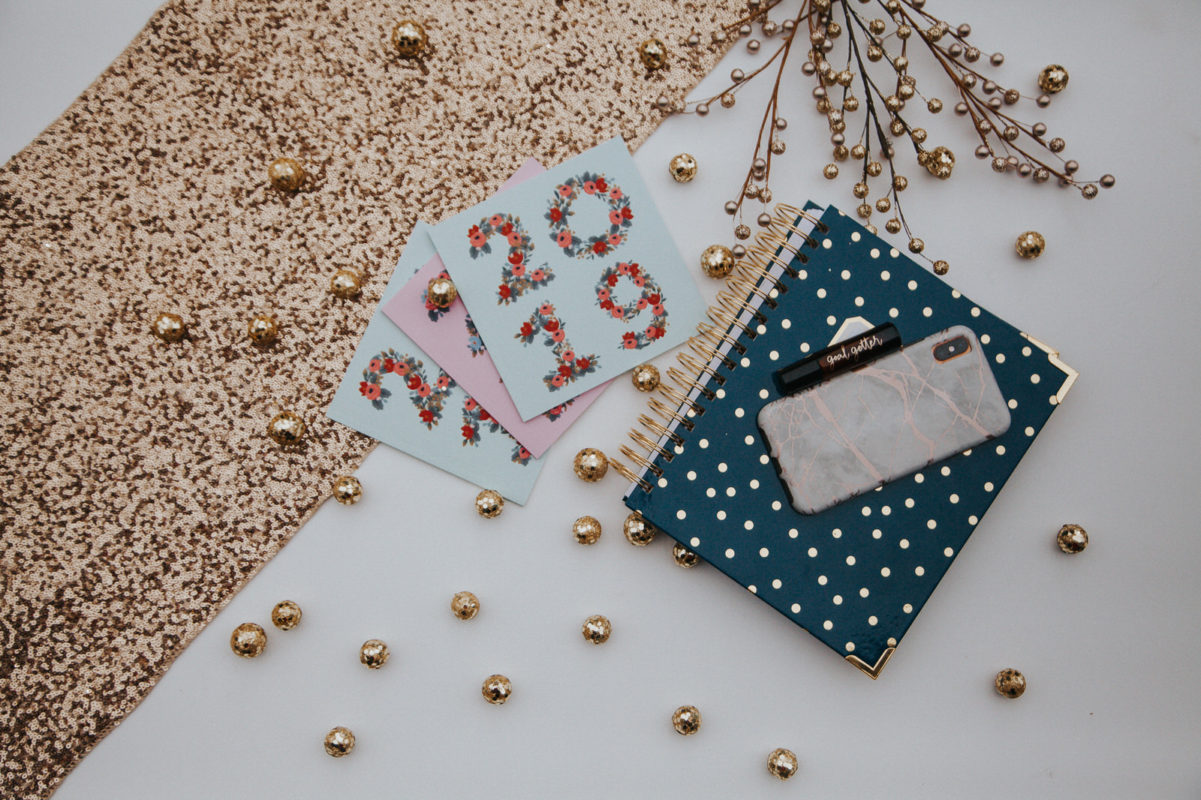 Ideal Morning Routine based off the book The Miracle Morning's Life S.A.V.E.R.S
Before I do any of this I drink a full glass of water and brew a cup of tea. Then I head to my couch where I have laid out my morning routine necessities the night before. I spend anywhere from 5-15 min in one given area. 
Silence
– I read my devotional page and then sit in silence, prayer, and just allow myself to BE. 
Affirmations
– I'm still working on this one, but I am trying to truly make this a habit! Repeating affirmations has been proven to make a significant difference in the area you wish to improve
Visualize
– I take this time to use my Start Today Journal and write out my 10 goals and then I try and really visualize myself taking the necessary actions to achieve those goals. 

Exercise
I use this time to stretch and do yoga. I'll also incorporate some crunches, and take the kids for a walk when they wake up.

Reading
– I love this part! My husband got me a Kindle paperwhite for Christmas so I'm going to really be soaking up the reading time. 

Scribe (journaling)
I was a little reluctant to journal so I use this time to do a more guided journal in my High-Performance Planner. Now that I'm seeing such positive results from this routine, I'm a lot more open to journaling and letting my thoughts run wild.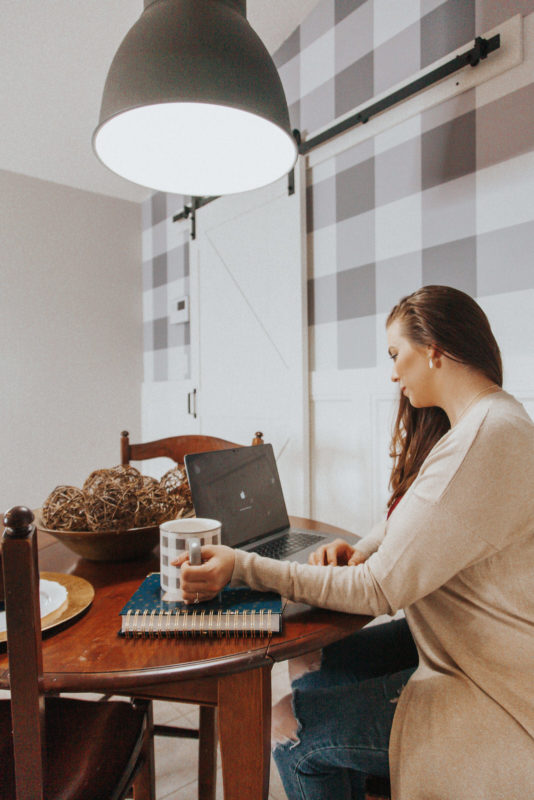 Psst want the deets on this Kitchen nook makeover? Check out these posts for all the details: Kitchen Nook Makeover, + The Update
Additional changes to my personal development routine and life that have made an impact on my overall happiness and well being:
More date nights with my husband
Diffusing oils in my office, bedroom and kitchen (let me tell you this helps a moody sister out)
Switching to cleaner products. I switched all of our household cleaners, detergents, soaps, body washes, cleansers, deodorants, toothpaste, foundation, moisturizer etc. – Many of the brands I was previously using had ingredients that are known carcinogens, and hormone disruptors. These switches along with buying more organic consumables have helped balance my hormones in a noticeable way. 
Hopefully even one of the items above will be a helpful resource in your personal development journey. I'm entering 2020 incredibly inspired to continue investing in myself so that I have an abundance of love, energy, and knowledge to pour into my family and community. 

Now I'd love to hear from you on what your favorite personal development resources are! Leave a comment below or find me on Instagram @whitneyirene.