If you're new here thanks for stopping by! Our house was a flip, and while they did a nice job, the house felt like a blank canvas, not a lot of personality to it. We have so enjoyed doing projects around our home to make it feel like our own, from the shiplap wall you'll see on the right side of the photos in this post, to Tate's nursery and Kennedy's nursery.

My handy husband and I absolutely love doing DIY projects around the house and one area we knew we wanted to upgrade when we bought our home, was the kitchen nook.

Disclaimer: This post contains affiliate links. If you purchase something from one of these links I will make a small commission at no extra charge to the buyer. Thank you for supporting bloggers like myself. As always I never share things that I don't believe are a great fit for my family and my readers!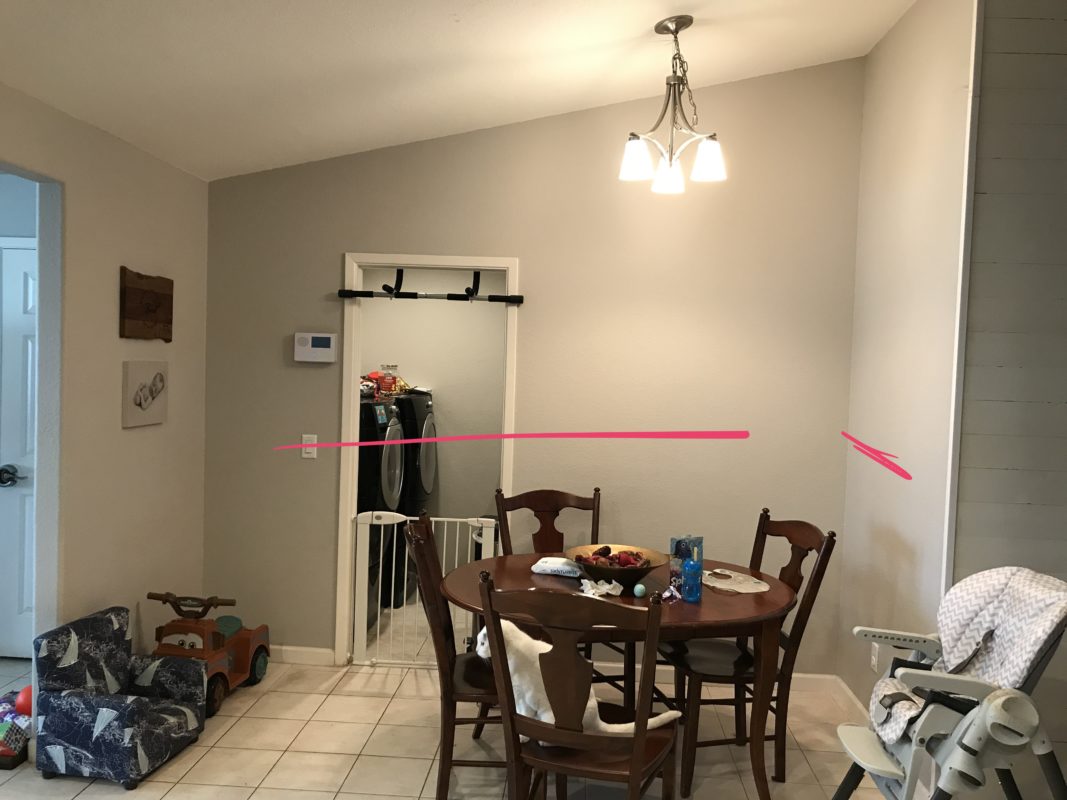 I previously wrote a step by step guide to the first part of our remodel which included wainscoting + wallpaper! Our newest addition to this space is something I have been dreaming of for quite some time… A barn door.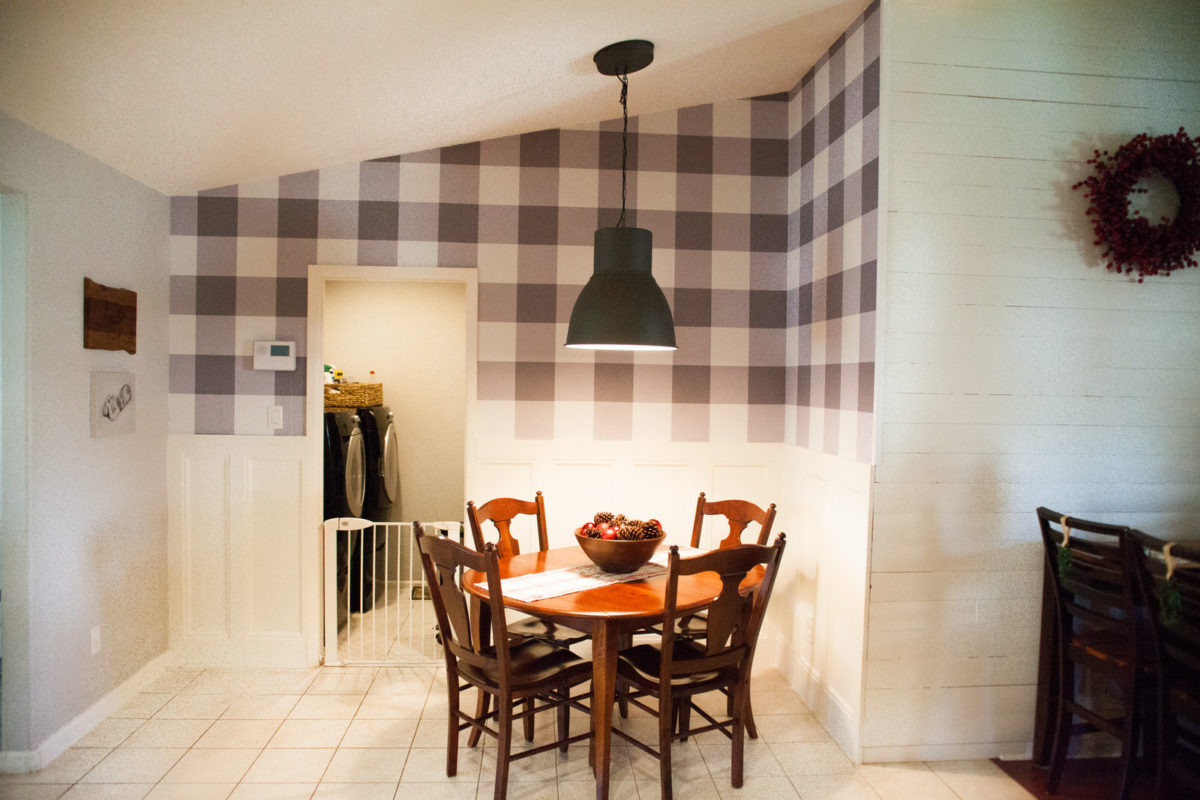 I teamed up with Renin who makes high-quality barn doors for all areas of your home or office. We chose the Stone Easy Glide Soft Close Barn Door in off white to pair with our wainscotting. Want to add this beauty to your home too? (I don't blame you!) You can find it at Homedepot here.
The reasons a Renin barn door worked perfectly for this space:
I was sick of looking at my laundry room & we wanted a door to block the sound
Our washer and dryer were too large making a regular door unable to close
Aesthetically a barn door complemented the overall look of the kitchen nook remodel making the space look complete.
Renin is sold in both the United State and Canada – find a list of retailers here.
Installation took us about 2 hours and I highly recommend having two people present to help out especially when hanging the door. This door is sturdy, blocks the sound from our washer and dryer wonderfully, and slides oh-so smoothly! Check out how gorgeous this barn door looks in our kitchen nook!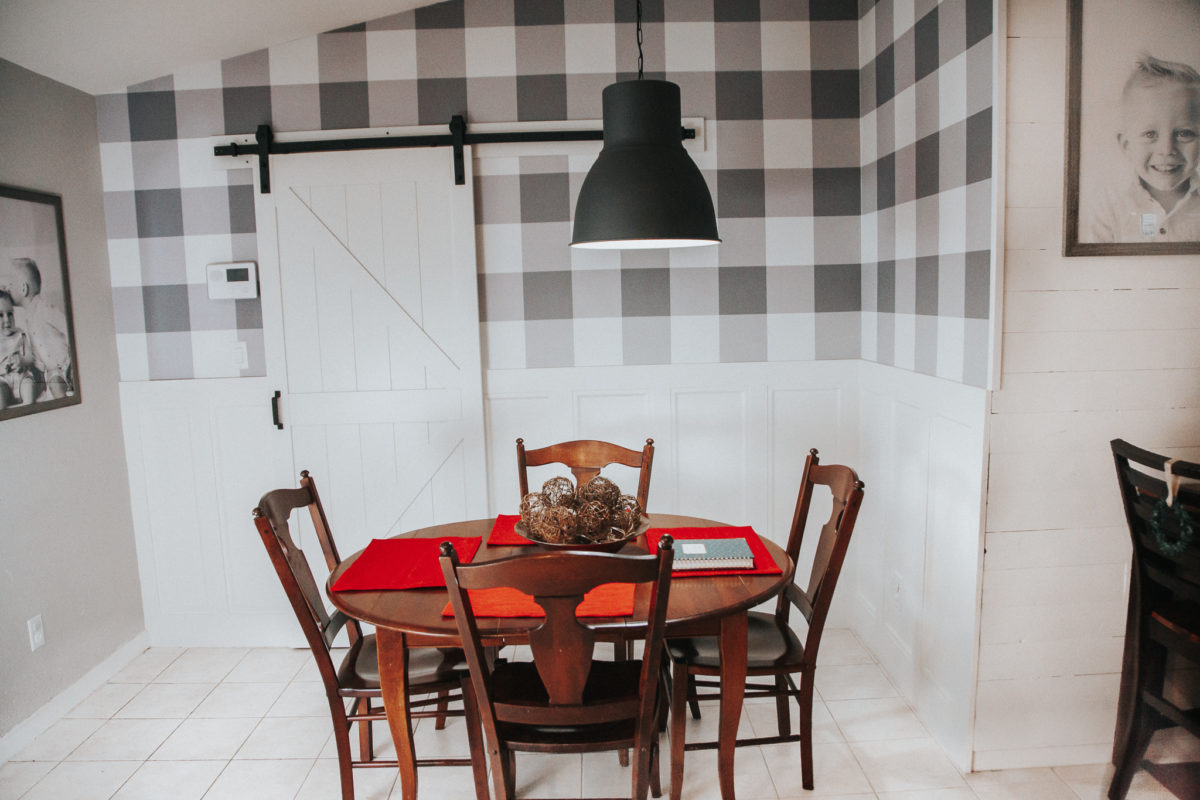 Do you have any home projects you're working on? I would love to hear about them! Drop a comment below or connect with me on Instagram @whitneyirene ! If you enjoyed this post be sure to pin it!