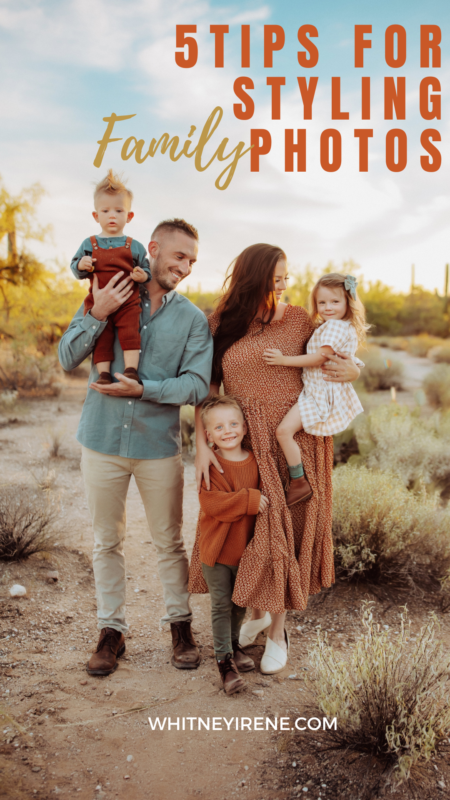 Hey there! I'm so glad you're here! Maybe you're getting ready to style your own family photos, or you're a photographer looking for inspiration. I'm excited to share some mood boards with you, along with a few styling pointers.
Some of these links will be affiliate links and I so appreciate when y'all shop using my links, it helps me keep this blog going. However I never shop based on what stores have affiliate programs, I just style what catches my eye and works with the overall vibe.
My Method – Styling Family Photos In a Few Easy Steps
Here are a few rules of thumb – obviously everyone's style is different and a big piece of wardrobe is the location, the family etc. But in general here is my method, if you want a more detailed account of my styling tips here is a full blog post on it.
Start with mom – It's imperative for mom to feel great. Whatever mom is wearing will typically be the centerpiece of the mood board. Dress any daughters next, then sons, dad last.
Color Scheme – Select hues that don't compete or get lost in the location. Shooting in the lush green grass? Avoid Greens and teals, shooting on the beach? Skip soft yellow.
Coordinating isn't matching – don't get me wrong I love making my kiddos match all the time for daily life, but for family, photos leave the matchy-matchy behind and find hues that complement each other.
Incorporate Prints + Textures -Textures and prints are important, they add interest and depth to your photos That being said, using prints sparingly is key. You can mix and match patterns but having multiple of the same type of print can be too much ( ie: lots of stripes, too many florals etc)
Style everyone for the same climate + level of dressiness – Know the climate you're shooting in and style accordingly. Having someone in shorts and a T-shirt and then someone else in pants and a chunky warm sweater gives mixed signals * I often will style layers just in case the weather changes * Decide how casual/formal you want the overall look to be, it's unbalanced if mom is in a formal ball gown and dad is in a tank and jeans.

Bonus tip – Movement – a major part of creating feeling in photos is selecting some pieces that move!! A flowy dress or skirt will change the way your photos feel!
From Mood Board to Magical Photos
Whenever I'm stying a family (including my own) I begin building a mood board. Occasionally things will change from the final mood board to the shoot (adding a sweater, blanket, last min outfit or shoe change) It's so fun to see a vision become reality. I have the honor of styling for Kayla Locke, she's quite the visionary and its a dream job to work as a team to style these families and then I get to sit back and watch the magic happen.
Photographers – if you're ready to uplevel your shooting and editing check out Locke Photography's Shootouts, Course + Presets!
I've done my best to link the exact items in these mood boards however if it is sold out I have linked something similar!
Arizona Family Session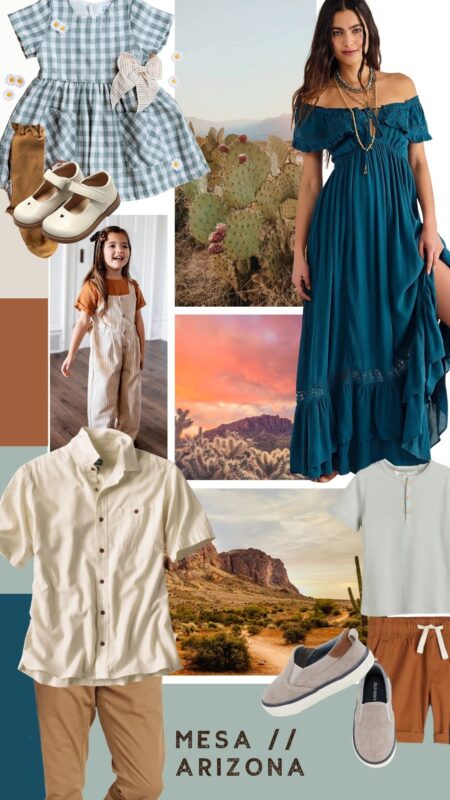 Son – Kawi 2 years
Mint Henley (sold out)
Mustard-Brown Shorts boys
rust shorts
Mustard Shorts
Grey Slip Ons
Missouri Session – Family of 6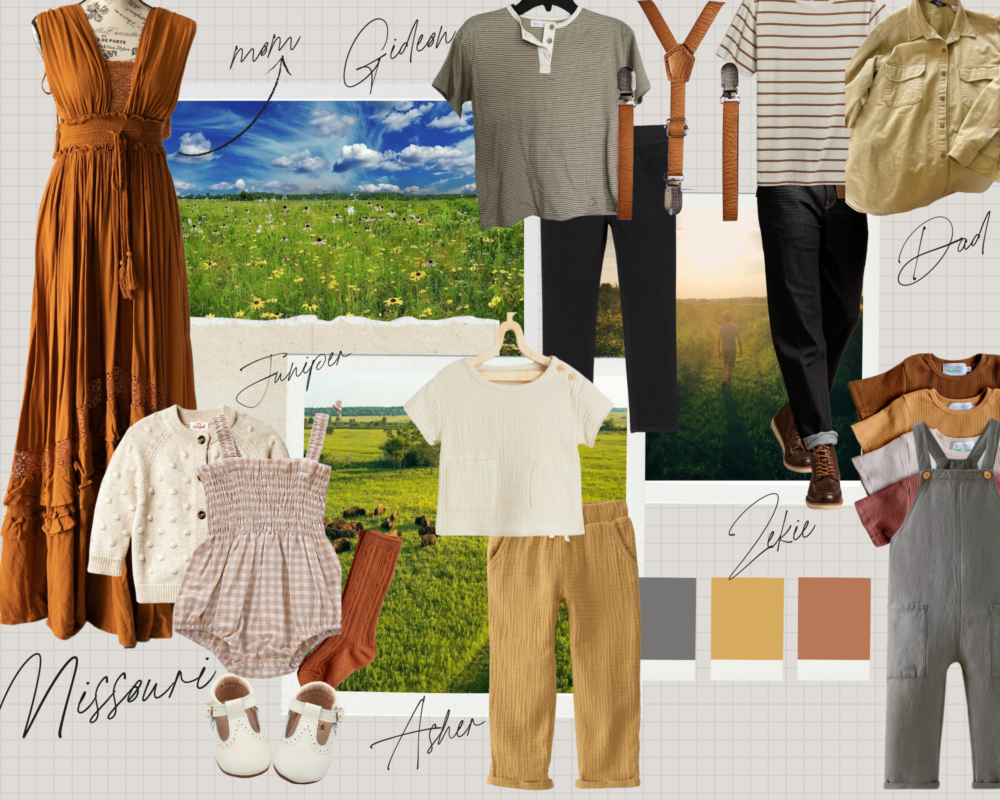 When styling this darling family after we had established what mom was wearing, this gorgeous flowy free people maxi I began pulling items for baby girl Juniper. I tend to love rompers on really little baby girls, you can see their cute rolls and if they cant stand yet it tends to work better than a dress.
The boys were the challenge when styling this family session. When you have 3 of the same gender, especially close in age its important to mix up what they are wearing, rather than all boys just wearing shirts and shorts/pants an overalls moment and suspenders make each boy have their own unique style. You'll notice one boy is in a henley shirt, one in a gauze top with side buttons and another in a ribbed tee.
Check out this session here
Oklahoma – Family of 5 Session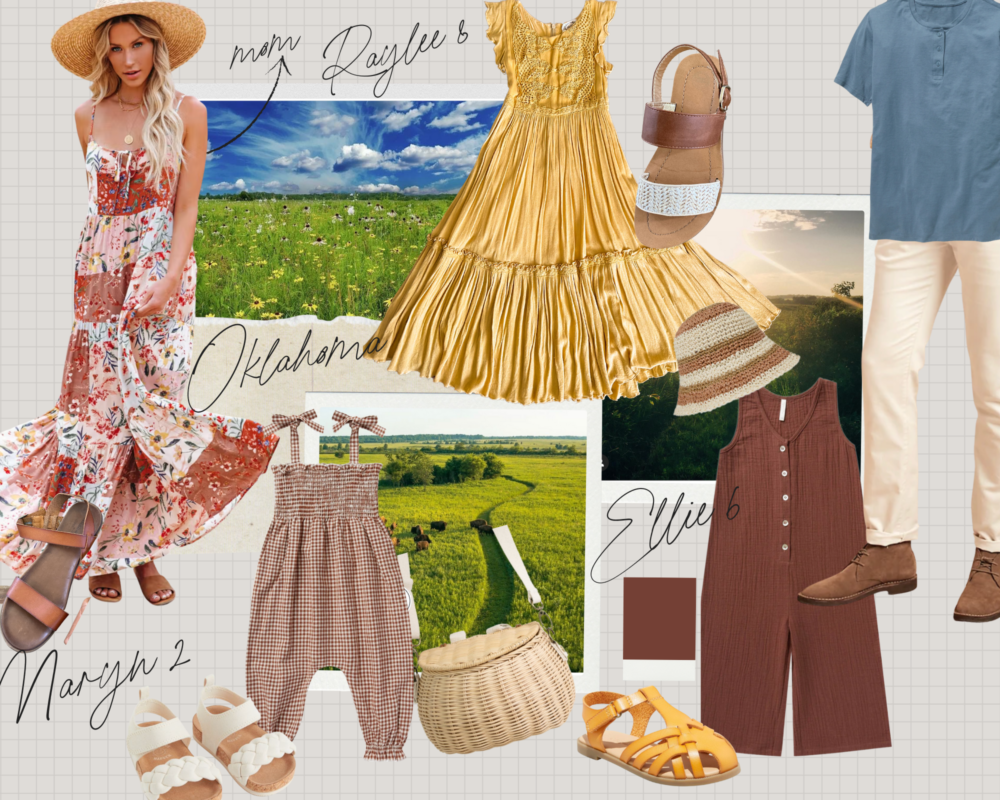 This session was really fun to style, Kayla (the incredible photographer I work for) had a vision with this redwood wide-leg romper, adorable Rafia bucket hat and basket backpack. We made a bold choice to have both mom and baby in a print, the thought process behind this is that baby is the smallest member of the family so the amount of print present on her takes us the least amount of space if that makes sense. lol just hop into the minds of Kayla and Whit here, its a journey! We pulled some blue from mom's dress and incorporated it into dads shirt. Their oldest daughter's mustard dress incorporated both movement and color to the overall vision.
Here's a peek at how this session turned out
Daughter 1 – Raylee
Daughter 3 – Maryn
Daughter 2 – Ellie
If you enjoyed this post, pin it to save for later! Check back for more mood boards, and a deeper look at how each shoot came to life!