If your family has an Elf that visits from the North Pole you know what a fun and magical experience it can be for your kids. Each year I get really excited for our Elf Arrival and plan an Elf Breakfast for my kids. This tradition has become so beloved and now I sell Party Boxes to make it easy for parents to throw a darling Elf Breakfast without all the hassle.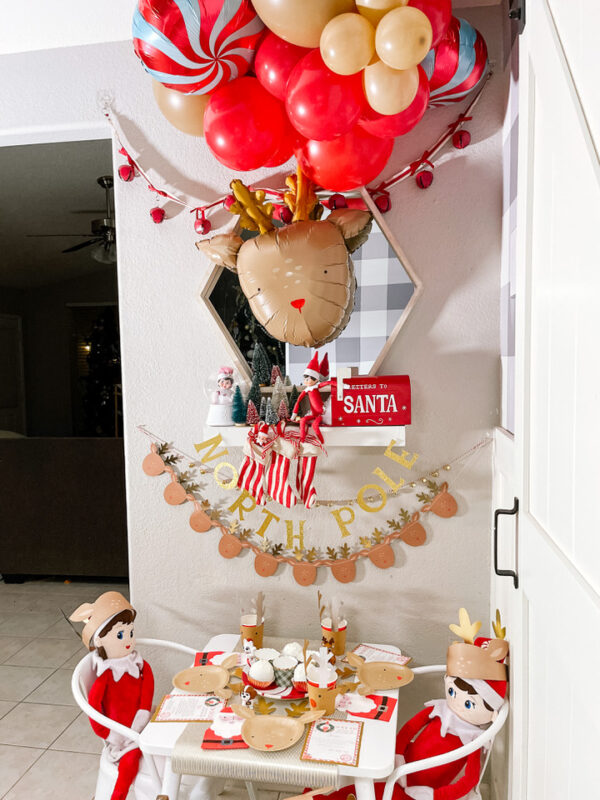 Check out all of my Elf Breakfast Boxes here! For our Elf Arrival, I chose the Reindeer Games Remix Box, I knew my kids would love the reindeer theme… and to be fair we used the Oh Snap Box for our Gingerbread house decoring day and plan to use the Believe box for our annual trip to the Polar Express. No one has ever mistaken me for a chill mom haha!

* this post contains affiliate links, thank you so much for helping to support my blog by using these links.
Last year our Elf Dash invited his sister Berry the Pink Elf to join him on his adventures to our house! You can get your very own Pink Elf in my shop! This year the highlight of our Elf Breakfast was thier baby brother Elf joining the crew so my youngest son Cameron would have his own Elf. The jury is out on if the baby elf is named Flash or Vanilla Ice…only time will tell. Cameron calls him "nilla ice ice baby" "merry nismas" and "baby elf"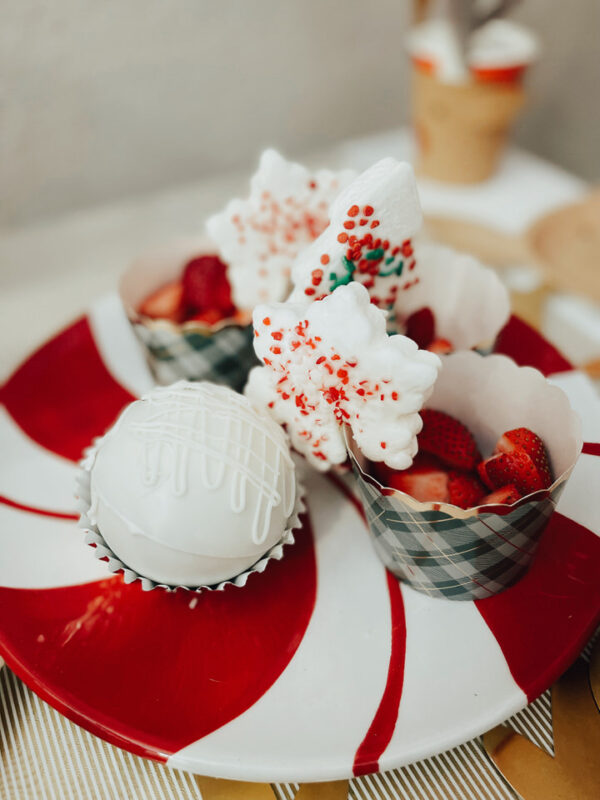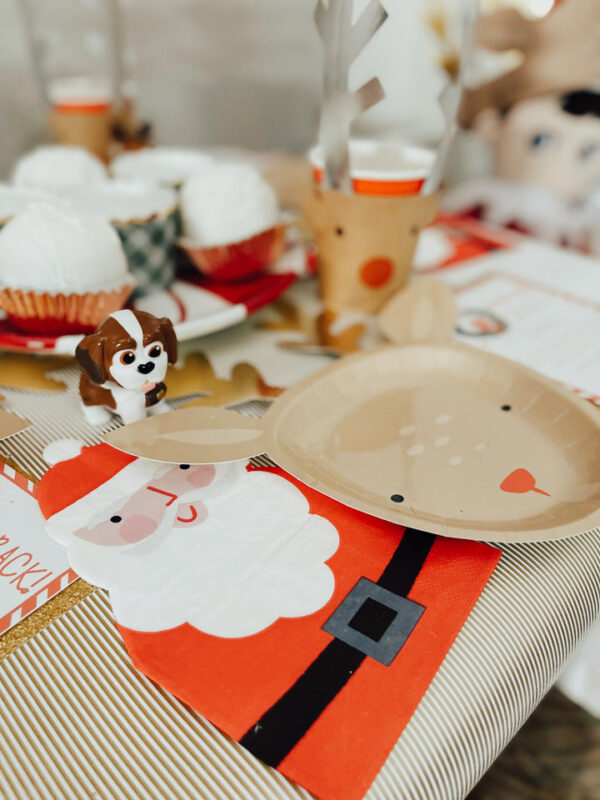 Setting up an Elf Breakfast
The first year our Elf Arrived he set up the breakfast as a surprise for my kiddos! Now we set up the breakfast to welcome our Elf and the kids have a blast setting everything up for the arrival of our Elf on the Shelf!
The party box comes with everything you need to set up the perfect party
Statement Reindeer Balloon
Reindeer Plates
Santa Napkins
A gold-striped paper runner
"im back" pennant
North Pole Banner
Reindeer and Santa cups
Treat cups
an Elf Cookie Cutter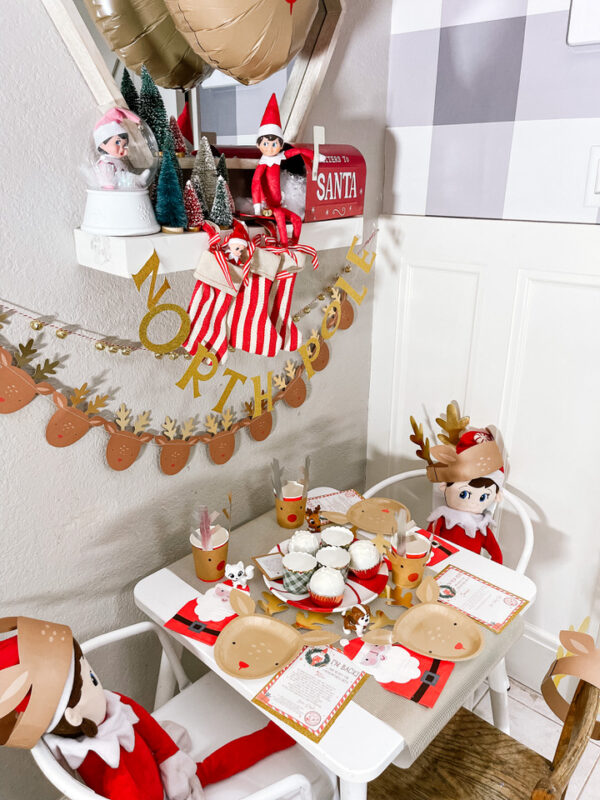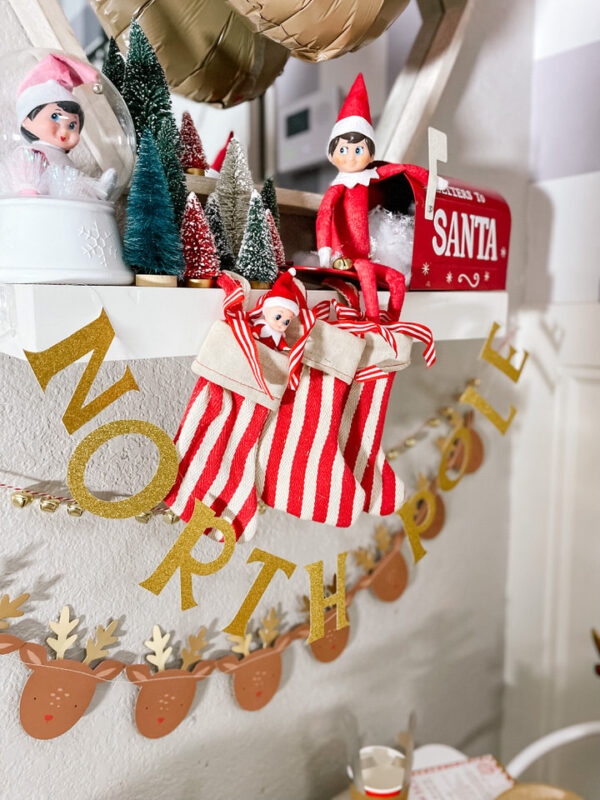 I added some cute props
Small Balloon Cluster w/ Peppermint mylar balloons ( I suspended it from the ceiling with fishing line and screw hooks)
A peppermint plate at the center of the table to hold treats
DIY paper chain
Snowglobe (our pink elf Berry arrived in this and my daughter thought it was hilarious!)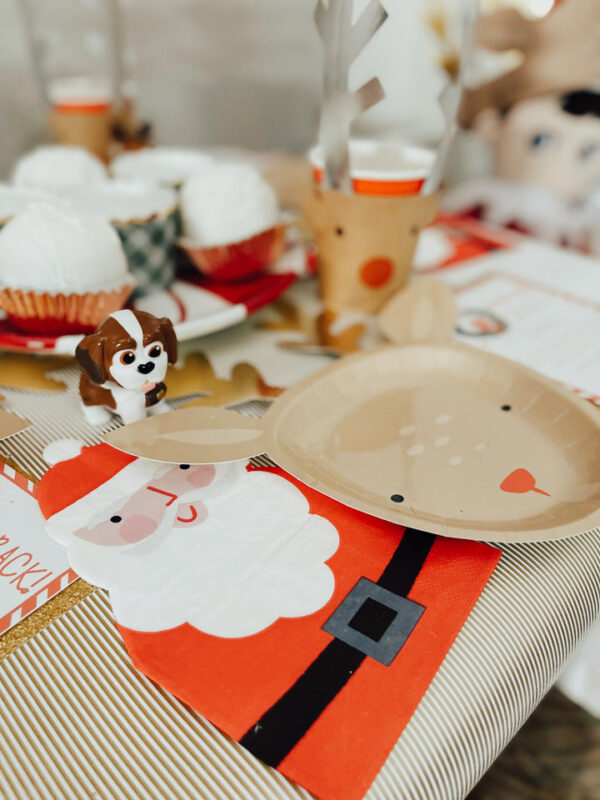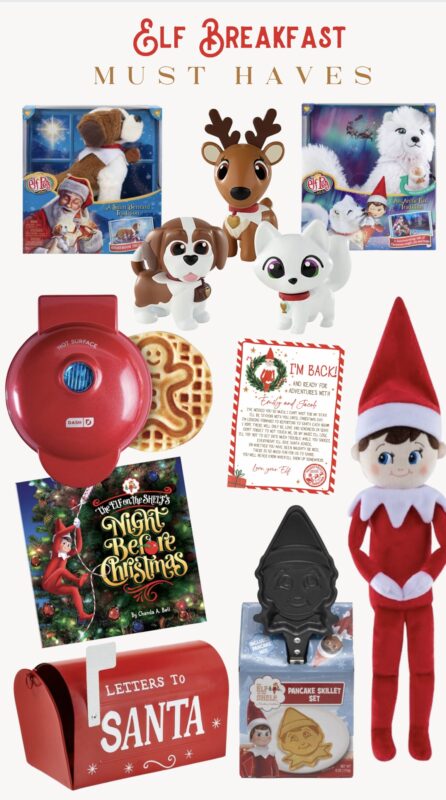 Elf Traditions
Do you have traditions with your Elf? Our Elf always writes a note upon arrival, bringing a little gift and a treat!
This year our Elves brought "Snowballs" from the north pole aka white chocolate hot cocoa bombs from Wild flour sugar and this darling note which you can purchase on Etsy as an editable template! I changed it up for each kid and it made for a really special personalized touch!
Last year our Elves brought each kid an Elf Pet (they also come with a book with their specific story.) wow was that a HIT!! This year they brought the miniature Elf Pet toys that coordinate with them, the kids were so excited to have a little toy version of their Elf pets to enjoy. This Night Before Christmas Elf book would be perfect for an Elf Goodbye Party Breakfast!
A few other gifts our kids have received from the Elf over the years: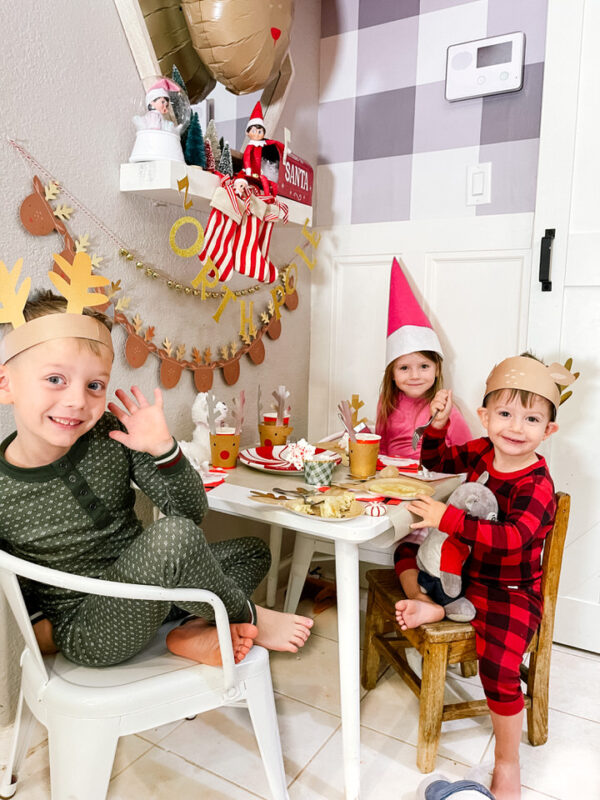 Elf Breakfast Menu
I'll be the first to admit I'm no Martha Stewart in the kitchen. I need things to be EASY…I love to go all out on the decor and surprise for my kids but I tend to drop the ball when it comes to the food. Here is my go-to menu for an Elf Breakfast!
Pancakes or Waffles – I make them extra festive by using a themed Dash Waffle Maker (we have 5 of these haha) and this year I found this adorable Elf on the Shelf pancake skillet! Omg talk about CUTE!!
I love to use the treat cups that come in my Shiki Party Boxes for fruit or for a yogurt parfait!
Hot cocoa or Juice
Pretty simple! You can make your breakfast as simple or elaborate as you want!! Powdered Donuts are fun because they seem like they are covered in snow! You can make so many fun things out of pie crusts, fruit and so much more!
If you enjoyed this post PIN IT for later! Share with a friend! It means so much to me!
Be sure to check out our previous Elf Breakfasts here! Love all things Elf? Dress your kiddos like the Elf with my DIY Elf Outfit post