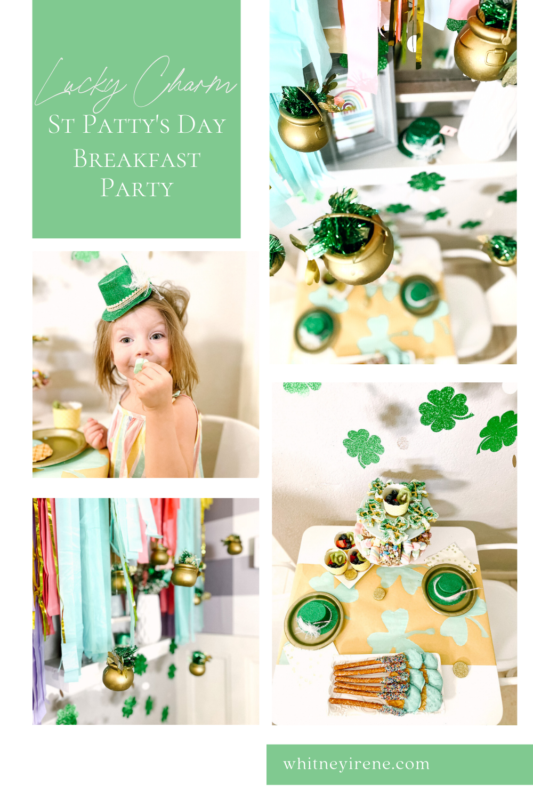 Leaping Leprechauns! Do you love St Patty's Day? I can't pass up a chance to make some magic for my kiddos and boy do I have fun creating a St Patty's Day Breakfast for them each year!
I wont lie my St Patty's day breakfast setups have escalated year over year but I'm excited that now I offer breakfast boxes that make it easy for others to re-create their own magical setups. If you feel inspired to throw your own St Patty's Day breakfast be sure to keep reading so you can check them out!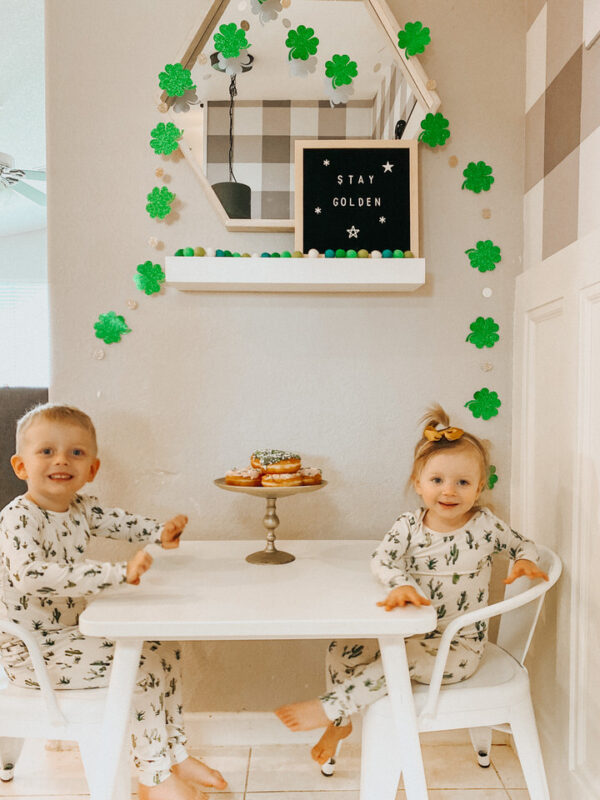 Here is a throwback to our first St Patty's Day Breakfast. Proof that something simple and sweet can be just as magical as an elaborate setup. One easy way that I love to make holidays special is to run to Dunkin donuts or our local donut shop and get some themed donuts for the occasion. 2 additional staples to almost all of my decor are – felt ball garland, and a custom banner or shape garland made with my Cricut Maker.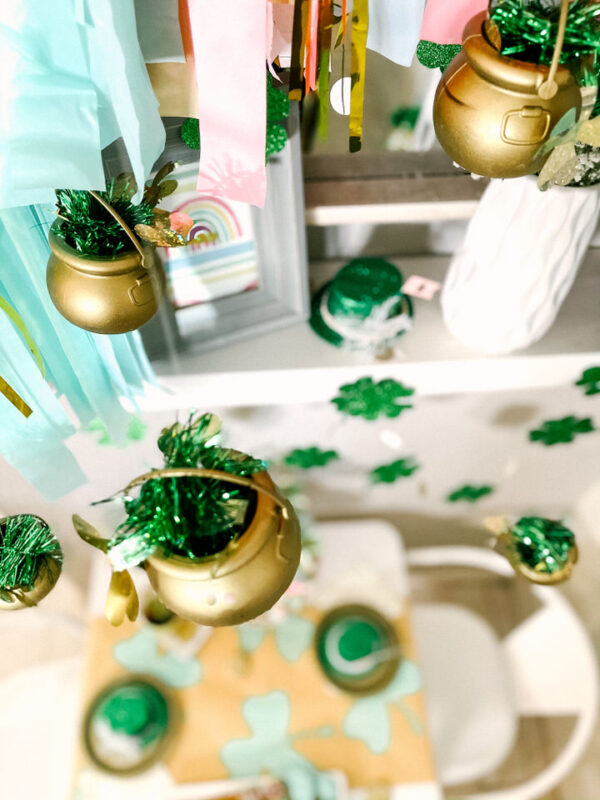 Some of my favorite things about St Patricks Day are rainbows and pots of gold. A fun and easy DIY that I did to make this St Patty's breakfast pop were these floating pots-o-gold. Grab some fishing line, these darling pots from the dollar tree – some gold spray paint and sprigs of tinsel garland. That's all you need to recreate these little pots!
Another simple DIY I love to mix in is painting some simple brown kraft paper to suit the occasion. I used a foam shamrock as a guide for painting the design on the runner.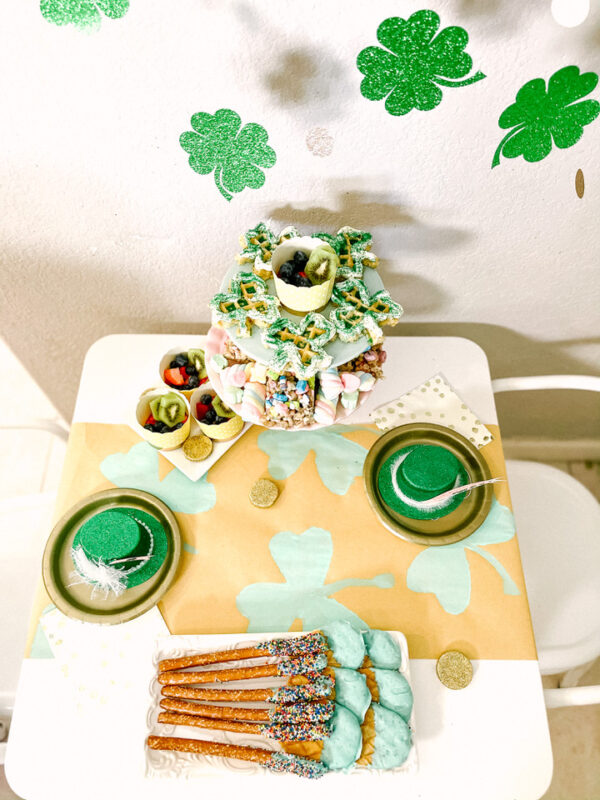 If you're ever struggling with ideas for themed treats grab some colored candy melts and some sprinkles and dip whatever you can in it. I love dipping pretzels, strawberries, waffle cookies and more. Do you have a simple hack for spicing up an occasion?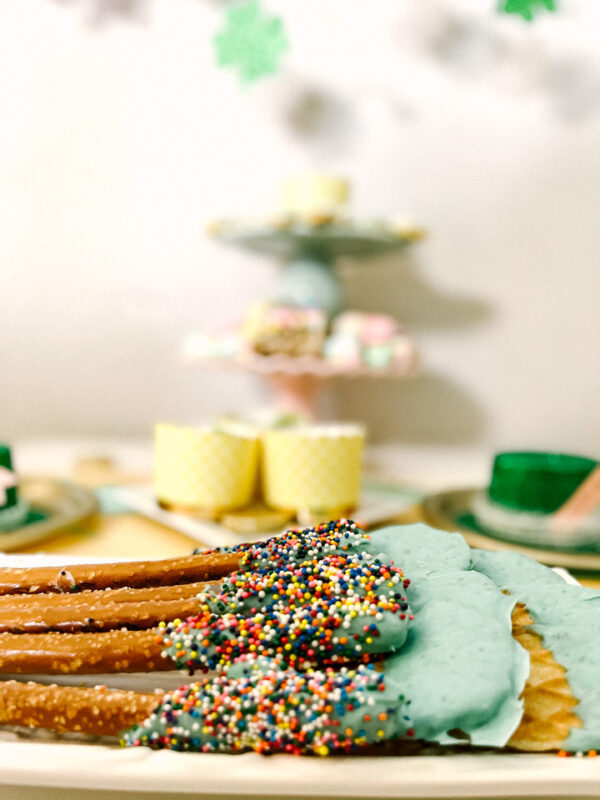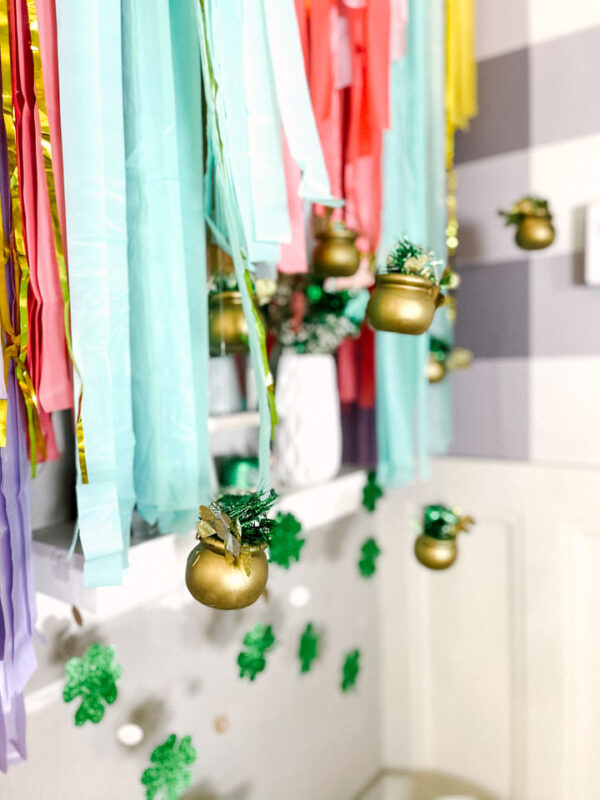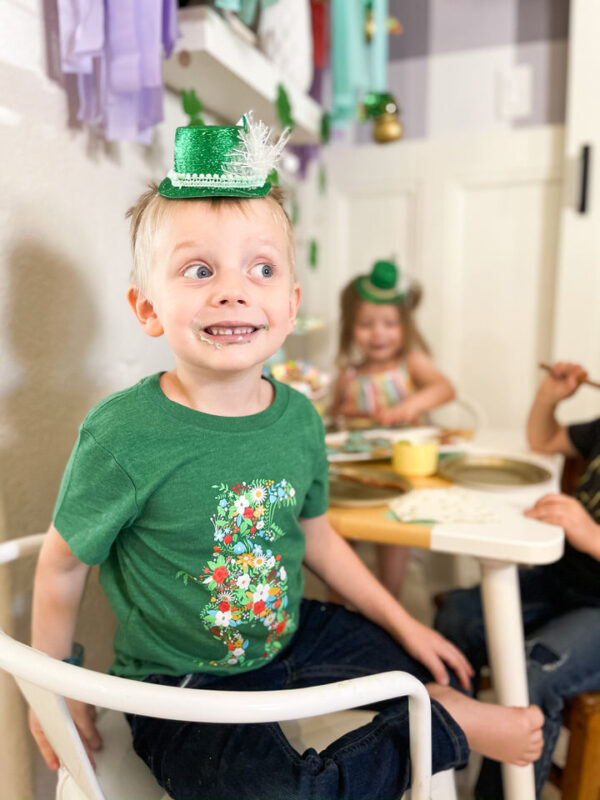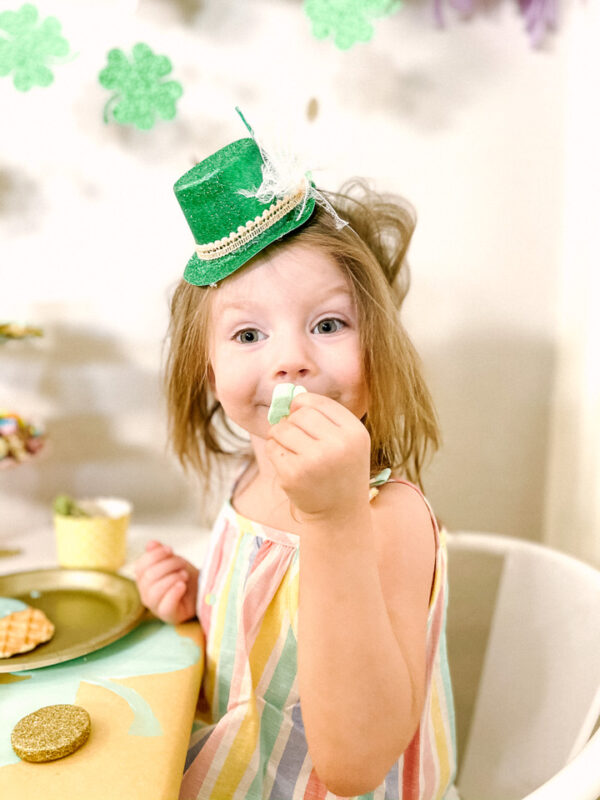 Party in a box
I've been throwing little breakfast parties for my kids for several years now. Many of my friends had expressed that they would love to buy a kit so they too could join in on the fun without needing to be crafty or creative. I'm so excited to offer breakfast party boxes because it allows me to spread the magical moments to other families.
Below you can see our 2022 St Patricks Day boxes! Each one has a breakdown of what's included. A super simple way to throw a mini shindig! Join me on Instagram to stay in the know about my latest part box launches and DIY inspo!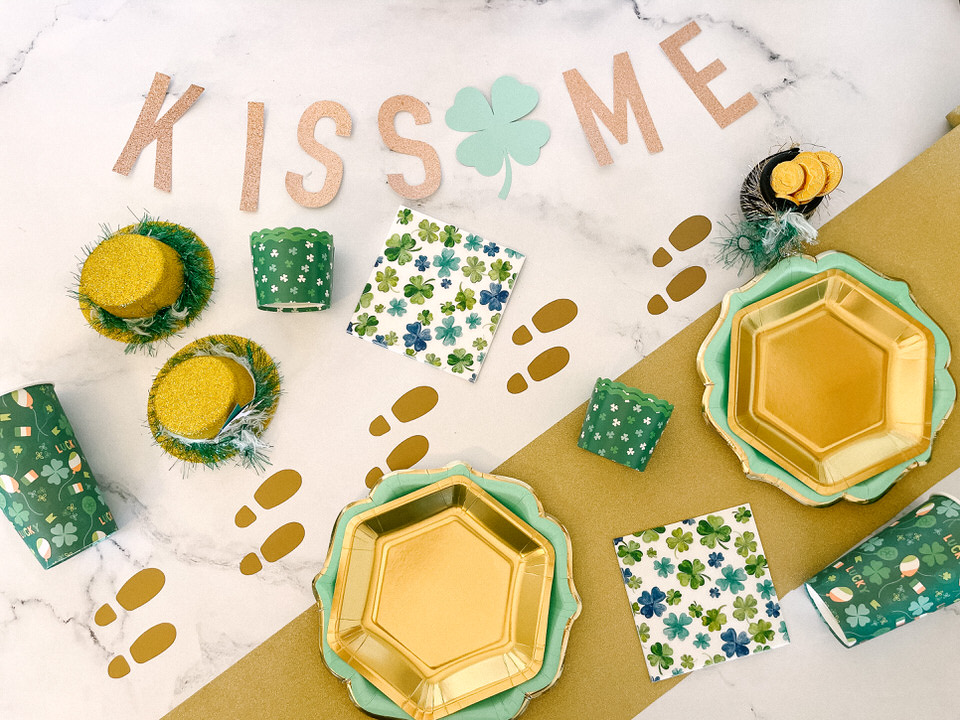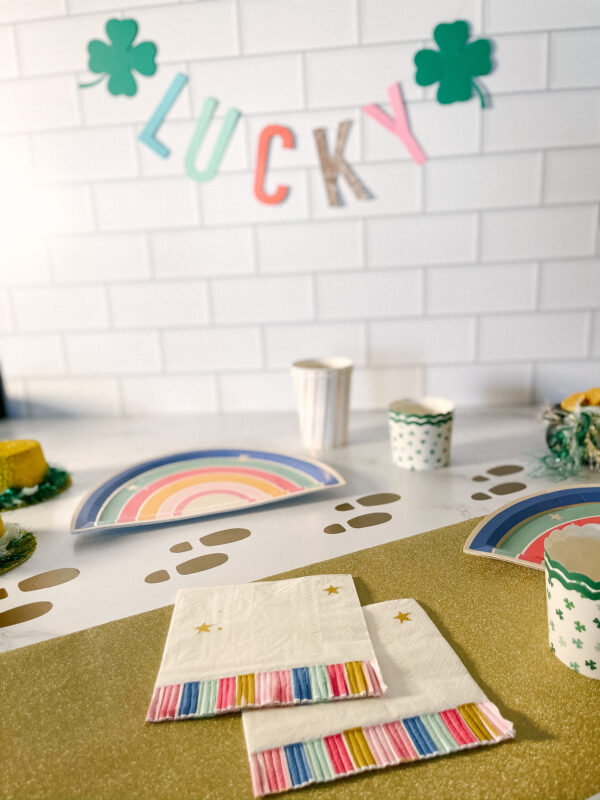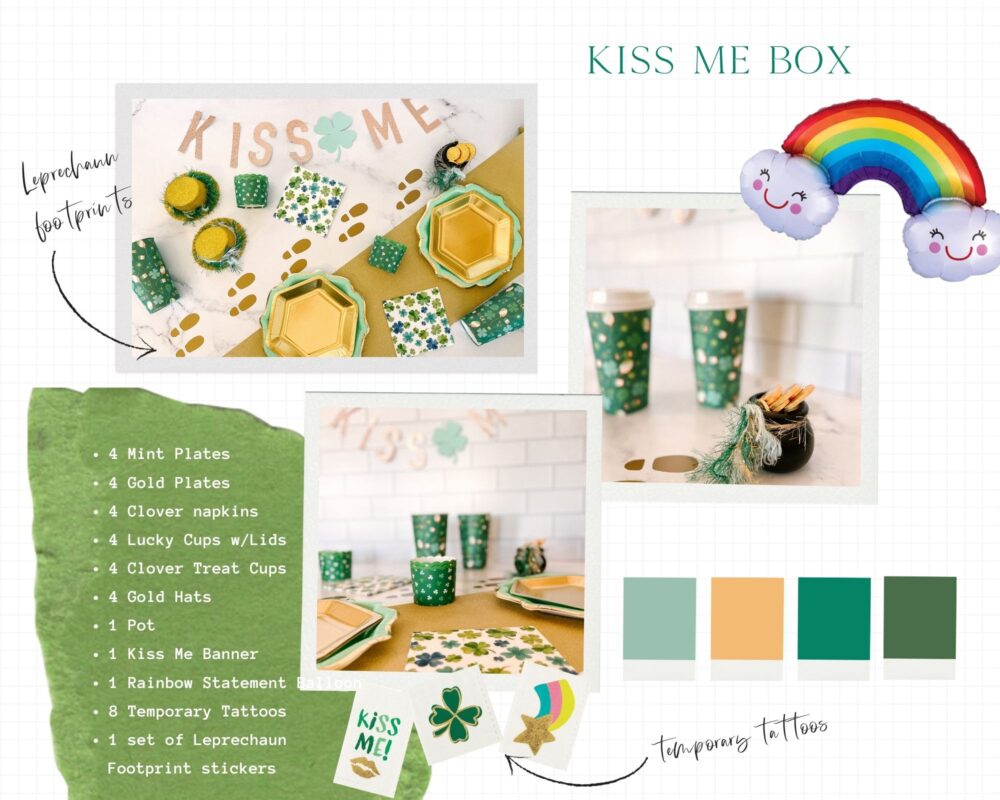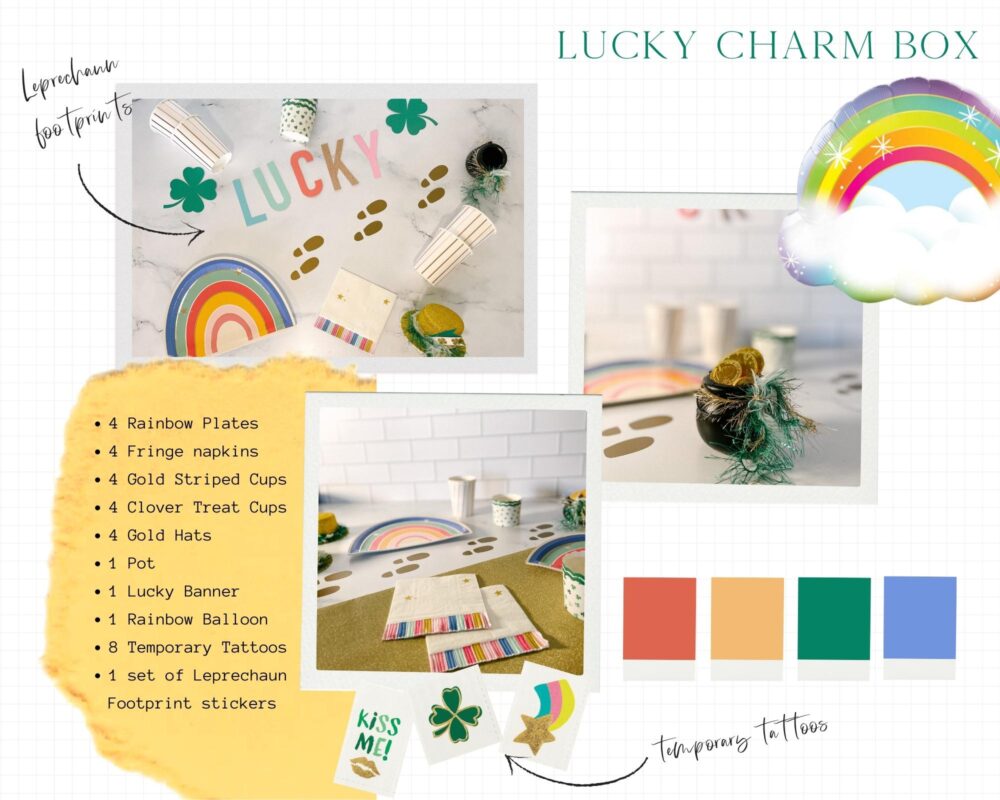 Do you love holiday decor? Check out more of my setups