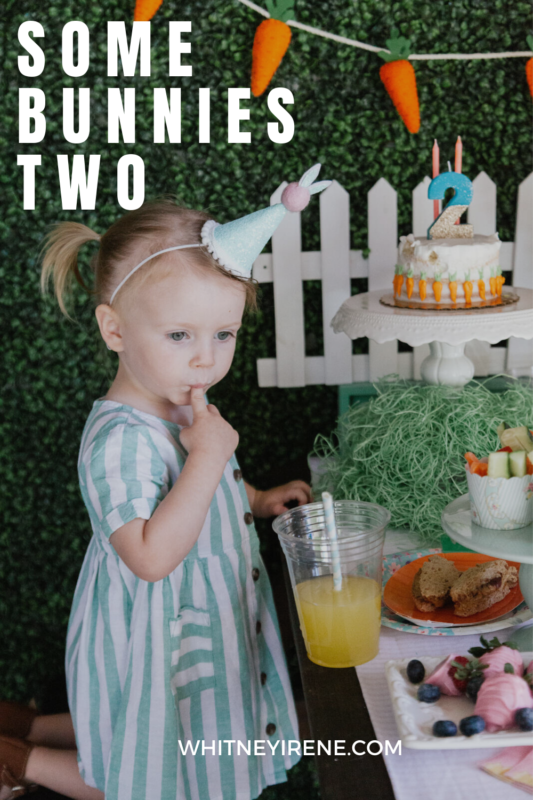 I had big big plans for my baby girl's 2nd birthday party, we had decided to have our kids switch off having birthday parties every other year (with the exception of 1st birthdays) so Kennedy would be even #s and Tatum would be odds. The party I started planning months prior was Some Bunnie's Two and I was thrilled to have a big Easter Weekend Bunny Brunch to celebrate our bunny girl…and then Covid-19 happened.

Plans are canceled and expectations change. We decided we would still throw her a little backyard party for just the four of us, and you know what? She loved it! Her excitement for balloons, candy dipped strawberries, cake and presents was magical!

Bunny Brunch – Somebunnie's Two – Details

The day kicked off with a donut breakfast and we let little miss open a few presents, I wanted her "party" to be a big surprise to I set it all up on the patio and it was revealed at lunchtime!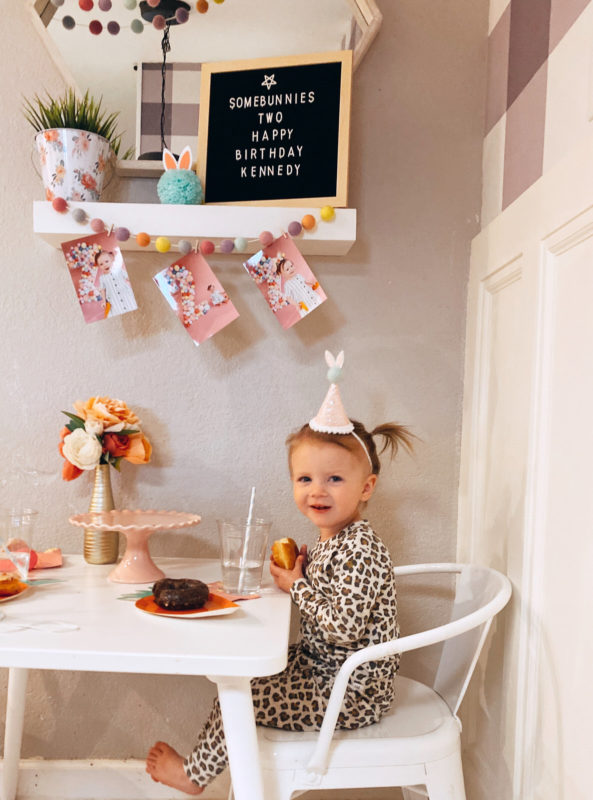 We decided to take advantage of the fleeting spring weather as we live in AZ and the days begin warming up quickly! I convinced my hubs to rearrange the patio so the playhouse could live under the shade (bless) and we had recently hung this faux greenery behind the kids picnic table making for the sweetest set up for a two-year-old.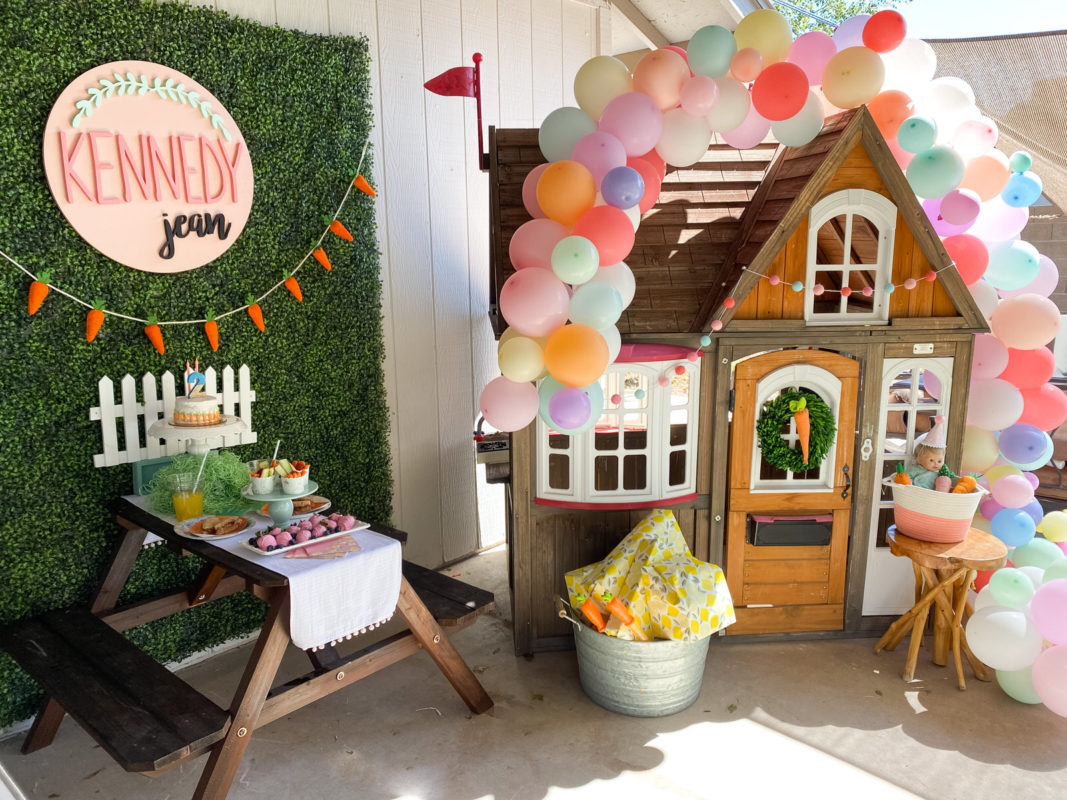 Bunny Brunch Decor

We pulled this Knox and Navy sign from Kennedy's room and it framed the party perfectly, I strung this cute carrot garland I found a few years ago at HomeGoods across the greenery as well bc bunnies love carrots 😉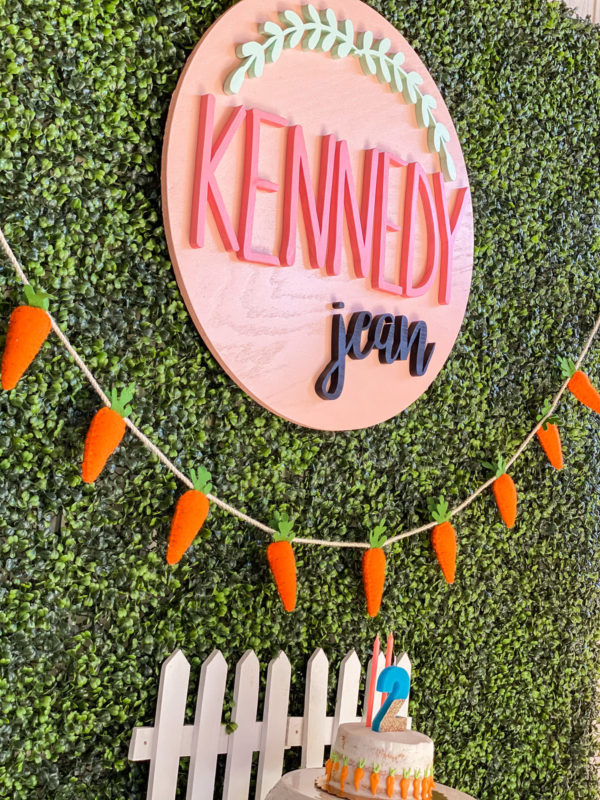 I scored these meri meri carrot plates and Clementine Paper co bunny plates from Homegoods! They were such a sweet touch.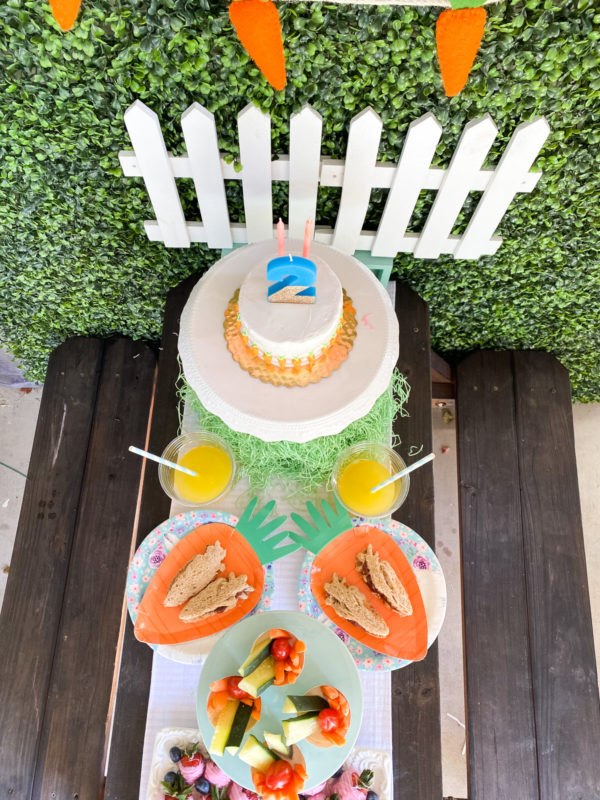 I made a pastel balloon garland to decorate the playhouse and added a boxwood wreath with a carrot to the door. Kennedy's presents were all wrapped in lemon paper from Homegoods and she happens to love lemons so that worked out!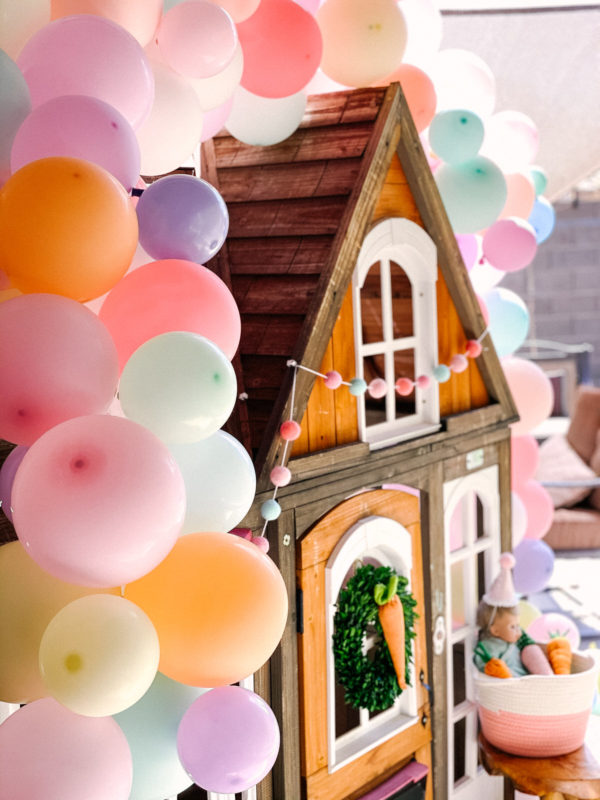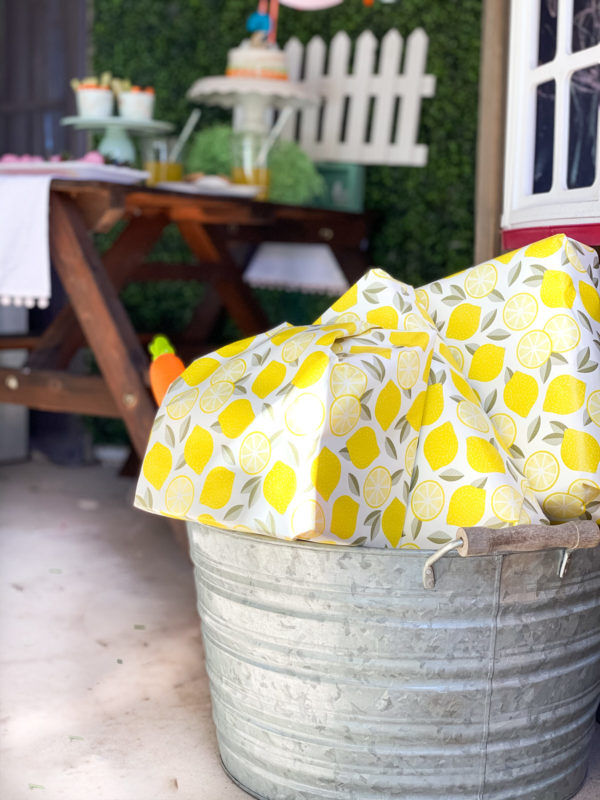 Bunny Food

Sadly our usual cake lady had a family emergency and I was in a scramble for a cake… Safeway came through with this little naked cake adorned with a carrot border and they made this to order for $6.99. WHAT? YES.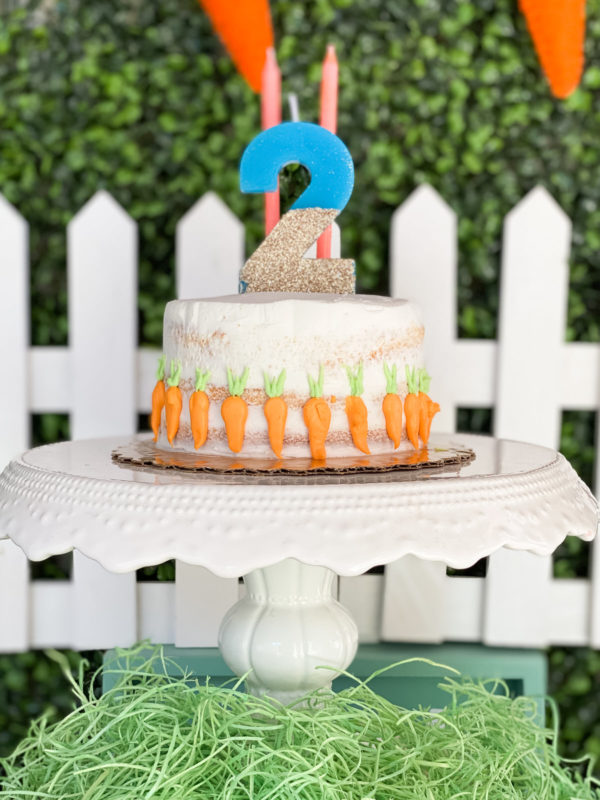 The kiddos had pb&j sandwiches which I used our carrot cookie cutter to cut into " carrot" shapes – they were not the prettiest but oh well.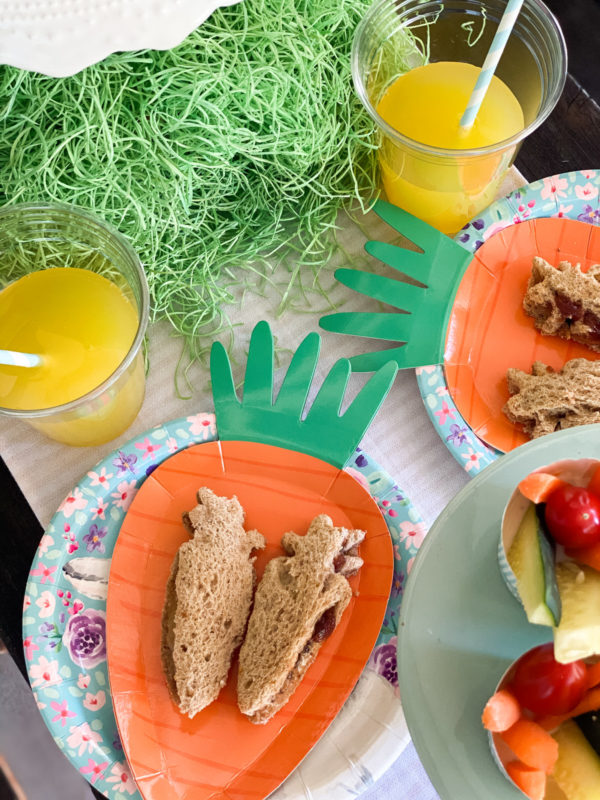 I added ranch and chopped veggies to these treat cups for a healthy side of bunny food and the biggest hit was the candy dipped strawberries! I wanted this table to have lots of pops of color and the food was an easy way to accomplish that!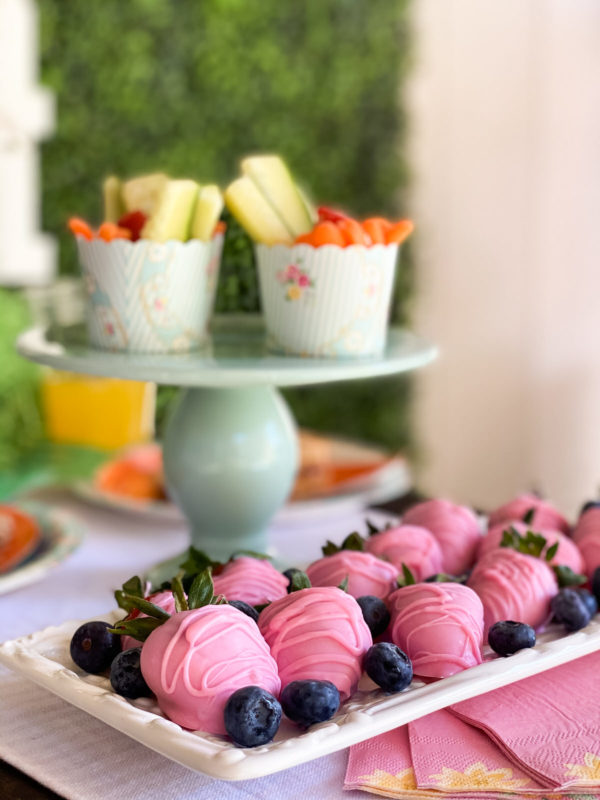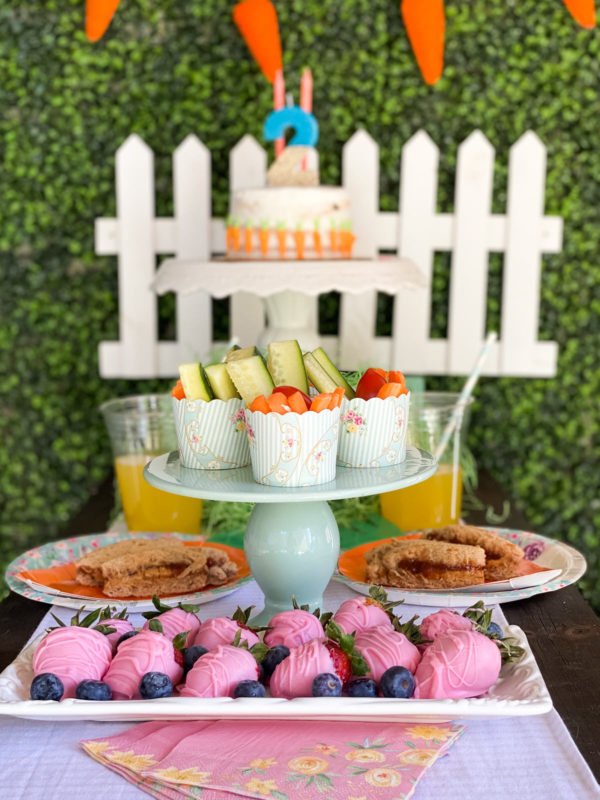 Some Bunnies Two – Outfits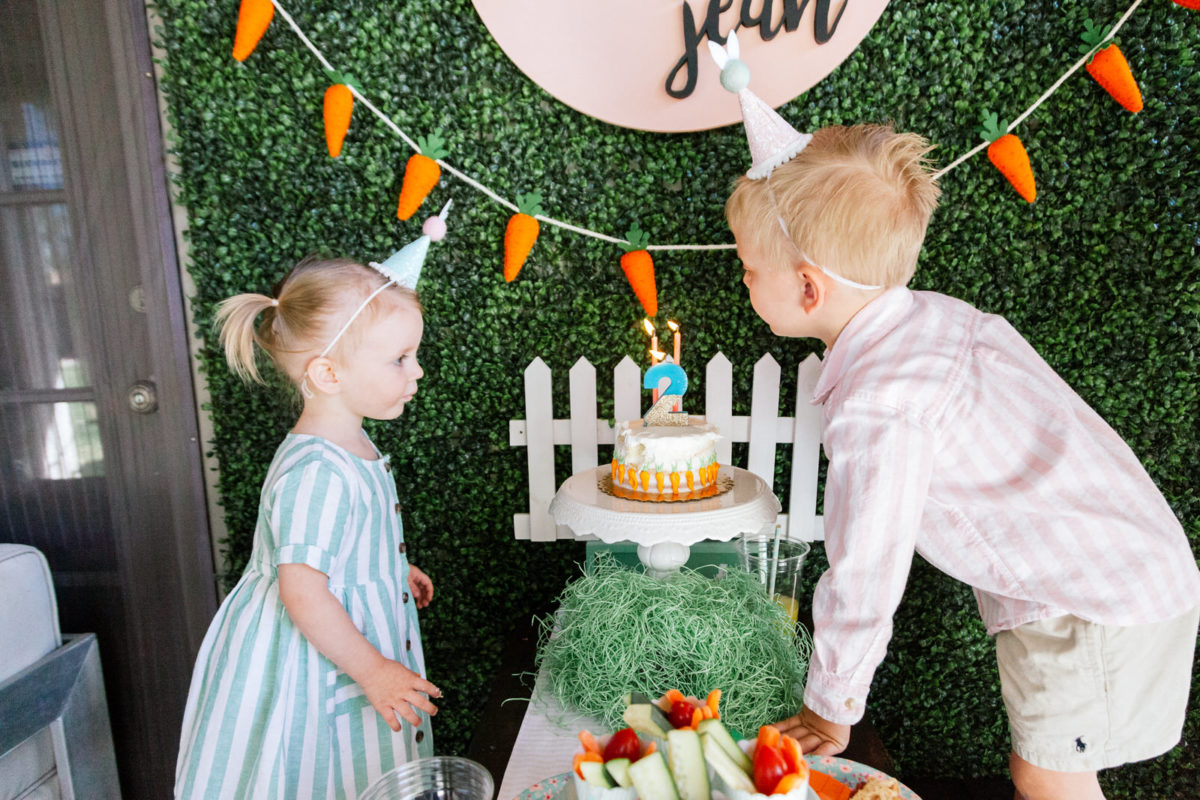 I bought the kiddos these striped pastel outfits from Old Navy last year and they couldn't have been cuter for the occasion. I also used her dress for her invitation / 2-year-old shoot which you can find here.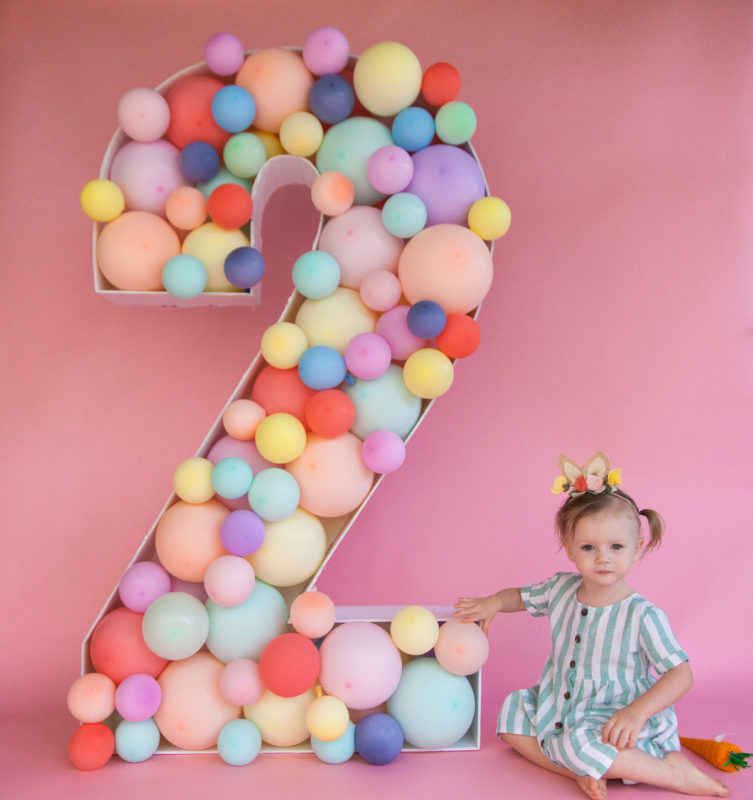 Kennedy's shoes are from Adelise and Co and I made both of them bunny party hats to make the day feel extra festive.

Birthday Girl

The magic of being two is not having these grand expectations like mama does. Kennedy was full of joy the whole day and Tatum being the sweetest brother was just so happy to celebrate her. I hope my kids look back on these memories and see how much fun we can and did have as a family of four.

Check out how we celebrated Kennedy's First Birthday here!