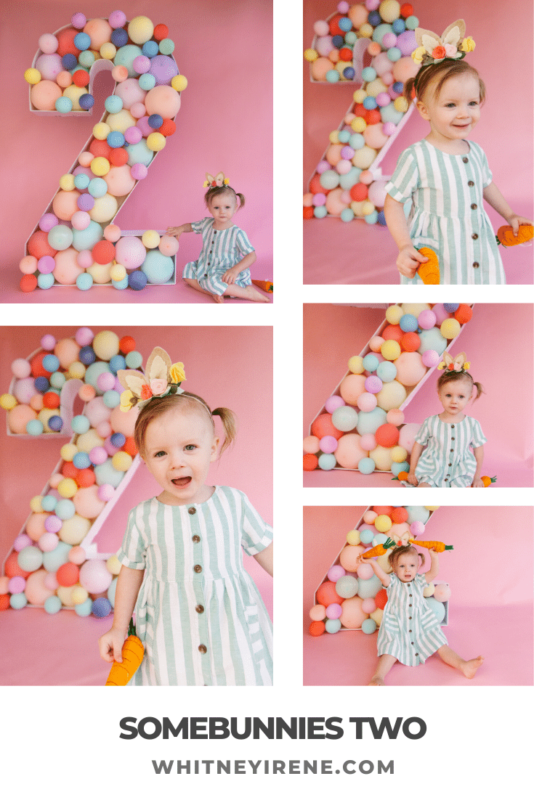 Originally I had this Somebunnies TWO shoot planned for Kennedy's birthday party invites, in light of all that went on with Covid-19 we weren't able to have her birthday party with friends & family.
While we had a lot of time on our hands I figured why not still do these photos and celebrate our girl! So a little background on her party theme – "Somebunnies Two!"
Bunny Girl
So it's hard to know if the chicken came before the egg but as a little girl I went through a phase where I twitched/scrunched my nose all the time, and my mom also called me her bunny girl. Fast forward to me being pregnant with Kennedy, she was due April 12th and since her brother came 2 weeks early I thought maybe we would get a little Easter Bunny baby. She didn't oblige but she got the nickname bunny girl as well.
This year her birthday actually does fall near Easter (April 14th is her birthday and April 12th is easter) so our party is SomeBunnies Two.
Think pretty pastels and garden party vibes. While the theme won't be timely by the time quarantine is over I still hope to throw her a party eventually!
Disclaimer:
This post contains affiliate links. If you purchase something from one of these links I will make a small commission at no extra charge to you. Thank you for supporting bloggers like myself. As always I never share things that I don't believe are a great fit for my family and my readers!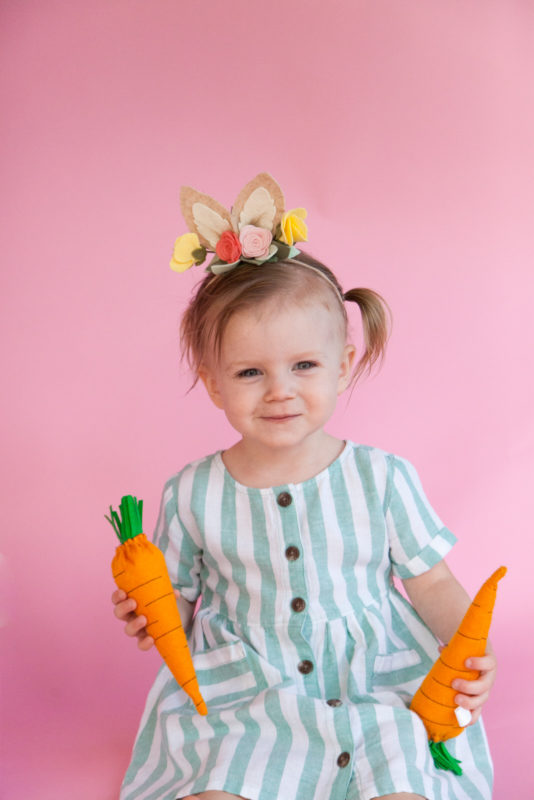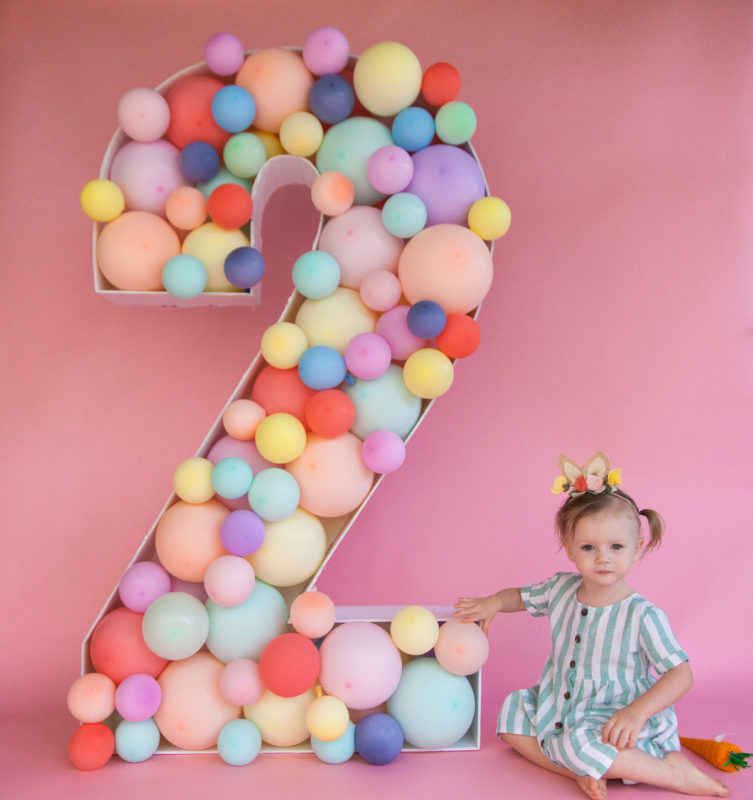 Props & Wardrobe
Earlier this month I posted our first baby Desi-the-dog's 10th birthday shoot! I really wanted an excuse to buy this pink paper backdrop so both of these birthday shoots were my motivation.
Last year for Kennedy's birthday party I hunted high and low for the perfect bow or headband and found this wonderful small shop
SyddyKatCreations. This year we teamed up and she sent me the cutest felt bunny ears for Kennedy to wear! I absolutely love her products and she has such a fast turn around time!

Here are some cute "critter" ears sold at old navy.
Dress – I bought this button down linen-cotton blend dress last spring from Old Navy and was saving it for something special – once I started pulling the shoot together I knew this was it! While this exact dress isnt available anymore I found some other great options:

Pink button-down dress HM
Sage Green Flared Cotton Dress HM
Light Green Gingham two piece set HM
Blush Sleeveless dress in lightweight cotton canvas
We also did an outfit change and let Tate hop in the pics! I love these shirts from small shop mom boss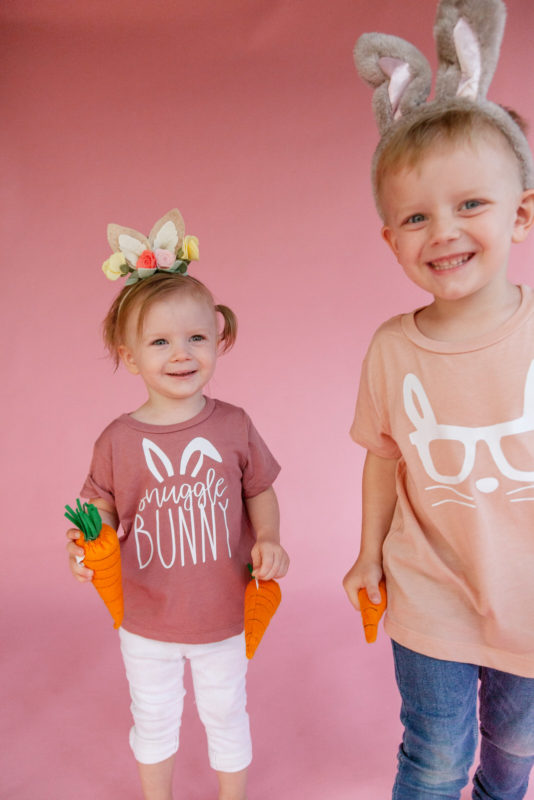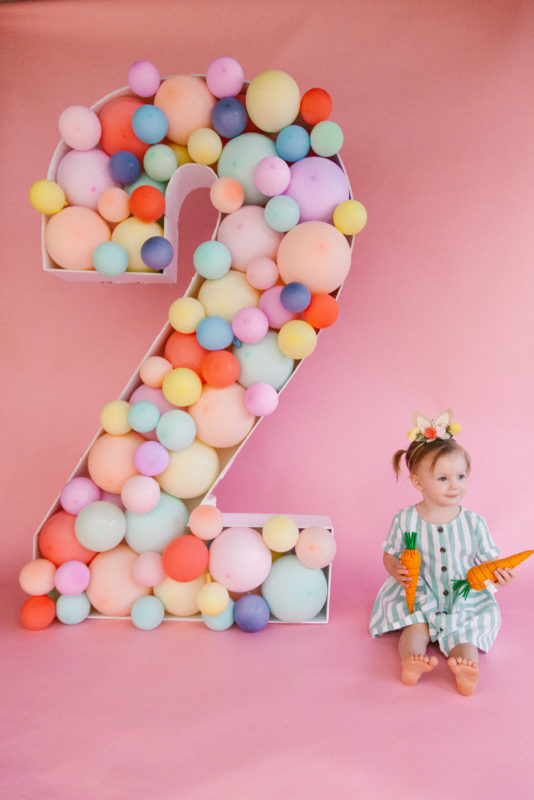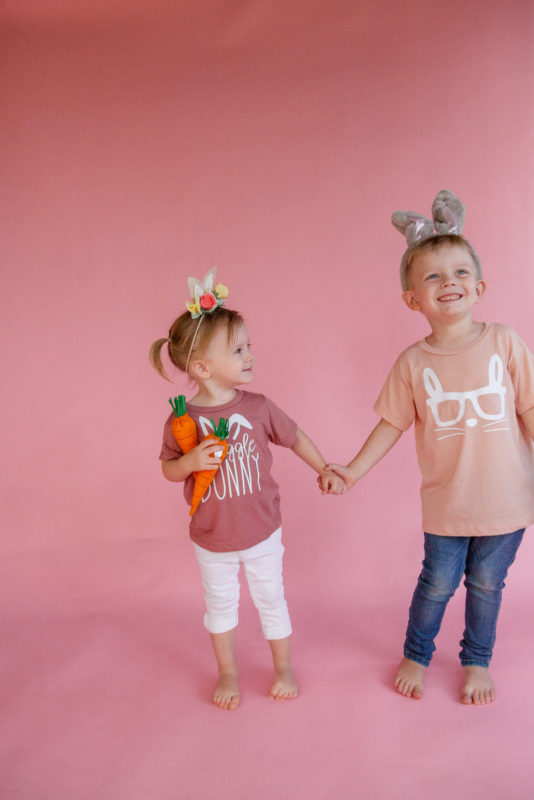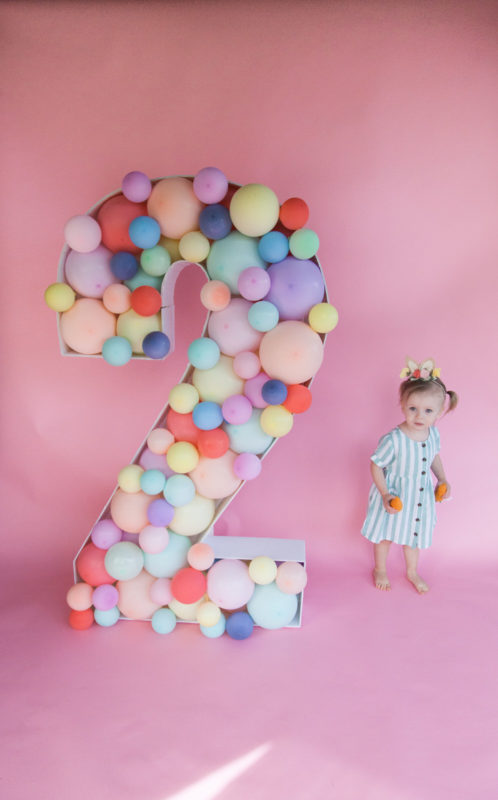 Balloon Mosiac Two
I stumbled upon Balloon mosaics when I was creating decor for my son's 3rd birthday! I made him a 5ft #3 balloon mosaic and it was SUCH a hit!
We then used that 3 to announce baby ford #3 – check out our announcement shoot here!!
I have been itching to make another balloon mosaic! If this seems up your alley you have got to follow Lilly from The Creative Heart Studio on Instagram. She sells templates and step by step instructions to make these amazing props!
Some notes I have on making these – the 40×60 foam boards you need to make them are sold at Hobby Lobby (any likely any craft store) but they are in the back of the framing dept. meaning you have to ask a staff member to get it for you! So don't get discouraged if you don't see them out on the floor they are hidden away!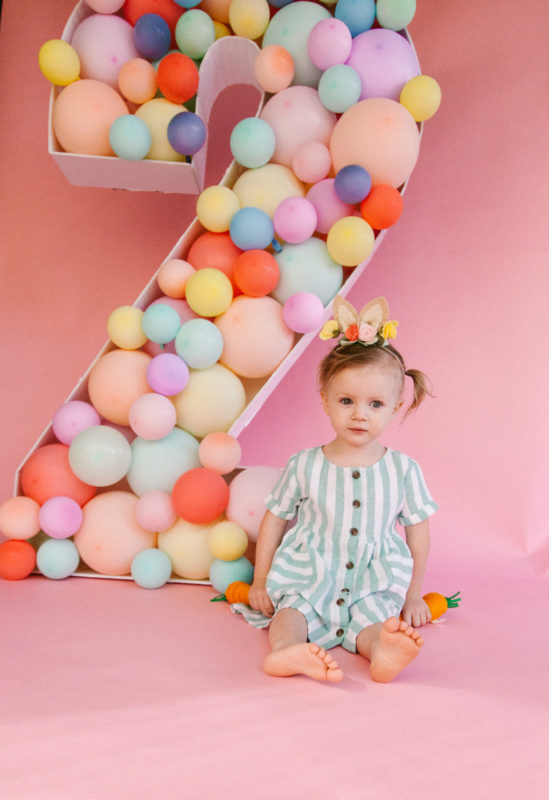 I searched high and low for the right color balloons, I landed on these packs
However, I still thought the colors weren't just right!! So I tried a technique I learned recently called "double stuffing" the balloons. You put another color inside or outside of the color you have to create a different effect. There are all kinds of "recipes" on Pinterest for what colors to combine to achieve certain looks. For this, I simply put a white balloon inside every colored balloon I used and it made it more opaque and gave it a milky matte look.
I did add the "tutorial" if you can even call it that haha to the "Shiki" highlights on my Instagram . Drop any questions you have in the comments below.
I always recommend to anyone trying to make another from balloons to invest in an electric air pump.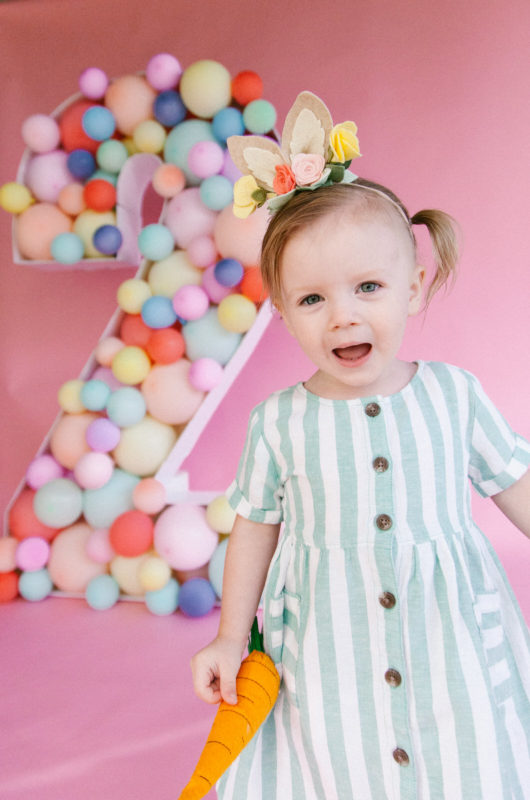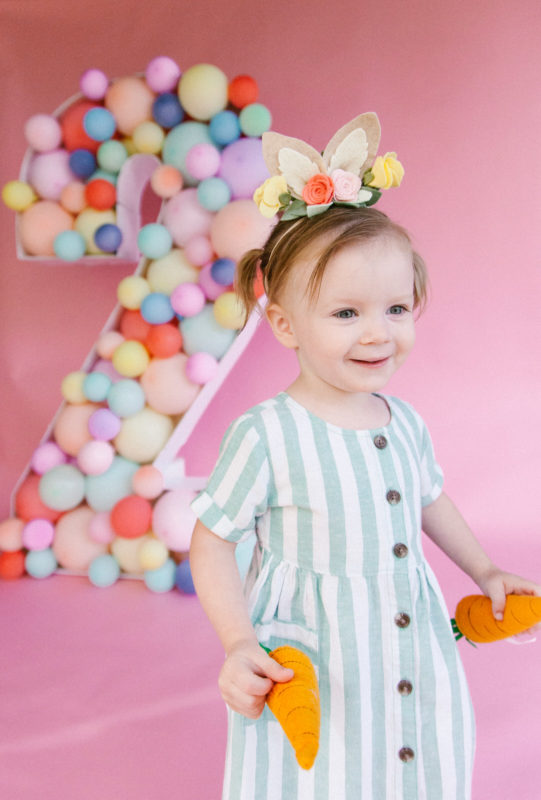 Photoshoot
Whenever we set up a backdrop like this we shoot in natural light on our patio for diffused lighting. I try and make sure my kids are well-rested and not hungry!
Kennedy lovessss bunnies (in fact she was a bunny for Halloween) so she had a blast wearing her bunny ears! Somebunnies Two is the perfect theme for her!
I hope you enjoy these photos! Share them with your friends and pin them to save for later!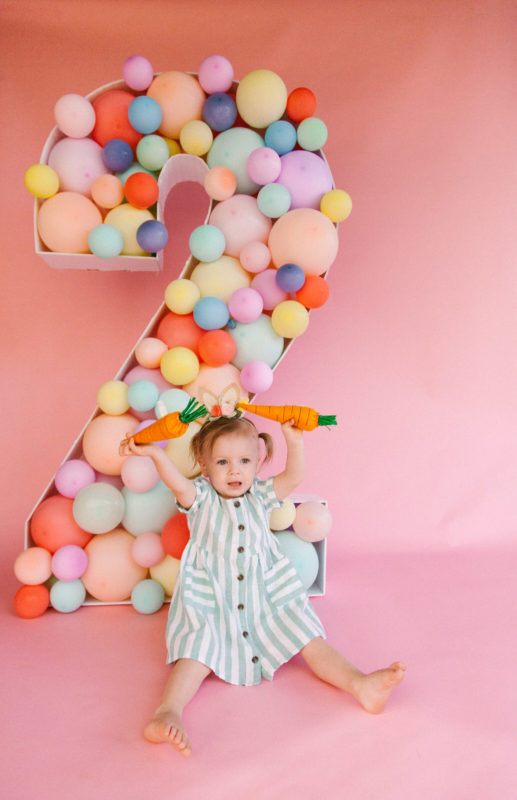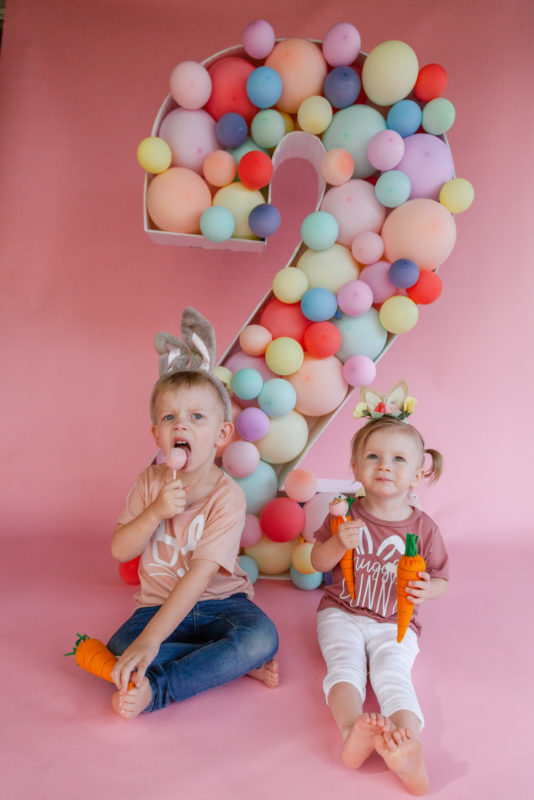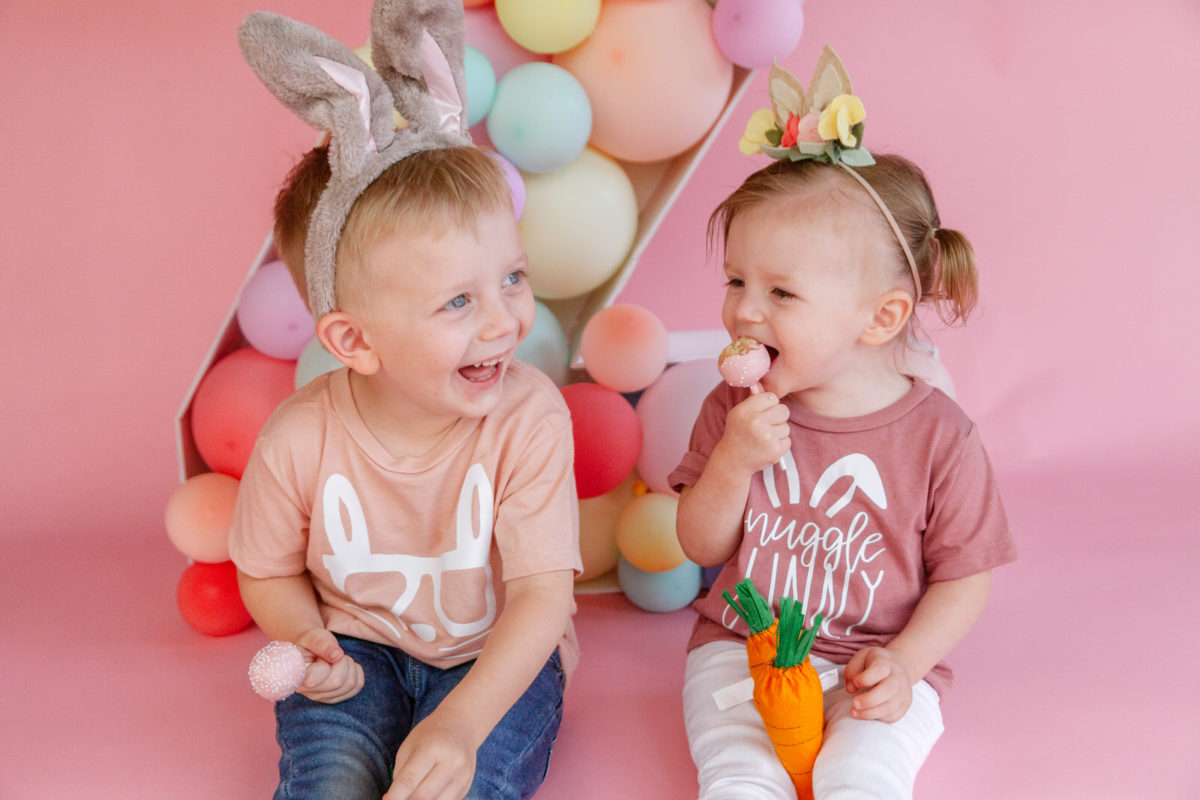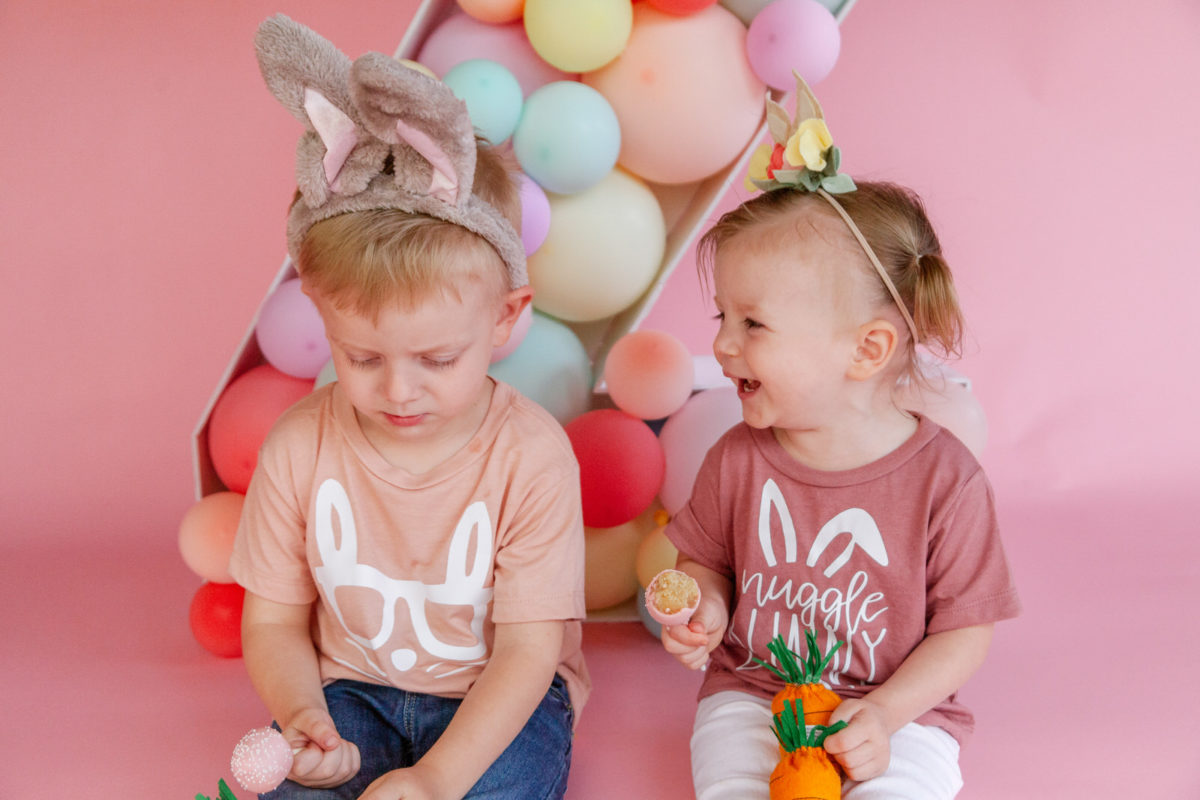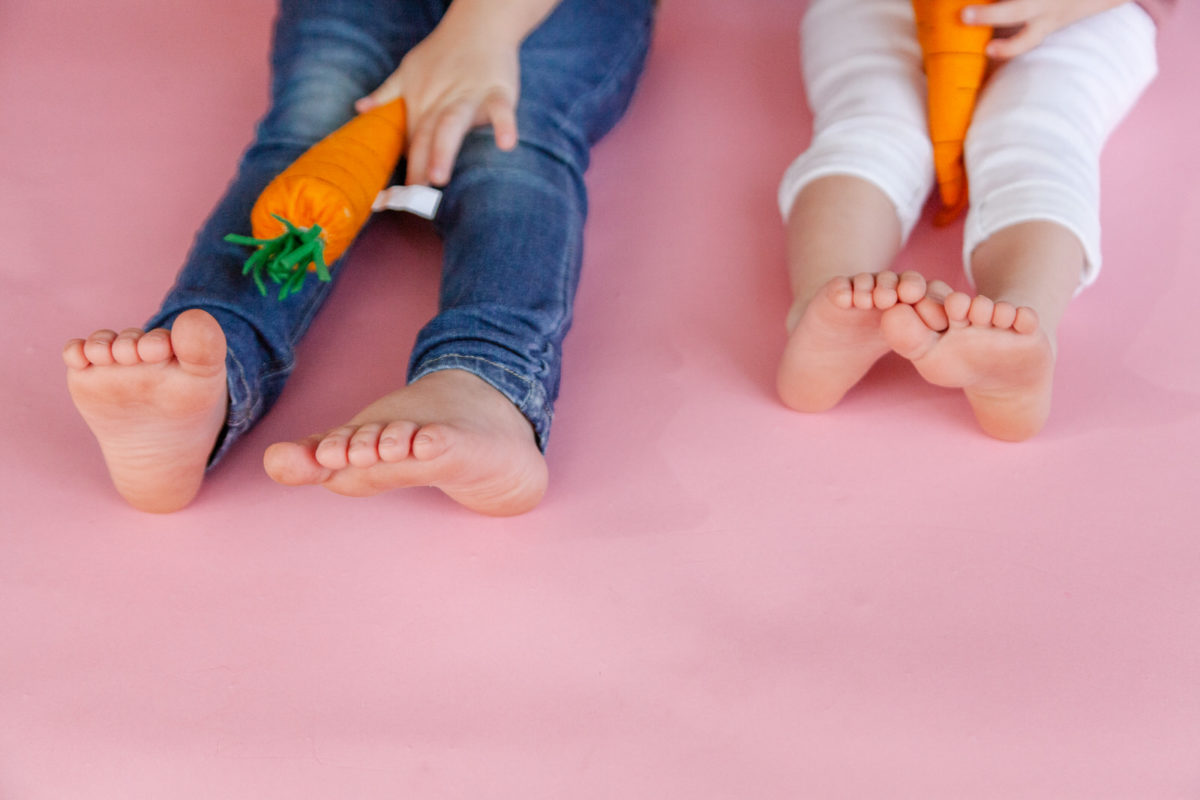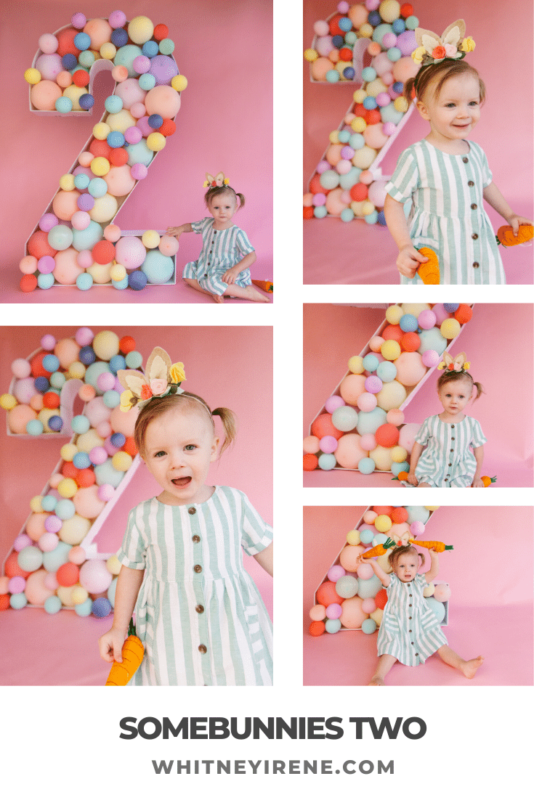 XO
Whitney