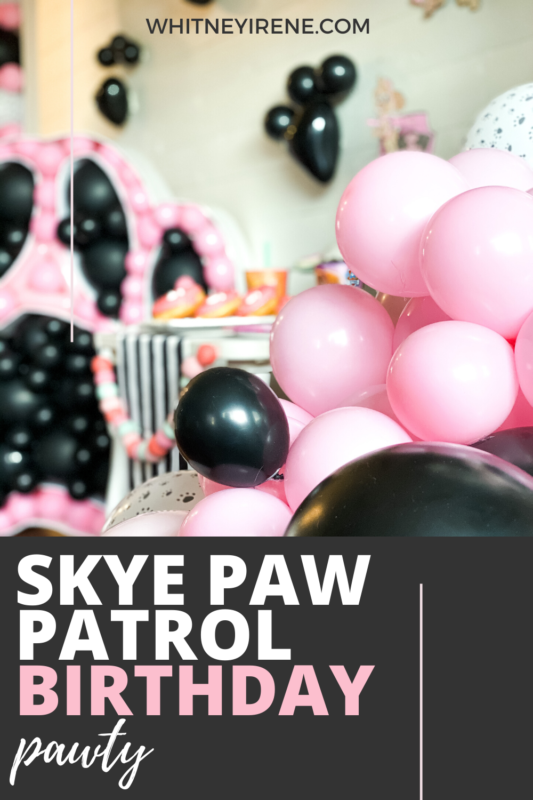 If you know my son Tate you know he loves Skye from paw patrol! This year he requested a Skye Paw Patrol Pawty. Because our kiddos birthdays fall 1 month apart we opted to have them alternate party years ( so Tatum is odd years and Kennedy is even years – with the exception of 1st birthdays!) but this year with everyone being self-isolated our plans changed. Tatum was going to get his first Disneyland trip instead of a party and Kennedy was going to have a big backyard Bunny party. Both kids ended up just having small celebrations with just us four at home and they are so young they still had an absolute blast.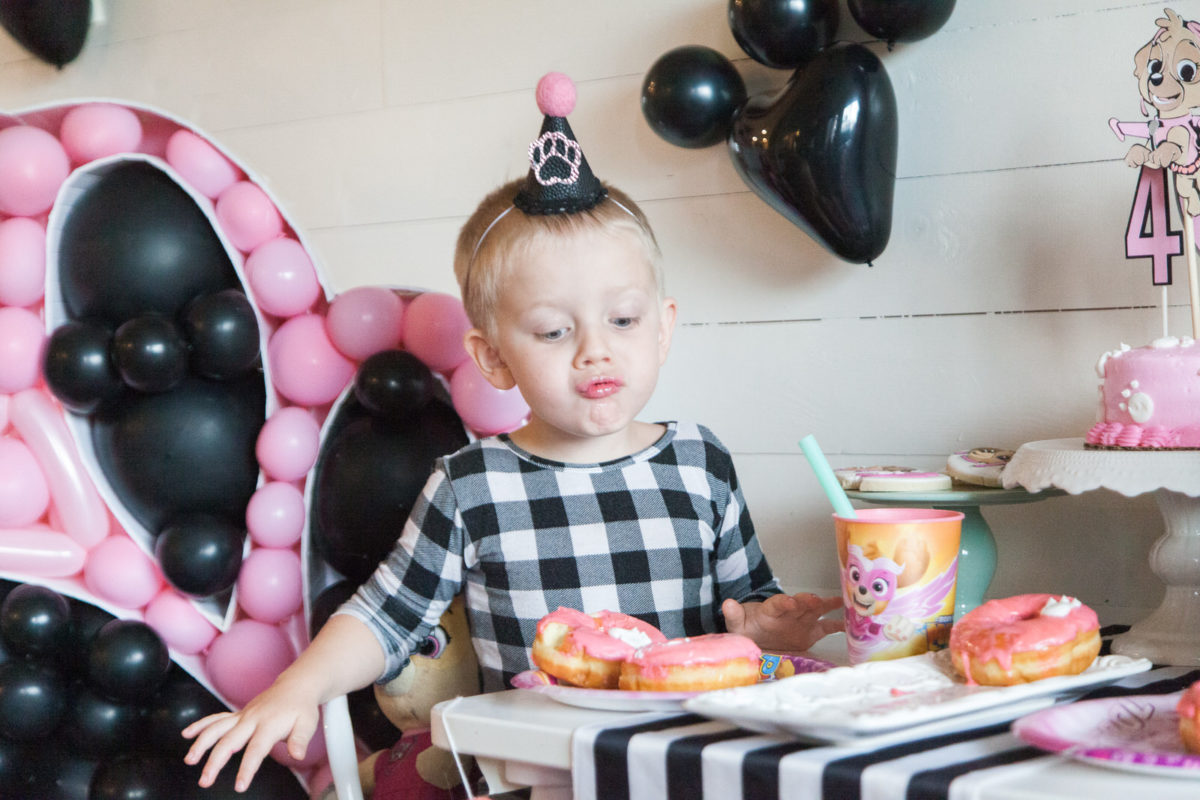 Skye from Paw Patrol is one of the only female dog characters in the show so most parties with her as the main character are targeted towards girls. While our Skye Paw Patrol Pawty absolutely could work for a girl I tried to incorporate a lot of black and white and paw prints to make it a little more neutral for my son. My goal was to transform our dining room into a magical space with things that would feel exciting to a four-year-old… Lots of balloons and sweets!!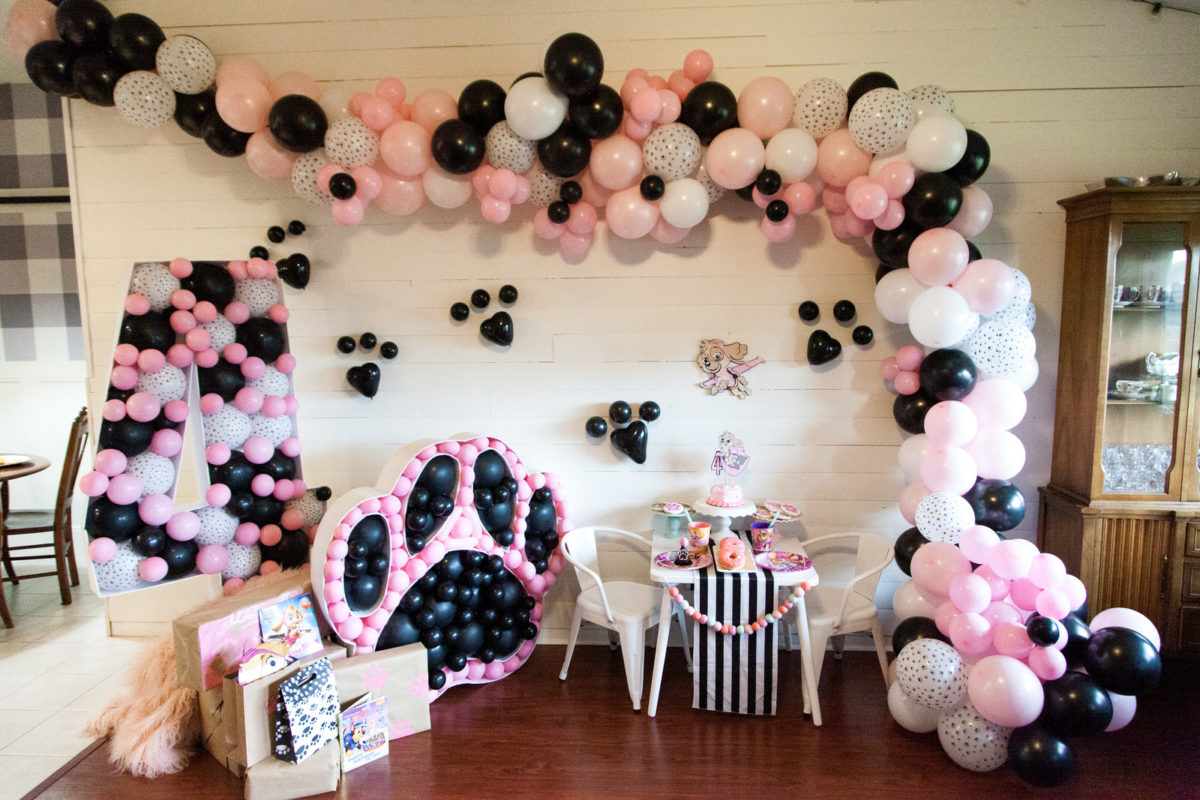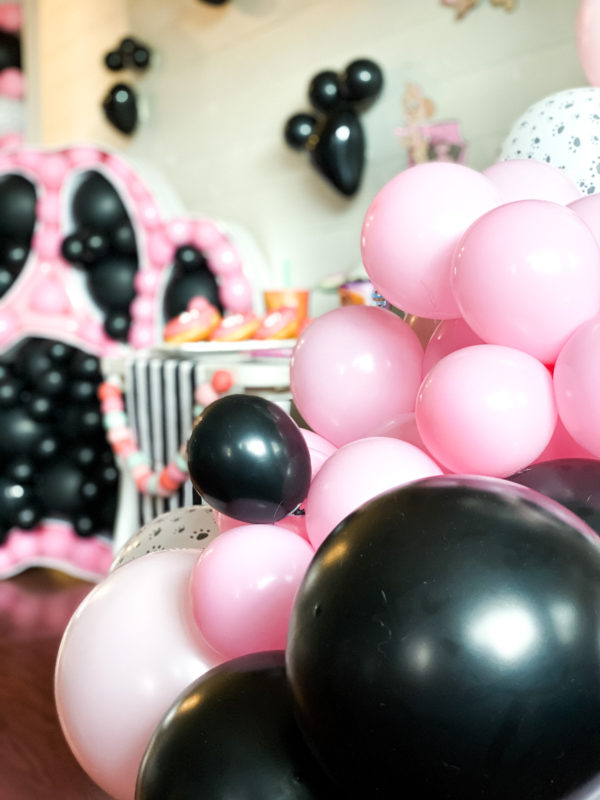 Balloon Garland
The three big statement pieces I created were a 15-foot balloon garland hung on our shiplap wall, and two Balloon Mosaics.
I love the way these turned out and incorporating balloons with a paw print pattern gave these pieces some fun dimension. 

When making balloon garland here are the supplies I recommend having on hand:
Assortment of 11-inch balloons approx 100-150 count. 
Assortment of 5-inch balloons 50-100 count 
Glue dots and or low temp glue gun 
Command Hooks
Fishing line 
Electric Balloon pump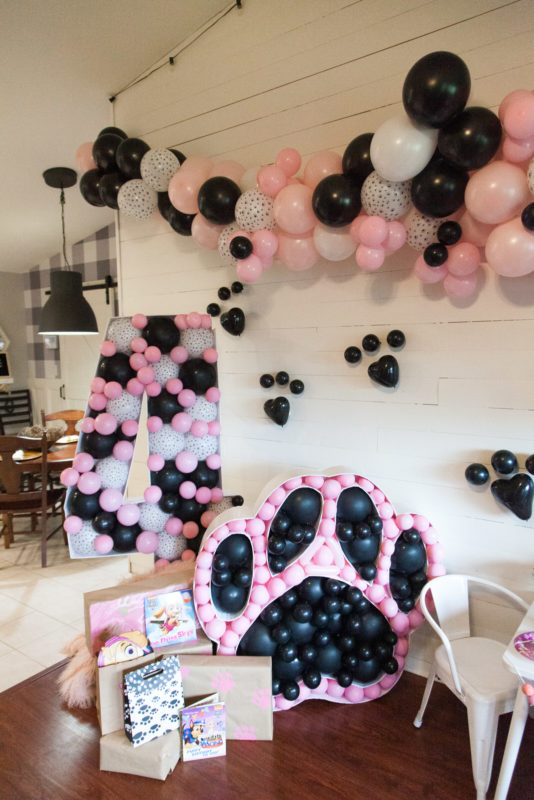 Balloon Mosaics
I purchased a template for the 5-foot #4 from incredibly crafty mama Lily of The Creative Heart Studio. She doesn't have a paw print template so using my projector I was able to create a Pawprint design of my own.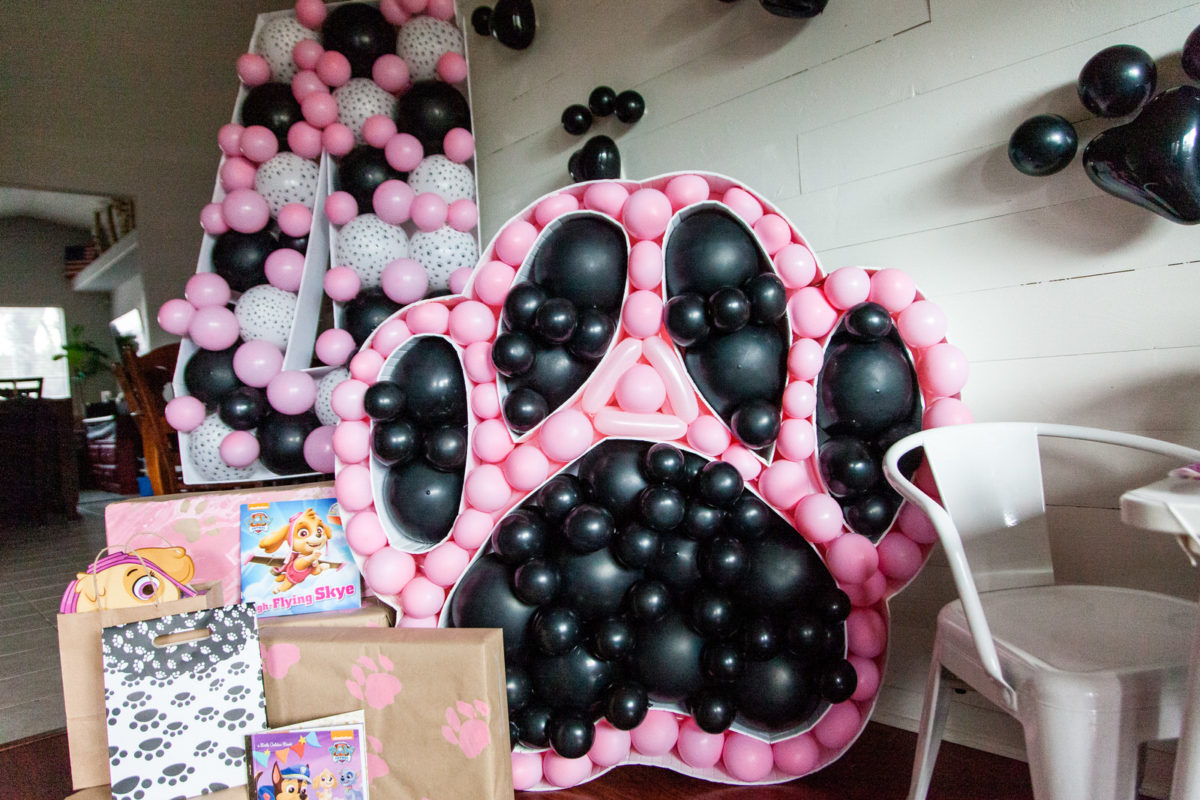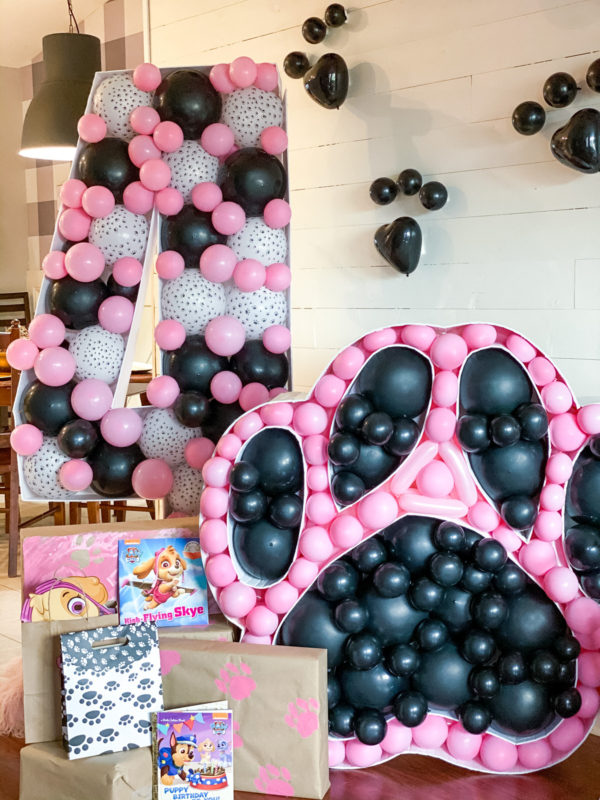 Pawprint Balloon Mosaic Supplies:
Xacto knife and or rotary cutter
Projector
Check out some other fun Balloon Mosaics I've created here: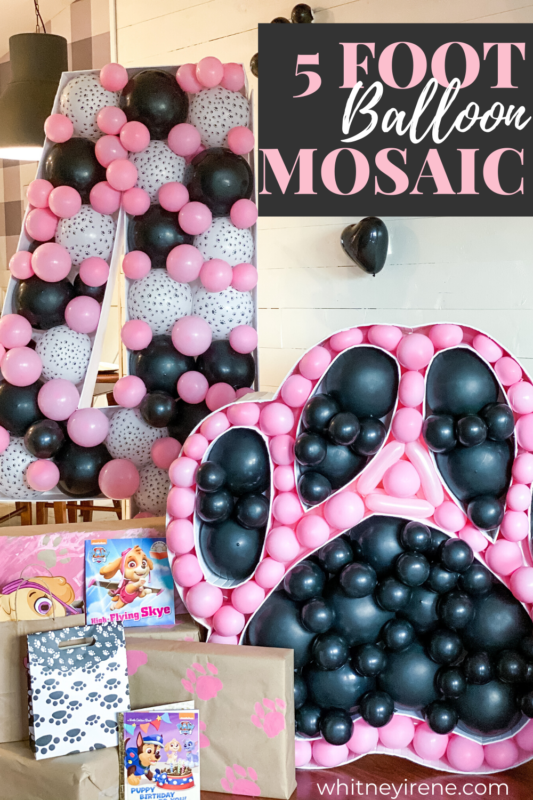 Little Details
I used my Cricut Maker to make the Skye character cutouts for the wall along with the 4 and Skye Badge toppers.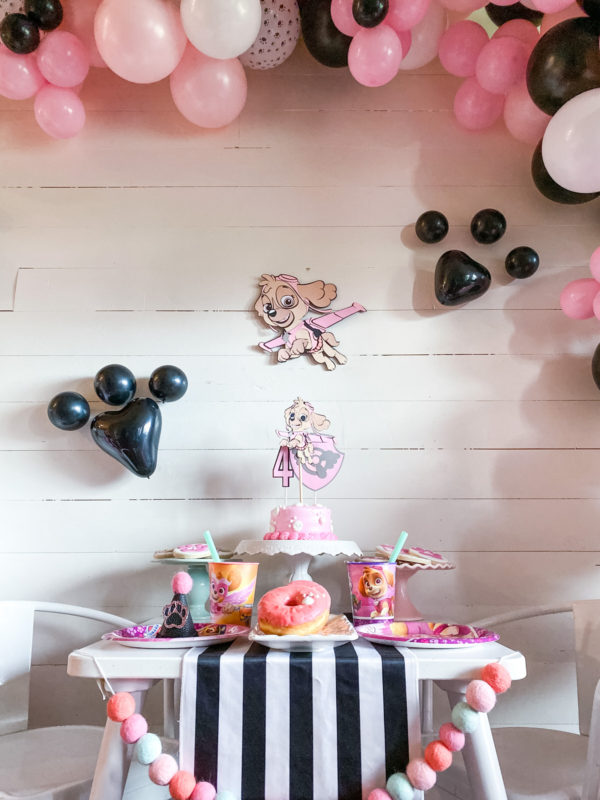 To create the pawprints along the wall I used black heart-shaped balloons paired with 5-inch black balloons (attached with Gaffers tape.) 
We grabbed Paw Patrol character masks, Skye cups and plates at Walmart ( but they can also be found on amazon) 

I used a black and white striped runner and colored felt ball garland that I had from previous events to decorate the kid's table. (ps this table + chairs is one of my favorite purchases ever)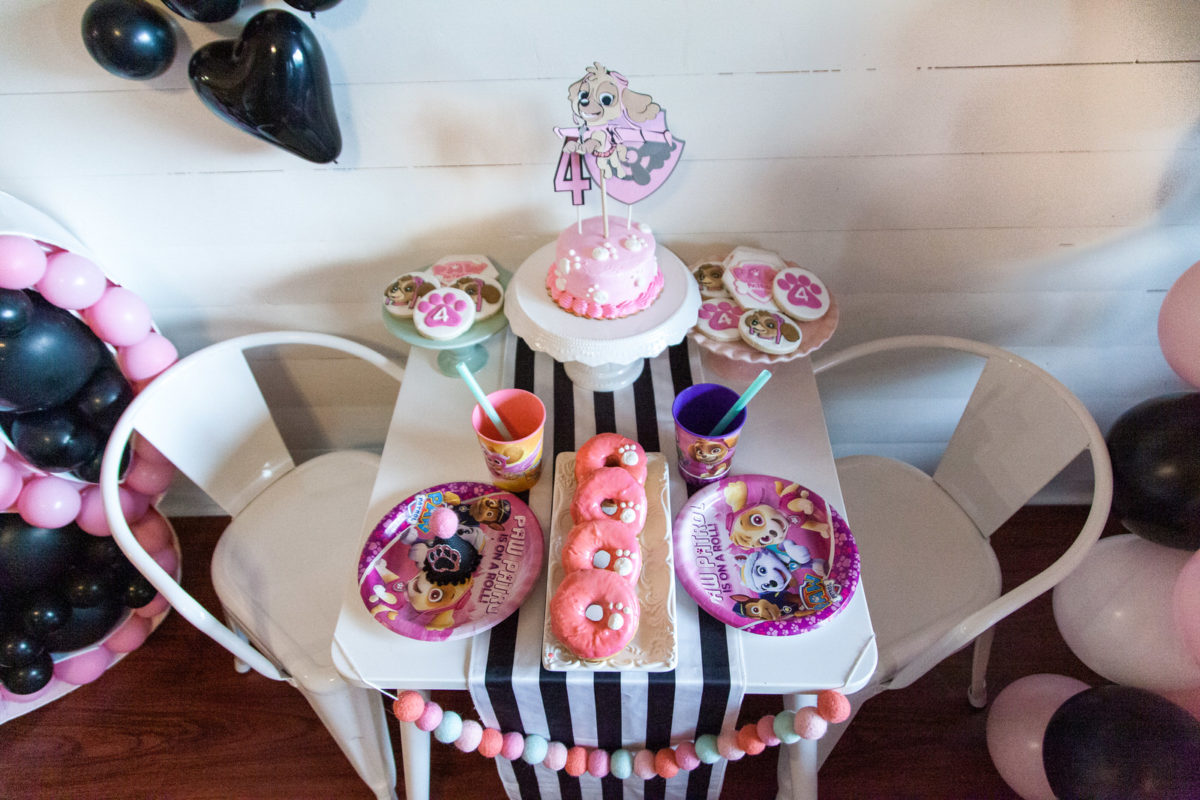 Painted wrapping paper
Not sure if it's just the weird times we are living in but I scoured the internet for plain pink or paw print wrapping paper and couldn't find anything (except for one super overpriced roll on amazon…pass) So I decided to get creative and wrapped Tate's gifts in a roll of Kraft paper, used my Cricut to cut a stencil of a paw print out and painted pink paw prints on his gifts! He was really amped to open them and even would give them kisses when he passed them in my office.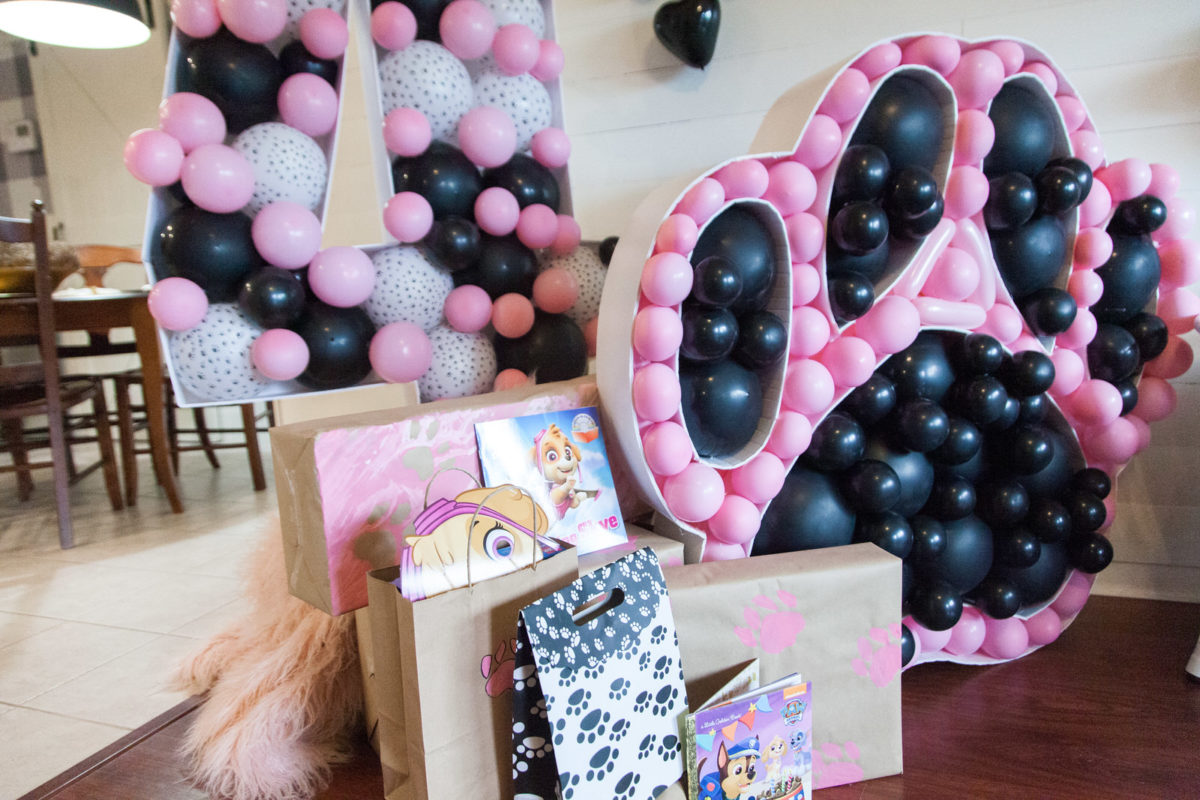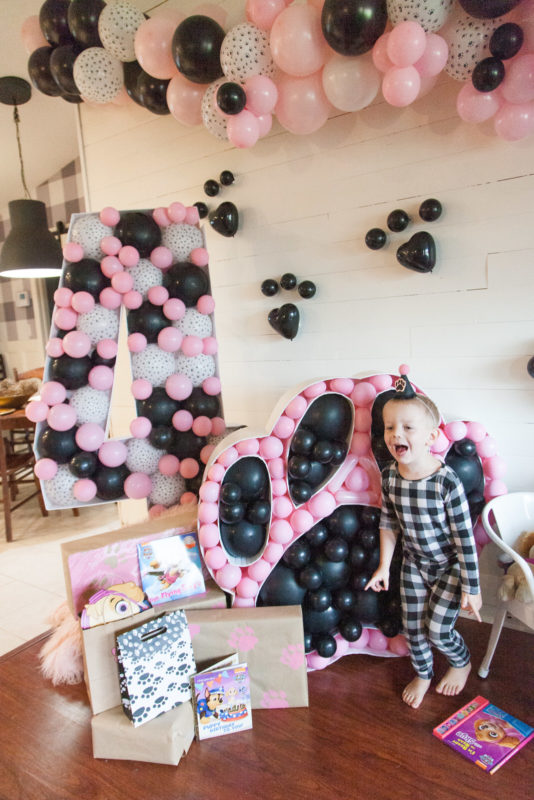 Party hat
I've gotten really into making these custom party hats and have even considered selling them. Tate and Kennedy are at such fun ages where they love anything festive. I made Tatum this hat with faux black and metallic pink leather topped with a felt ball.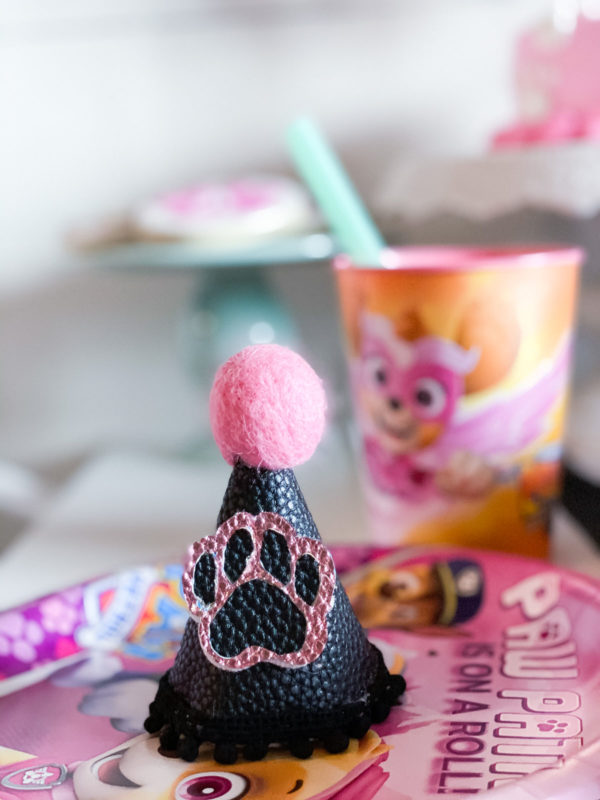 Sweets

Typically I have custom cakes made for our parties but sadly our cake lady, is unable to get the supplies she needs because of Covid.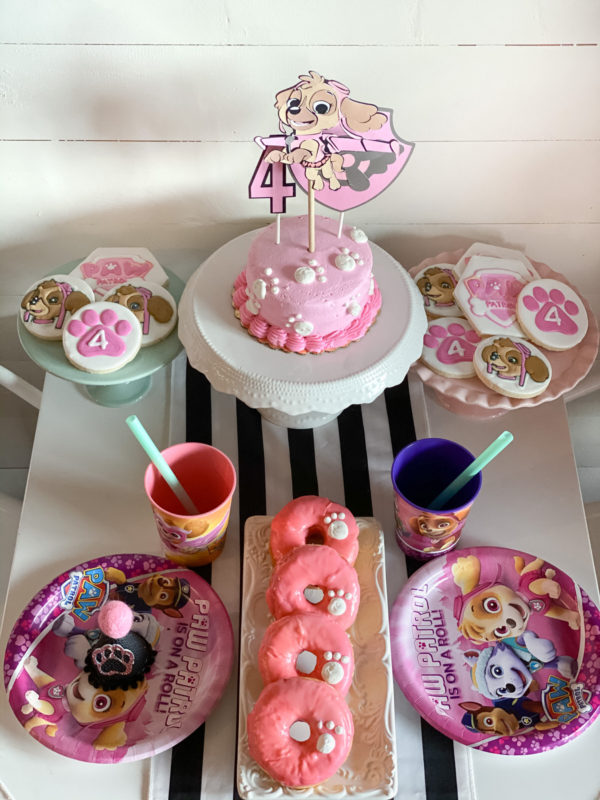 Last month in a panic I sent my husband to Safeway to see if they could make a last min cake for Kennedy's birthday and they did an amazing job (oh and for $6.99! SCORE) They customized this little pink paw print cake for us and even made us matching donuts total for all of that was $9. Wow!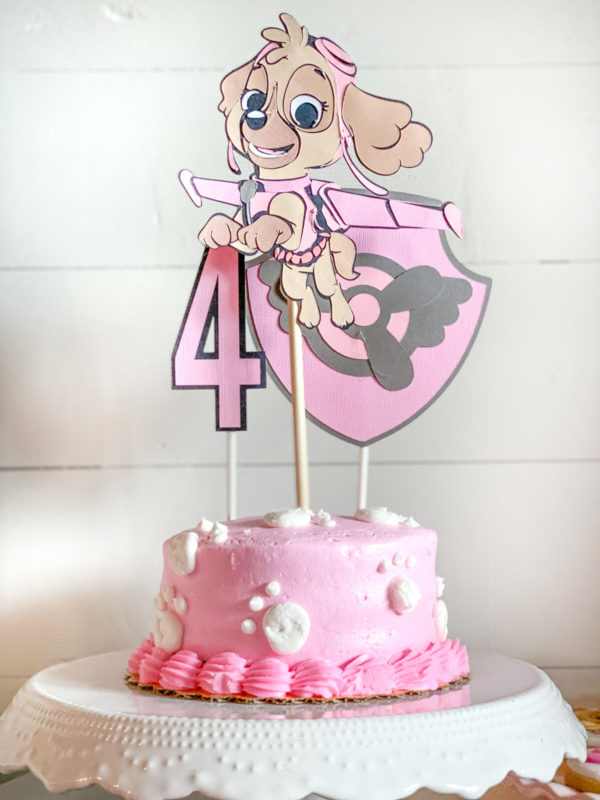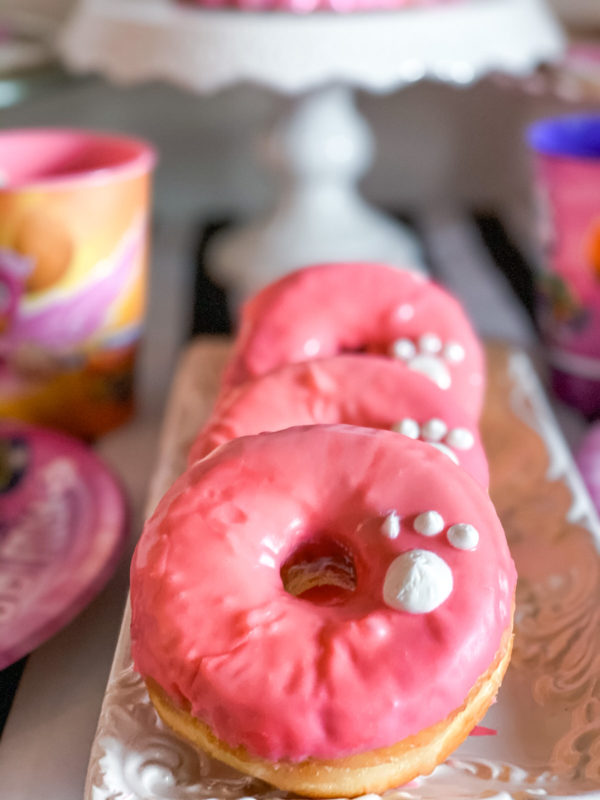 I also ordered these incredible Skye cookies from a local baker here in AZ Brookie Bakes. I was so impressed with how talented she is, not only were these cookies picture perfect but they tasted delicious!! Tate and Kennedy were SO excited about these! They were the perfect addition to Tatum's Skye Paw Patrol Pawty.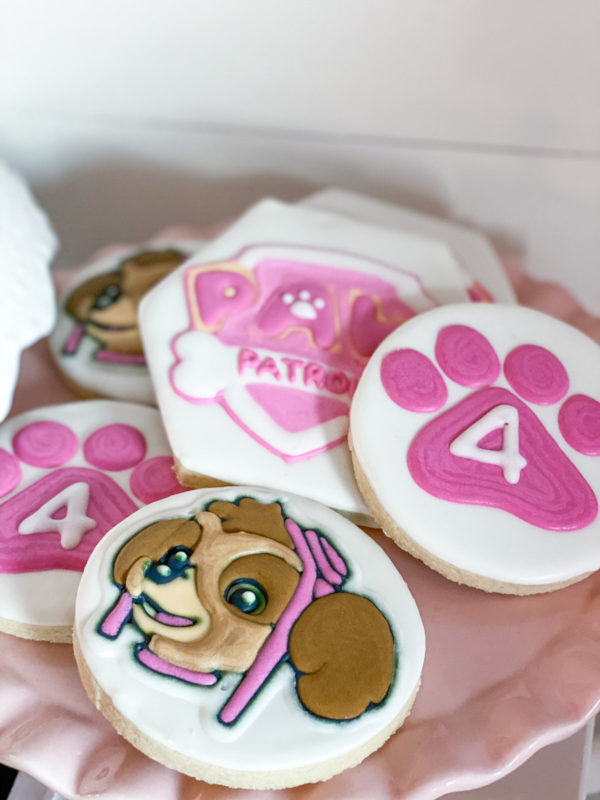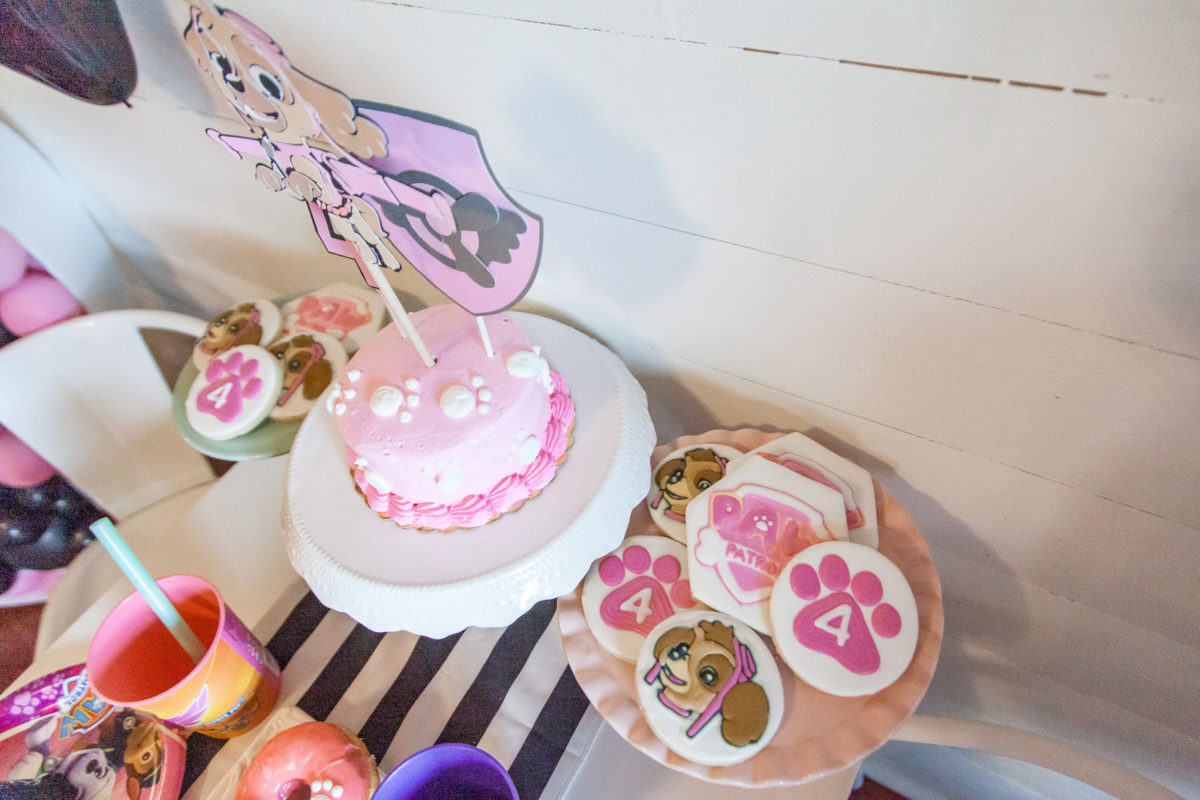 While we are used to celebrating with friends on our kiddo's bdays this forced change of pace was pleasantly surprising. We stayed in our PJs all day, the kids ate every meal at their "Paw Patrol Table" and we ended the night with a movie night in Tatum's new house bed. I know Tatum misses his friends, cousins, and grandparents but having him all to myself on the first of his birthdays to fall on Mother's Day was really special for me.